Sponsored by the audiobook edition of Rhythm of War by Brandon Sanderson.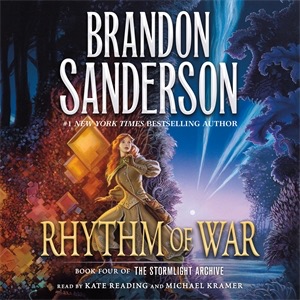 The Stormlight Archive saga continues in Rhythm of War, the eagerly awaited sequel to Brandon Sanderson's number one New York Times best-selling Oathbringer, from an epic fantasy writer at the top of his game. After forming a coalition of human resistance against the enemy invasion, Dalinar Kholin and his Knights Radiant have spent a year fighting a protracted, brutal war. Neither side has gained an advantage, and the threat of a betrayal by Dalinar's crafty ally Taravangian looms over every strategic move. Now, as new technological discoveries by Navani Kholin's scholars begin to change the face of the war, the enemy prepares a bold and dangerous operation.
Happy Tuesday, shipmates! It's Alex, and today I come bearing indie books rather than new releases, because we are truly in the part of the year where publishing just… shuts down. As a head's up, this is also the last newsletter of the year–we'll pick back up on January 5, 2021.
It's sure… been a decade of a year, huh? I offer a hearty good riddance, don't let the door hit ya where the gods split ya to 2020. In all truth, writing this newsletter twice a week has helped me not fall apart this year, because it was a regular schedule, and I enjoy talking with y'all about books. I hope maybe it helped you out, too.
Here's hoping 2021 will treat us all a lot more gently. And while I know the holidays are uniformly rough this year, I hope you can make the most of the season, have some cookies and an appropriate beverage, and kick back with the books. Because at least it's been one heck of a good year for those. It's not too late to go full Icelandic and have your own book flood!
Stay safe, keep sailing, and I'll see you next year!
---
Indie Book Celebration!
There isn't much in the way of new releases between now and December 31, so let's do one last round of indie SFF that came out over the last year! If you want to check out more SFF indie goodness, look at these replies over on Twitter.
Urban fantasy where elves, vampires, and djinn rub elbows in North Carolina. In this world, PI (and sylph) Arden Finch just wants to practice her forbidden magic and live her life. Too bad the elves have a bounty out on elementals like her… and then one of them accidentally hires her. There's a second book in the series, too: Eldritch Sparks!
A human scientist, in collaboration with a mysterious counterpart he's never seen, designs a warship that the government immediately orders him to dismantle. But his collaborator reveals that aliens are coming to conquer humanity, and the ship is what they need to survive. (The second book is out, too: The Last Guardian.)
An anthology of stories and poetry written entirely by authors of Africa and the African Diaspora. Just check out the author list–it's strong as heck.
The author describes this series as "cozy, optimistic apocalypse." It focuses on humans doing their human thing, surviving and figuring out how to thrive after the end of the world. In this installment, Jack needs to search for a cure for his three-year-old found sister, Poppy, when her weakened immune system gets hit with an aggressive virus. The answers are out in the wasteland.
Rhona has been battling the malevolent AI that wants to wipe out humanity for as long as the war has been going… until it kills her. Now she's back, new body, same personality, minus some very important memories. She needs to figure out how to reshape her life and find her way–and get back in the fight.
A collection of seven short stories in which a mated pair of dragon-shifters have adventures that include an egg hunt, illness, and even a murder investigation.
Kira didn't exactly expect a medal for her wartime heroics, but assassins out for her blood when her government betrays her as part of their surrender terms is exponentially worse. She and her comrades are forced to flee to the edge of civilized space, where they try to build new homes and new lives. But their enemies have a long reach…
A collection of paranormal humor and horror short stories with a New Zealand twist.
An American leaves her failing gallery behind and moves to England after inheriting a manor house in Herfordshire… from a relative she's never heard of. Soon she's immersed in the 400-year history of the crumbling house and its overgrown garden, and in that long past, she may at last find herself.
News and Views
The Carl Brandon Society has named its winners for the Parallax and Kindred Awards
SFWA has released the Nebula Awards Showcase 54, edited by Nibedita Sen
MIRA books has two new titles coming from Mike Chen
This thread of Lord of the Rings characters as dogs
Another really great thread calling out awesome science news from this year that you probably missed because of *gestures vaguely at everything*
Ursula Vernon: History, Discovery, and the Quiet Heroics of Gardening
The BBC will be doing Katherine Atkinson's Life After Life as a 4-part mini series.
Happy Christmas! Tor.com has ranked the killer santa movies
On Book Riot
10 space books to read so the Galactic Federation will talk to us
Read Harder: An SFF anthology edited by a person of color
This month you can enter to win a $100 Books-A-Million Gift Card and a 1-year Kindle Unlimited subscription.
---
See you, space pirates. If you'd like to know more about my secret plans to dominate the seas and skies, you can catch me over at my personal site.