Sponsored by Remina, the newest manga from Horror Legend Junji Ito.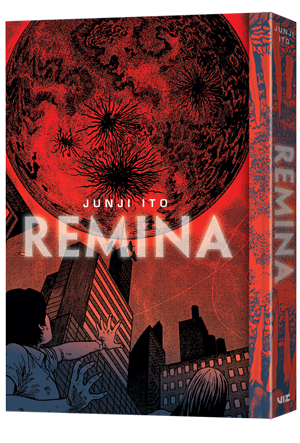 An unknown planet emerges from inside a wormhole, and its discoverer, Dr. Oguro, christens the body "Remina" after his own daughter. His finding is met with great fanfare, and Remina herself rises to fame. However, the object picks up speed as it moves along in its curious course, eliminating planets and stars one after another, until finally Earth itself faces extinction… Is the girl Remina the true cause of the catastrophe? A masterwork of horror from Junji Ito, unfolding on a universal scale.
Hey there holiday horror fans, I'm Jessica Avery and I'll be delivering your weekly brief of all that's ghastly and grim in the world of Horror. Whether you're looking for a backlist book that will give you the willies, a terrifying new release, or the latest in horror community news, you'll find it here in The Fright Stuff
We're going to venture out of horror into more general dark fiction this week, because there is only one time of year when it is permissible for me to talk (obsessively) about one of my favorite stories (and certainly my favorite Christmas story) of all time: The Nutcracker.
I don't need to tell you why, being a lover of dark fiction, The Nutcracker is my favorite. Even if, like myself, your first exposure to The Nutcracker was through a candy coated and family friendly ballet at your local theatre, a preliminary googling of The Nutcracker will turn up any number of articles from past years about the dark heart behind this perennial Christmas classic. Here's one from NPR in 2012, talking about the dark Romantic roots of E.T.A. Hoffman's much darker original tale "Nutcracker and the Mouse King", which is particularly good as it features commentary on Hoffman's story by renowned fairy tale scholar Jack Zipes.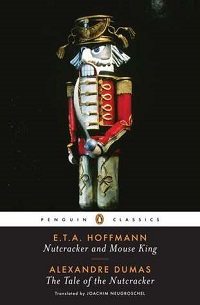 The divide between the ballet, full of sugar dreams and marzipan divertissements, and Hoffman's original with its seven headed Mouse King who "driveled bloodred, out of seven gaping maws" ("Nutcracker and the Mouse King", Penguin Classics, 2007, p.45) is, of course, thanks to Alexandre Dumas' 1845 reimagining of the story, "The Tale of the Nutcracker", which in turn inspired the creation of the ballet. Dumas sweetened the story, turning Marie from a mercurial girl trapped by her own existence who escapes into her (at times nightmarish) dreamscape, into Marie the delighted dreamer who has a splendid time in the Land of Sweets before waking to continue with her own perfectly pleasant real life.
But even Dumas' determination to gentle the darker, more subversive elements of Hoffman's original text could not entirely erase the shadows from the margins. There are, after all, still the mice and their king. There's still the looming, unknowable figure of Drosselmeier and the magic he weaves. It's a nighttime story, existing in the candle lit hours between bedtime and waking. It's full of warfare and strange happenings well suited to a dream state, and the darker parts of the story have a way of reasserting themselves in retellings.
The true adaptation of my heart, and the one which Zipes agrees is most true to the heart of Hoffman's original story, is the one Maurice Sendak (of Where the Wild Things Are) designed for the Pacific Northwest Ballet in the 80's. The company wanted to return to Hoffman's original tale, even going so far as to resurrect the seven-headed Mouse King in all his terrible glory. Yes, there is still that classic scene where the tree unfolds to indicate that Clara is shrinking down to the size of her dear Nutcracker, but if you think that's impressive, wait until you see the giant Mouse King towering over the stage. Yeah. Definitely fodder for the budding horror mind. Sendak also lent his designs for the ballet to a beautiful illustrated edition of Hoffman's tale which is delightfully violent at times!
E.T.A. Hoffman's "Nutcracker and Mouse King" is unforgettable. It's the feverish, beautiful, nightmarish, dreamscape of a young girl who lives a waking life of convention and very little control and spends her nights dreaming of all the desires she will never realize and the choices she isn't allowed to make. In the end of Hoffman's original tale, Marie leaves the real world behind to marry her Nutcracker and live forever in a land of Marzipan Castles. And it is a happy ending if you choose to read it as such. But I have always been struck by the potential for a much darker interpretation of the ending – for a much darker interpretation of the entire story, too – lurking beneath the surface of the text.
Potential that a number of authors have already chosen to explore:
Claire Legrand (author of Sawkill Girls) is not stranger to dark fiction. Her retelling of The Nutcracker is set in 1899 New York, and follows the story of Clara Stole as she ventures deep into the war-scarred land of Cane to find her missing father. Together with Cane's cursed and deposed prince Nicholas, Clara must face down the queen of the faeries if she hopes to recover her father and help Nicholas reclaim his throne.
Set in London, 1905, The Nutcracker Bleeds is the terrifying tale of Anne, a young governess who becomes trapped in the nightmarish world of her unstable teenage pupil, Olivia. In this world where toys have come to life to horrible effect, Anne's only ally is the mysterious Nutcracker doll. As the mice and their terrible Rat King wage war with the toys, Anne must try to get Olivia and herself back to the real world before they become trapped forever.
(His eyes on this cover are FREAKING me out.) In the eight years since the Mouse King's defeat the Nutcracker has fought to break the curse that keeps him trapped in the form of a doll so that he can take his place as King and make Marie his queen. When a dark secret about his kingdom finally reveals the answer, the increasingly desperate Nutcracker makes the decision to use what he has discovered to break the curse. He will have his crown, and his bride, and his happily ever after. At any cost.
Fresh From the Skeleton's Mouth
I'd like to give a shout out to probably the best collection of winter holiday horror you could ever hope to get your hands on. Cynthia Pelayo's Burial Day Books has released the sixth volume of the Gothic Blue Book: A Krampus Carol, and the table of contents is stacked with a talented and diverse gathering of authors. This is definitely not one that you want to miss this holiday season!
Still need more seasonal scares to get you through the season? Cassie Gutman has you covered over at Book Riot with this list of "Ho-Ho-Holiday Horror".
As always, you can catch me on twitter at @JtheBookworm, where I try to keep up on all that's new and frightening.