Sponsored by Page Chaser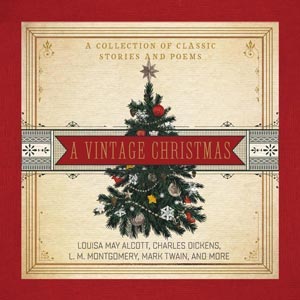 A perfect holiday companion… A Vintage Christmas audiobook! Cozy up with these festive, heartwarming stories from some of literature's most beloved writers, such as Louisa May Alcott, Charles Dickens, Mark Twain, and many more. As a special holiday treat, you can listen to the entire A Vintage Christmas audiobook for free!
Hola Audiophiles! It's that time, time for my favorite audiobooks of the year! This process always makes me so nervous because I hate having to leave out other books I love, and because not all of the wonderful books I read in a year are ones I read on audio. Nevertheless, I am pretty proud of the list of books I have for you today and hope you enjoy them.
Ready? Let's audio.
---
My Favorite Audiobooks of 2020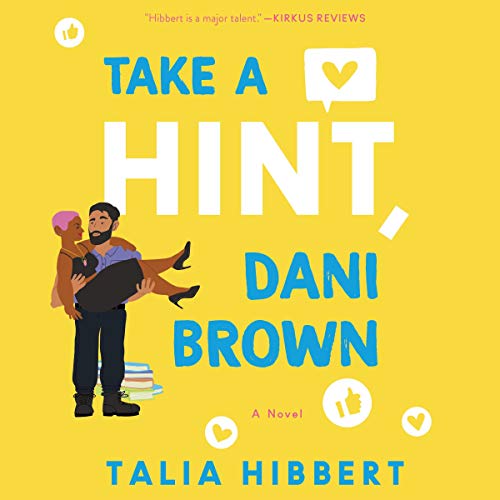 contemporary romance
PhD candidate Dani Brown is in a serious sexy times slump, so she asks the goddess Oshun for a no-strings-attached partner with whom to get it on and poppin'. Enter Zafir, a sexy security guard at her university, who rescues Dani in a fire drill gone wrong. A video of the rescue goes viral and a hashtag is born (#DrRugbae- did I mention Zaf is a former pro rugby player?) as the internet assumes the two are a couple. Rather than quell the rumors, Dani and Zaf enter into a fakelationship so Zaf can parlay this newfound publicity to benefit the charity he runs. But wouldn't you know it? Real feelings make their way into this fake—and steamy–arrangement.
What I love about it: Dani is so driven, confident, and unapologetically bisexual. Zaf ain't here for that toxic masculinity BS: he reads romance novels and goes to therapy. The communication between Zaf and Dani is #goals.
Read by Ione Butler (who will also read the next book in the Brown Sisters series, Act Your Age, Eve Brown, out on 3/9/21!)
YA fiction
Lila Reyes has just graduated from high school and is supposed to take over the family panadería with her sister, move in with her bestie, and live happily ever after with her boo. Instead, her best friend bails on her, her boyfriend dumps her, and her abuela passes away suddenly. Concerned for her mental health after an alarming episode, her parents send her to England to stay with family and hopefully clear her head. Lila goes kicking and screaming, immediately finding ways to be annoyed by the people, the weather, and the quaint countryside setting that's very unlike Miami. Just when she's decided England isn't her cup of tea (heh), she meets Orion, a teashop clerk who shows her all that she's been missing.
What I love about it: All the Spanish and all of the pastry talk (mmm pastelitos and Chelsea buns) plus a real depiction of the struggles of dealing with grief. Lila's relationship with her sister leaps off the page and made me want to call my cousin/BFF immediately. I will say Frankie Corzo's take on a make English accent was… not my favorite, but I'm willing to overlook it for the rest of the positives.
Read by Frankie Corzo, who I think I'm calling my 2020 Narrator of the Year (Mexican Gothic by Silvia Moreno-Garcia, Incendiary by Zoraida Cordova)
thriller
I stand by this statement: go into this knowing as little as possible and prepare to be wowed. All I will tell you is that it's a thriller and there's gentrification involved. That's it. Go!
What I love about it: HA! Did you think I'd give up the secrets now? Wrong! Let's just say Alyssa Cole made me redefine what I find terrifying.
Read by Susan Dalian (the voice of Haku in the first season of Naruto and Storm in Wolverine and the X-Men) and Jay Aeseng (writer/actor/producer who you may know from the Twin Peaks TV series).
romantic comedy
Leena Cotton is dealing with a ton of unprocessed grief. When her job sends her on a mandatory paid holiday for two months, she leaves London and escapes to Yorkshire to visit her grandmother Eileen. Eileen is newly divorced and in the mood for adventure, so Leena helps her set up a dating app profile. When they discover the dating pool in the countryside is a bit limited, they come up with a plan to switch places for two months. Leena will live in Eileen's home in the country and assume her grandmother's daily duties, and Eileen will stay at Leena's flat in London and dive headfirst into London's dating scene. Both are way out of their element and it's a bumpy ride at first, but they slowly come around to each of their new surroundings, meeting a love interest or two along the way.
What I love about it: the rare portrayal of an older woman in the dating scene. Breaking news: women in their 50s and beyond have sex lives!
Read by Alison Steadman and Daisy Edgar-Jones (Several reviews for this delightful book are critical of Alison Steadman's performance for excessive mouth/smacking sounds, and I am here to defend my adopted English grandma. Yes, some of those noises are present; they never bothered me once, the performance felt authentic).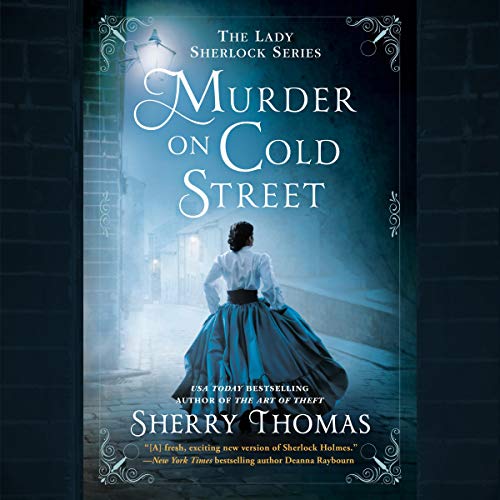 historical mystery
You know Lady Sherlock is my favorite Sherlock! Charlotte Holmes is back to investigate a murder case that implicates Scotland Yard inspector Robert Treadles. I inhaled this book in two days and wish I'd savored it longer!
What I love about it: I'm a sucker in general for mysteries set in Victorian England, but this one is so special because of the gender-flipped Sherlock element. The protagonist is an empowered woman living on her terms, including an insistence on sexual agency, and is very vocal about her appreciation for cake.
Read by Kate Reading (A Study in Scarlet Women and the rest of the book in the Lady Sherlock series, The Witching Hour by Anne Rice)
romance
Luc O'Donnell is the son of rockstar parents who split up when he was a kid. His in-and-out-of-rehab dad is planning a comeback which means Luc is put in the public eye, and a compromising photo lands Luc in hot water at the charity where he works. Fearing that Luc's "particular variety of queer" will hurt the charity's image, his boss orders him to find a nice, normal, fake boyfriend to clean up his image. Luc decides straight-laced, squeaky-clean barrister Oliver is the perfect partner to fake date, and Oliver agrees to the arrangement for work-related image issues of his own. They appear to have tragically little in common, but the more time they spend together… *raises and lowers eyebrows knowingly*
What I love about it: Luc is just a charming mess, and it's so satisfying to watch him work through his issues even when he gets it wrong (#relatable). Oliver seems uptight, but he's actually a total cinnamon roll beneath that polished exterior.
Read by Joe Jameson (The Third Wife by Lisa Jewell, and may I just say that every time he said "Lucien" with that gorgeous accent, I was reminded of the human capacity to feel attraction for a person you've never met or seen).
Homie by Danez Smith
poetry
My favorite description of this book used to be one from this interview at Them calling it a book "hellbent on envisioning a world where queer Black joy exists not as a release but as a constant reality, while still recognizing the current state of affairs." I do believe my new favorite is this one in Smith's own words: "Homie is a book that says it's about friendship and intimacy just like that guy that sent you 13 d*ck pics just now. But at the end of the day, it is really about so much more…. it's about depression, it's about suicidal ideation, it's about men who f*cking suck. It's about everything that a life can be about, and just about how friendship is that net that can catch you." (Watch that and a reading here; just FYI, it's a link to Grindr's YouTube page. Do not at me with any clutching of pearls).
What I love about it: It's a powerful, hilarious, heart-wrenching love letter to Black queer friendship on its own, but Smith reading their poetry aloud like it was intended takes it to a whole new level of slap-you-across-the-face impactful.
Read by the author.
historical fiction
I only just read Practical Magic last year and wondered what the hell took me so long, but on second thought, I played that pretty cool: unlike the folks who had to wait literal decades for The Rules of Magic, I got the read all three of the books about the Owens sisters almost back to back. In Magic Lessons, we go way way back and learn the story of the OG Owens witch Maria, and find out what the deal really is with the Owens curse. I am so in love with these books, I grieve their ending.
What I love about it: Put witches in any book and I'm already one foot in. Make those witches powerful, kind, bold, self-assured, headstrong, and fiercely protective of one another? I melt.
Read by Sutton Foster, who's the star of the Younger TV adaptation, and reads the audiobook it's based on, Older: A Younger Novel by Pamela Redmond.
nonfiction
Have you ever noticed that the villains in popular fairly tales are disfigured in some way or that disability is their punishment for being evil? Or that the princesses and princes who find love aren't ever disabled, or if they are, they only find love only after their hideous disfigurement has been shaken off? Yikes. I thought I kinda already knew that the fairy tales of the West have major ableist tones, but reading this book really just circles all that's wrong with those depictions in bright red ink. Able-bodied privilege has kept many of us from thinking critically about the implications of ableist messaging in these beloved stories, from Brothers Grimm to Hans Christian Andersen to the Disney machine. This #ownvoices book is a must read.
What I love about it: It's no one's job to make able-bodied people feel more comfortable about learning all that we get wrong about disability, but this book manages to feel like a call-in. Again, Amanda Leduc doesn't owe anybody that, but this audiobook felt like a respected friend was telling me to have a seat and learn,
Read by the author
romance
This is the first in a new series about three women who become instant BFFs after the live tweeting of a terrible date leads them to an unfortunate discovery: they've all been catfished by the same loser! In the wake of their newfound viral fame, Samiah, London, and Taylor bond over Moscow mules and make a no-dating pact: for the next six months, they'll take a break from men and dating to focus on themselves. Of course, this is precisely when a new hottie starts at Samiah's office, making her seriously reconsider the pact.
What I love about it: Where do I start!? There's the exploration of the role of race and gender in workplace dynamics, specifically Black women's experience in STEM; a friendship between self-assured and empowered women who know their worth (and when to say no to catfishing f*ck boys); a fun, sexy, and satisfying romance.
Read by Je Nie Fleming (And Now She's Gone by Rachel Howzell Hall, How Long 'til Black Future Month? by N. K. Jemisin)
From the Internets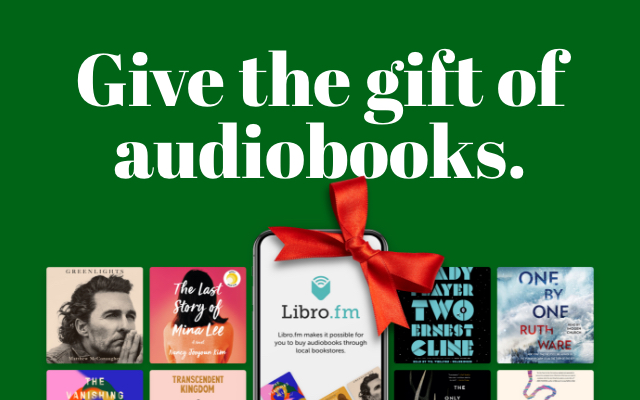 If you're still looking for holiday gifts, consider an audiobook gift membership through Libro.fm! You pick the membership (1, 3, 6, or 12 months/credits), and your gift recipients get to choose their own audiobooks. As a bonus, when you buy a 12-month audiobook gift membership through your participating indie, that store will get half of the retail price on those sales—that's $90 from your purchase! Or you can get yourself a membership because you deserve.
also at Libro.fm: How Real Booksellers Are Faring This Holiday Season: Part I
at Audiofile: 5 Family Mystery Audiobooks to Share
at Real Simple: 10 Best Books (and Audiobooks) to Read When You're Busy and Stressed
Best Audiobooks lists from Slate, The Washington Post
at Lifehacker: 8 Audiobooks You'll Love as Much as Their Adaptations
at USA Today: Top audiobook narrators read The Night Before Christmas
Over at the Riot
8 of the Best Audiobooks Narrated by Emily Woo Zeller
---
Catch you all next week—just one more newsletter left in the year! Shoot me an email at vanessa@riotnewmedia.com with with all things audiobook or find me on Twitter and the gram @buenosdiazsd. Sign up for the In The Club newsletter and catch me once a month on the All the Books podcast.
Stay bad & bookish, my friends.
Vanessa