Sponsored by Robyn Harding's sexy and sinister novel, The Arrangement, available from Scout Press.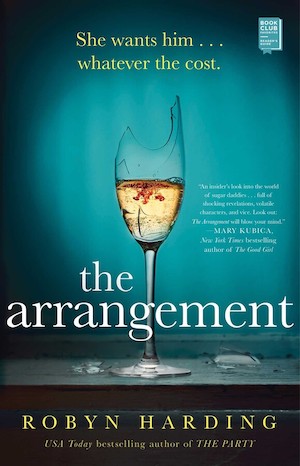 Natalie is struggling to pay her bills when a friend makes a suggestion: find a sugar daddy—lots of girls do it. All that's required is to look pretty and hang on his every word, sexual favors optional. Handsome lawyer Gabe seems like the perfect candidate, and soon they are madly in love. At least, Nat is…but Gabe isn't about to leave his family. So when he abruptly ends things, Nat can't let go…and what was supposed to be a simple arrangement becomes a nightmare of deception, obsession, and murder.
Hello mystery fans! I happened to read two true crime memoirs back-to-back which left me thinking about the changes that have been happening in the genre recently. It's been nice to see some steering away from the gross fascination with the perpetrator, and the story that cares nothing for the victims, towards more nonviolent true crime and also true crime memoirs. The latter being split, at least based on my reading, into two types: the victim of the crime, or relative, writing about their life and the crime, like Know My Name, My Midnight Years, The Red Parts, After the Eclipse; a person unrelated to the victim and anyone involved in the crime learning about it and, for various reasons, either being changed by it or needing to solve it, like I'll Be Gone In The Dark and The Fact Of A Body. I have one of each kind: a daughter whose mother was murdered by her former stepfather and a woman who heard a rumor about an unsolved, decades-old murder at Harvard.
Natasha Trethewey is a Pulitzer Prize-winning poet who served as the United States Poet Laureate in 2012 and 2013. This book starts with the memoir part as Trethewey recounts her early childhood as the daughter of a Black woman and a white man, along with their agreements and disagreements in preparing her for the world. There's some history on Mississippi and Atlanta, her parents divorce, and then her mother's second marriage.
Trethewey recounts the emotional terror she lived through with her stepfather, his physical abuse of her mother–which was ignored the one time she tried to speak up to an adult–and finally her mother's escape from the marriage and her murder in 1985.
This is beautifully written, as one would expect from a poet, and also filled with introspection as Trethewey looks at what she thought and knew as a child, young adult, now through the eyes of an adult. She also learns, after so many decades, details about the case when she is given the case files. It's absolutely heartbreaking and infuriating to see how a woman did everything she was told to do and was supposed to have a police officer outside her home and still was murdered by a domestic abuser.
I highly recommend going with the audiobook, narrated by Trethewey, which I ended up listening to in two "sittings" as I made tomato soup and a batch of pancakes for freezing and then watched the goat (angry goat trapped inside of dog) try to find the neighborhood raccoon to harass. This is one of those books where I will now carry the author, and her words, with me forever.
(TW domestic abuse/ emotional child abuse, gaslighting/ threats of murder suicide)
This is the type of true crime memoir where Cooper heard about the crime, as a rumor, and it stuck with her and she ended up deciding to look into it. As a whole I still have mixed feelings about the idea of people becoming obsessed with very real violent crimes, and inserting themselves in some way, but Cooper completely acknowledges this and calls herself out in explaining that, when her life was at a standstill, she found herself trying to relate to the victim, Jane Britton.
This book follows the author trying to solve the unsolved case, and the outcome isn't revealed until the end when, after decades, it's solved. While I don't flat out reveal it, I will be talking about points pertaining to the end because 1) I don't believe in spoilers in real life crimes, and 2) I think this book is a good pick for book clubs as it opens so many avenues of discussions, including the resolution.
Okay, so when Becky Cooper was an undergrad at Harvard she heard a "rumor" about a 1969 murder of a 23-year-old undergrad Anthropology student, Jane Britton. The story wasn't completely accurate but the more Cooper asked about it over the years the more it turned out that fact was stranger than the rumor. And how did the murder of the daughter of Harvard's sister school's Vice President go unsolved for 40 years?
Cooper takes you into her life at Harvard, Britton's life as an Anthropology student (including digs, Academic politics, sexism and harassment in the school and field), Cooper's not knowing what to do once she left school, and her attaching herself to Britton, the case, and her speaking to those who knew Britton and those who had/were suspects.
This felt like watching an armchair detective bring to life the decades old case by getting to know Britton through people in her life, understanding the politics of Anthropology and Harvard (I could read an entire book on this), and following the pointed fingers at those close to Jane who had been the suspects. It's also interesting to me that in these cases I feel like, while the "obsessor" might bring light/attention to a case, it is most likely going to be (if ever) solved by DNA testing. Which is what happens in this case, like I'll Be Gone In The Dark.
This book and the case itself leave so much to be discussed and mulled over: Where is the line of intrusion into a crime–benefit vs not of armchair detectives? Sexism, misogyny, sexual harassment. Academic politics. How we treat/view victims based on a gross judgement that some did nothing to deserve it and others did. The statistics on women being assaulted by someone they know vs a stranger (much higher for someone known) and perpetrators are more likely to be white (57%) than Black (27%). The DNA testing backlog.
From The Book Riot Crime Vault
Why You Should Read the Flavia de Luce Series by Alan Bradley
---
Browse all the books recommended in Unusual Suspects previous newsletters on this shelf. See upcoming releases for 2020 and 2021. Check out this Unusual Suspects Pinterest board and get Tailored Book Recommendations!
Until next time, keep investigating! In the meantime, come talk books with me on Twitter, Instagram, Goodreads, and Litsy–you can find me under Jamie Canavés.
If a mystery fan forwarded this newsletter to you and you'd like your very own, you can sign up here.