Sponsored by Faraway Collection, from Amazon Original Stories.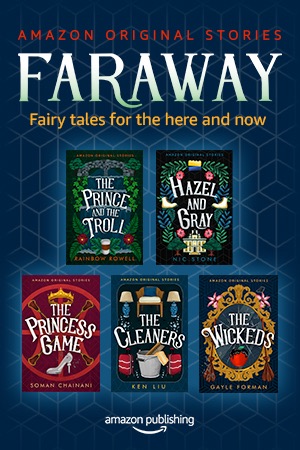 New reflections on evil queens, charmless princes, and star-crossed lovers branch out in exciting and enchanting directions. Follow the path and see where it leads in the Faraway collection, deliciously modern twists on classic fairy tales from Amazon Original Stories and bestselling authors Rainbow Rowell, Nic Stone, Soman Chainani, Ken Liu, and Gayle Forman. Prime members read and listen to all five short stories for free.
It's Tuesday!!!! That means it is time to talk about awesome new books. Because of the holidays, the list of books being released today is very small. There are still a few that I am excited to get my hands on, such as This Is How We Fly by Anna Meriano and The Ancient Hours by Michael Bible. And I recently read Revolutions of All Colors by Dewaine Farria, which is also out today, and it ended up being one of my favorite novels of the year. I HIGHLY recommend it.
Because the pickings are slim, and the end of the year is so close, I've decided to tell you about three more books coming next year that I have absolutely loved. YAY BOOKS! And for this week's episode of All the Books! Tirzah and I discussed some of our favorite books of 2020, such as Ring Shout, When No One is Watching, Interior Chinatown, and more.
And now, it's time for everyone's favorite gameshow: AHHHHHH MY TBR! Here are today's contestants:
This is a middle grade novel packed to the gills with action and adventure! Jillian is an 11-year-old who experiences anxiety when trying new things. Her parents are space explorers, something that Jillian finds very exciting, and when the book opens, she's on her way to see their lab for the first time for Take Your Daughter to Work Day. But when she gets there, her parents have a surprise for her: They're leaving on a new mission, right away, and they've managed to get Jillian a place on the shuttle. Of course, Jillian is apprehensive. It's one thing to visit a lab, it's another thing entirely to go off-planet. But her parents assure her that it is the safest planet and the dullest mission that could possibly exists, so she decides to do it. What could go wrong?
Famous. Last. Words.
Instead, upon arriving on the planet, their shuttle crashes, her parents are severely injured, and now Jillian is left alone and in charge of getting them home. Not exactly how she saw her day going when she got up that morning. Well, Jillian isn't exactly alone: she does have the help of SABRINA, a sentient, sarcastic nanobot-ish shapeshifter AI, who serves a lot of purposes. SABRINA can change into things Jillian needs, or it can can separate and be two places at once, which means scouting for danger or water and food, while also tending to Jillian's parents. SABRINA is like the genie from the animated Alladin movie with the personality of (I'm dating myself here) the Flight of the Navigator robot.
In order to last the five days until their return portal to Earth opens, Jillian needs to find shelter, tend to her injured parents, and round up food and water, because everything they had was lost in the crash. She has SABRINA to help, but compounding the difficulty of lasting five days are the teeming masses of invasive green alien worms, who are determined to eat them (how rude!) and everything else in their path. As the days go by, Jillian finds her strength and faces her fears to save herself and the ones she loves.
The planet and the aliens are cool, the story is action packed and occasionally intense, and the characters are wonderful. And I really loved SABRINA, the snarky not-robot cloud thingy. I am a big fan of sarcastic AI. (See also: Murderbot.)
(Content warning: Child peril, parental accidents and injuries, anxiety, animal death, gore.)
Picnic In the Ruins by Todd Robert Petersen (Counterpoint, January 5, 2021)
I think one of the hardest things to do well in crime novels is the chase scene/car chase sequence. To convey the threat of capture, combined with the excitement and fear, on the page is a difficult thing to do. But this fantastic novel nails it!
This is a crime novel, but it's also a serious look at archaeological digs, artifacts, and ownership. Sophia Shepard is a young anthropologist who is researching the impact of tourism on cultural sites at a national monument on the Utah-Arizona border. But things take a dangerous turn when she accidentally sees something of value that two hired thieves stole from an old artifact collector. The thieves are a pair of brothers who are part esoteric lunkheads, part dangerous cutthroats. Realizing that she's seen what they have, and also realizing her skills would come in handy in their search for treasure, the brothers decide to pursue her. But as the brothers chase after Sophia, an even more dangerous man is searching for them.
But this isn't just a thriller – it's also one of the funniest books I have read in years. It's full of great, dry humor. (There's a scene involving the use of "Staying Alive" by The BeeGees during CPR that had me in tears, and a Star Wars reference that had me cackling.) Plus, there is crackling dialogue, and some really great points about who owns history. This is a perfect read for fans of Elmore Leonard, William Boyle, and The Coen Brothers.
TL;DR: Riotous comedy + psychopathic murderyness = very much my jam. I loved this book to freaking pieces.
(Content warning: Cultural appropriation and theft, violence, murder, suicide, chemical use, and kidnapping.
We Could Be Heroes by Mike Chen (MIRA, January 26, 2021)
Jamie and Zoe are strangers who wake up one day in separate apartments they don't remember renting. The bad news: they have no memory of who they are or how they got there. The good news: they have superpowers. As they go about their lives, Jamie decides to use his powers for evil, erasing people's minds to pull off bank heists. Zoe becomes a heroic vigilante, catching criminals in the city, which is how she and Jamie first cross paths. A second encounter at a support group for people with memory loss leads them to realize they have a lot in common: they may both be part of some unknown plan. Together, they seek the truth of their pasts, while becoming besties along the way.
I love this book so much that I actually talked about it for almost ten minutes to a friend before I realized I hadn't even mentioned that Jamie and Zoe had powers. There's just so many great parts to mention! It's a funny, refreshing take on superpower origin stories, full of adventure, but it's not very violent or mean-spirited. It's also queer and diverse, and bonus: there's no romance! All these things add up to one of the most exciting novels headed our way next year. Put it at the top of your list now! – (I stole this blurb from my contribution to the Riot Roundup: The Best Books We Read in July-October. Shhh, don't tell Santa.)
(Content warning: intense action, violence, illness, and injuries.)
---
Thank you, as always, for joining me each week as I rave about books! I am wishing the best for all of you in whatever situation you find yourself in now. – XO, Liberty