Sponsored by Dickinson Publishing Company.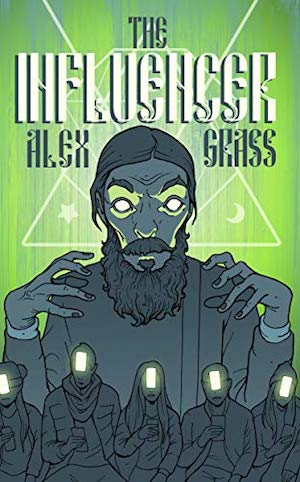 A Romanian sorcerer. A nudist limo driver obsessed with Back to the Future. A ten-foot-tall vigilante who mutilates their victims.…and one old man who has been keeping a secret for half a century.
Out in the desert, a chasm opens that glows crimson below. The possessed, cellphones drilled into their heads, run wild through the streets of New York. And, a 24-hour MDMA-fueled dance party surrounding a site of ancient evil.
All this and more, in:
THE INFLUENCER!
Hey there holiday horror fans, I'm Jessica Avery and I'll be delivering your weekly brief of all that's ghastly and grim in the world of Horror. Whether you're looking for a backlist book that will give you the willies, a terrifying new release, or the latest in horror community news, you'll find it here in The Fright Stuff.
Most of the time we sort of loose the end of the year in the rush of the holidays, but since the holidays promise to be a bit… muted this year, all things considered, I'm trying to remember that there's something else to celebrate about the changing of the year (aside from 2020 finally fucking ending): NEW RELEASES! After what has been a stellar year of horror releases I am so excited to see what 2021 has in store for the genre. And I have to tell you, the early picture looks promising! Check out some of these brilliant horror titles forthcoming in the new year:
Is it on this list because it's set in Maine? Maybe. Is it on this list JUST because it's set in Maine? Certainly not! There's a lot about What Big Teeth to be excited about. Eleanor has been estranged from her family since they send her away to boarding school. All she has are a few memories from when she was young, and the knowledge that her strange family regarded her as the freak among them. But when she finally finds the courage to return to her home on the rainy coast of Maine she finds them waiting to welcome her home. Everything seems too good to be true – and a sudden death suggests it just might be.
You know I love a short fiction collection. Collections are in fact probably my favorite form of horror, over even novels, because they give you in one go the best picture of an author's range and talent. Plus horror, as a genre, really shines in short story form. Isabel Yap's forthcoming debut combines urban legends, immigrant tales, spells, and stories, all into one irresistible collection that I can't wait to get my hands on.
I've written a bit about The Last House On Needless Street on the Fright Stuff before when Nightfire first announced that they'd be handling the American release, and I am so on board with this book. The available synopsis is limited, but full of promise: a serial killer, a stolen child, death, revenge, a (suspiciously) ordinary house, and a dark forest hiding dark secrets. Add to that the tantalizing suggestion that whatever we're expecting is not to be trusted and honestly sign me right the heck up.
Documentary filmmaker Alice Lindstedt has put together a crew of friends to follow her to the site of a tragedy that has haunted her since she was a little girl: the vanishing of the residents of the old mining town known now as "The Lost Village". Her grandmother's entire family disappeared along with the rest of the village, leaving only two behind – a woman who had been stoned to death in the town center and an abandoned baby. Now Alice is determined to find out why. But no sooner do she and her team set up camp in town, things start to go very, very wrong.
Nothing could possibly go wrong at a séance. Definitely not. So when friends Lourdes, Fernanda, Ana, Perla, and Pauline get together one hot summer night to drink and summon some fun, it starts out all fun and games. Until it's not. "Not" being Fernanda Exorcist crawling towards her friends, chanting in the language of their Aztec ancestors. Over the next few weeks Fernanda's behavior just gets more unusual. The local priest, Father Moreno, is crying demonic possession but Lourdes has a suspicion that it's something more powerful and much much older than that. She enlists the help of her "bruja Craft crew" and a professor to try and understand what is happening to Fernanda. Hopefully before Moreno's obsession with her can lead to disaster
Okay so, not technically a new release. But a very exciting reissue from Tor's upcoming horror imprint Nightfire! Certain Dark Things has been out of print for a bit now and it's beyond delightful to see it back in publication and available to new readers and old fans. In Mexico City, street kid Domingo is just trying to survive when he meets vampire-on-the-run Atl. Atl is the descendent of Aztec blood drinkers, on the run from a rival vampire clan. Their meeting happens by chance, but as time goes on the two find themselves working together to escape the dark streets with their lives (life and un-life?) intact. Certain Dark Things is praised for, among other aspects, its rich worldbuilding and fascinatingly varied vampire culture.
Fresh from the Skeleton's Mouth
Burial Day has tweeted to announce that their Latinx Screams anthology is on it's way! And speaking of Burial Day, their most recent anthology We Are Wolves is a number one new release in horror anthologies on Amazon! Have you ordered your copy yet?
Neon Hemlock Press has announced their 2021 Novella Series and it looks AMAZING. Go check it out!
Kiersten White has been a must-buy author of mine for years now, and I couldn't be more excited to find out that she's sold her adult debut novel! Can you say "hide-and-seek competition in an abandoned amusement park"? Because I can, and it sounds like "sleeping with the lights on for like a week".
Off Limits Press is putting together an anthology of adventure horror, Far From Home, that I will probably commit murder to get my hands on… I mean only if necessary, but still.
As always, you can catch me on twitter at @JtheBookworm, where I try to keep up on all that's new and frightening.