Sponsored by the audiobook edition of Ink by Jonathan Maberry, read by Ray Porter.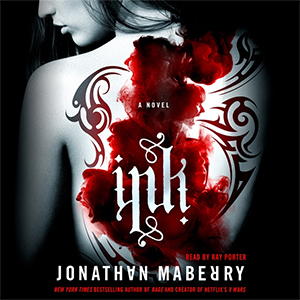 From bestselling author Jonathan Maberry comes Ink, a new standalone supernatural thriller. All through the town of Pine Deep people are having their most precious memories stolen. The monster seems to target the lonely, the disenfranchised, the people who need memories to anchor them to this world. Something cruel and evil is feeding on the memories, erasing them from the hearts and minds of people like tattoo-artist Patty Cakes and private investigator Monk Addison. When all you have are memories, there is no greater horror than forgetting. Listen to the audiobook of Ink, read by Ray Porter, now.
Hola Audiophiles, and Happy Thursday! Thank you so much to everyone who wrote in to tell me about your favorite audiobooks. I had to look up a few of those to confirm they came out in 2020 and almost every one of them did. Whew, this pandemic has destroyed my sense of time!
Ready? Let's audio.
---
Audiophiles Weigh In: Your Favorite Audiobooks of 2020
All Boys Aren't Blue: A Memoir-Manifesto by George M. Johnson
A Beautifully Foolish Endeavor by Hank Green
Boyfriend Material by Alexis Hall
The City We Became by N. K. Jemisin
Clap When You Land by Elizabeth Acevedo
Code Name Hélène: A Novel by Ariel Lawhon 
Deathless Divide by Justina Ireland
The Dutch House by Ann Patchett
Furia by Yamile Saied Mendez
The Girl With the Louding Voice by Abi Dare
Hench by Natalie Zina Walschots
Is Rape a Crime? by Michelle Bowdler 
Long Bright River by Liz Moore
Loveless by Alice Oseman
Memorial Drive by Natasha Trethewey
Mexican Gothic by Silvia Moreno Garcia
Minor Feelings by Cathy Park Hong
Network Effect by Martha Wells
Our Bodies, Their Battlefields by Christina Lamb
The Southern Book Club's Guide to Slaying Vampires by Grady Hendrix
Squeeze Me by Carl Hiassen
Take a Hint, Dani Brown by Talia Hibbert
We Ride Upon Sticks by Quan Berry
When No One is Watching by Alyssa Cole
Writers & Lovers by Lily King
Honorable Mentions (books not released in 2020)
3 Mages and a Margarita by Annette Marie (and the entire Guild Codex: Spellbound series)
The Wandering Inn by Pirate Aba (and The Wandering Inn series)
Everything by Molly Harper and Patricia Briggs
Latest Listens
Your girl's podcast obligations for the year are put to bed and that means it's 100% pleasure reading for me right now! I knew I had to finally pick up this highly recommended book because hello, Latinas in England + tea is the most my jam.
When we first meet Lila Reyes, she's super grumps. She was supposed to take over the family panadería with her sister, move into her first apartment with her bestie, and live happily ever after with her boo thang, pero… Instead, her best friend bailed on her, her boyfriend dumped her right before prom (rude!), and she's still grieving the sudden loss of her abuela pretty hard. Concerned for her mental health, her parents ship her off to England to stay with family against her will in the hopes that the trip will clear her head. Lila agrees to go but she sure isn't happy about it, landing at Heathrow with a scowl, a stank attitude, and not a single sweater packed in protest. Our girl is pure Cubana, Miami born and raised; she not used to or prepared for the people, the weather, and the quaint countryside setting she's to call home for the next three months. But then!!! Just when she's decided England isn't her cup of tea (wink wink), she meets Orion, a teashop clerk who appoints himself her personal tour guide and shows her all that she's been missing.
I was low-key annoyed with Lila at first for being so salty about the trip while I'm stuck inside praying for a vaccine. Pobrecita Lila, so burdened with this all-expenses-paid trip to one of my favorite places in the world! But I found my frigid heart melting right along with Lila's as she began to let loose and find herself, especially when she got to flex in the kitchen and show off those finely tuned baking skills. There's a lot to love in this cinnamon roll of a book; the romance is sweet and faith-restoring; the idyllic country setting made me long for strolls down cobblestone lanes, lunch at a local pub, and a proper afternoon tea; all the pastry talk made my mouth water for scones, buns, pan Cubano, and pastelitos with guava and cheese. But what really set this book apart for me was Lila's relationship to her family, especially with her sister and abuela. Those dynamics made me long for my own hometown with all it's sunshine, Latin flavors, and the people in it. Do yourself a favor and treat yourself to this book; it'll make you want to call a person you love, whip up a sweet, buttery treat, and perhaps even dare you to bet on yourself.
Read by Frankie Corzo (Mexican Gothic by Silvia Moreno-Garcia, Next Year in Havana by Chanel Cleeton, Incendiary by Zoraida Cordova, Each of Us a Desert by Mark Oshiro)
From the Internets
Libro.fm reminds us of 12 reasons to gift audiobooks. Shop small and gift big!
Last week Audiofile shared their best overall audiobook picks of 2020; they also have specific Best of 2020 lists for romance and sci-fi, fantasy, and horror.
Audible has rounded up their best interviews and features of 2020.
Over at the Riot
October's over, but scary is always in season! Here are some of the best audiobooks that fit the bill.
Here are six summer audiobooks for readers in the Southern Hemisphere, or anyone who likes reading about warmer locales no matter the weather outside their door.
On balancing audiobooks and podcasts during quarantine—whew, this takes work for me.
---
Thanks for hanging with me today! Shoot me an email at vanessa@riotnewmedia.com with with all things audiobook or find me on Twitter and the gram @buenosdiazsd. Sign up for the In The Club newsletter and catch me once a month on the All the Books podcast.
Stay bad & bookish, my friends.
Vanessa