Sponsored by Ecco.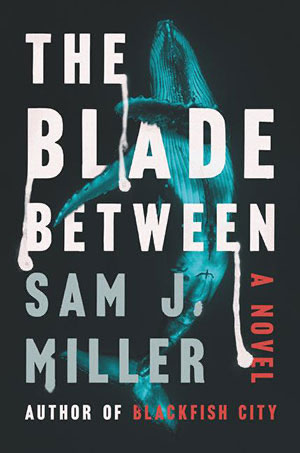 From Nebula Award winner Sam J. Miller comes an uncanny ghost story… Ronan swore he'd never return to Hudson, but his father is ill and New York City's distractions have become too much. Once back in town, he reconnects with two friends from high school. The three mourn what their town has become—overrun by gentrifiers and corporate interests—and craft a plan to rattle the newcomers, exposing their true motives. But in doing so, they unleash something far more mysterious and uncontainable. Ronan must summon the very best of himself to save the city he once loathed.
Happy Tuesday, my little star bits. I am fairly certain I wished you a happy Monday in last week's newsletter. OOPS. Who even knows what day it is anymore? I just keep my head down and the pages turning. Speaking of pages, there are some wonderful books out today, and leading the charge to the top of my TBR is Crosshairs by Catherine Hernandez! I have heard wonderful things about it.
Unrelated: I have a weird need to read Peanuts comics for some reason? Maybe it's all the news online recently about the airing of the Peanuts' holidays specials, I don't know. I also spent a lot of time watching holiday movies this weekend. I'm not talking about Die Hard or The Long Kiss Goodnight (which totally count, in my book), I mean actual holiday movies, with good intentions and warm fuzzy feelings. I must be getting soft in my old age. But Prep & Landing was adorable, and I could watch Anna Kendrick say 'yogurt pants' for days.
Moving on, I have a few of today's awesome titles to tell you about, plus on this week's episode of All the Books! Vanessa and I discussed our favorite books of December 2020, such as Marion Lane and the Midnight Murder, A Certain Hunger, Red Hands, and more.
And now, it's time for everyone's favorite gameshow: AHHHHHH MY TBR! Here are today's contestants:
As much as I love short story collections, it's almost more exciting for me to get to read anthologies, because you can find a bunch of amazing authors inside! This is the fourth collection released by We Need Diverse Books. This fun book features 15 young adult fantasy stories with monsters, magic, and memories by some of the best children's authors working today, including Samira Ahmed, Libba Bray, Zoraida Córdova, Tochi Onyebuchi, and Rebecca Roanhorse.
Backlist bump: The Hero Next Door by Olugbemisola Rhuday-Perkovich (Editor)
I know what you're thinking: "Gee, it's almost the holidays, and I really wish I had a witty satire about foodies and cannibals to help me celebrate." Well, your wish has been granted! Dorothy Daniels is a food critic with an esteemed career. But she has always thought there was something special about herself, something better that set her apart from other people. So she decides to combine her supposed superiority with her interest in food…which means the finger sandwiches are now finger sandwiches, if you catch my drift. (This is a fantastic novel, but keep in mind it's about eating people, so it's not for the squeamish.)
Backlist bump: Kissing the Witch: Old Tales in New Skins by Emma Donoghue
And finally, an enormous biography that would make a great gift for lovers of history, music, and biographies. I have only read the first third so far, but since this one is almost 900 pages long, that's almost a whole book on its own! Swafford is an acclaimed composer and biographer, and this is a compelling look at the musical genius of Wolfgang Amadeus Mozart, one of the immortal legends of classical music. From his gift for music at a young age, to his passionate and playful career as one of the most talented and unusual composers, to his tragic end, this is a wildly fascinating book.
Backlist bump: Beethoven: Anguish and Triumph by Jan Swafford
---
Thank you, as always, for joining me each week as I rave about books! I am wishing the best for all of you in whatever situation you find yourself in now. – XO, Liberty