Sponsored by Shadow & Bone: The Collector's Edition by Leigh Bardugo with Fierce Reads.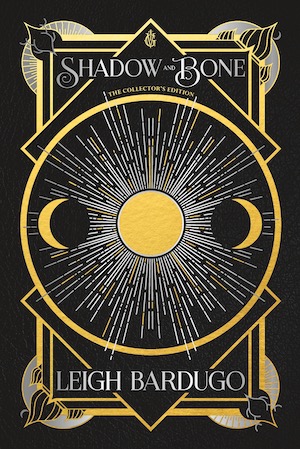 Enter the world of the Grishaverse with Shadow and Bone, soon to be a Netflix original series! Get lost in a lavish world of royalty and intrigue, train with the Grisha—the country's magical military elite—and fall under the spell of their notorious leader, the Darkling. This edition of the first novel in the worldwide-bestselling trilogy makes the perfect gift, with brand-new artwork, a hardcover slipcase with exclusive design, a ribbon pull, and more. "This is what fantasy is for." —The New York Times
Welcome to In The Club, a newsletter of resources to keep your book group well-met, well-read, and well-fed. I took a look at the calendar today and realized we only four newsletters left in 2020! My brain is equal parts stunned by that fact and hopped up on peppermint bark.
The next few newsletters will likely be of a "best of" or "year in review," variety, but today we're going to talk about wintry reads. I'd call them cozy, but there's some murder thrown in there—you know, for good measure.
To the club!!
---
Nibbles and Sips
Today I'm hitting you with the most basic, ridiculously simple "recipe." I'm almost ashamed to call it that, but it's one of my faves!
Step 1: Procure a tub of really good vanilla or sweet cream ice cream (chocolate works too if that's what you're craving). Let it sit on the counter for a few minutes to soften up.
Step 2: Grab a bunch of candy canes and stick them in a Ziplock or fancy reusable bag.
Step 3: Bring all of your frustrations, anger, and existential dread to the surface. Feel it? Good. Proceed.
Step 4: Use all that rage to blast those candy canes into smithereens. Smash 'em! Smash 'em good!
Step 5: Mix the candy cane smashy bits into your ice cream and enjoy your candy cane ice cream!
Tis the Season – For me, December reading is all about chilly reads, magical books, or a combo of the two. Here are a few that fit the bill.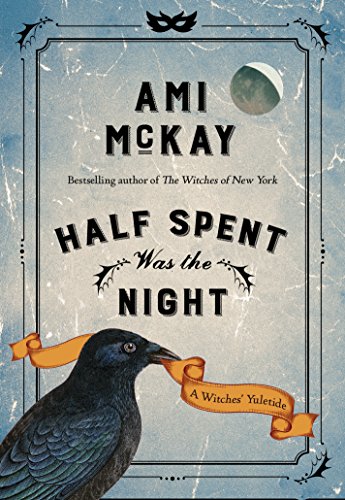 I have been wanting to own a witchy tea shop since reading The Witches of New York last year and waited a full year to read its sequel during the holidays! As Beatrice, Eleanor, and Adelaide roast chestnuts and melt lead to see their fates, a series of odd messengers come a-callin' with invitations for each of them. The invites are to an NYE masquerade hosted by a mysterious woman they've never met. Who is this woman? Is this a grand and generous gesture or a trap? The witches don their most decadent finery and head for the ball to find out. I do think you should read these in order, so go back and read the first book if you haven't, then travel to Gilded-Age New York with this treat of a story in the tradition of Victorian winter tales.
Book club bonus: Yes, this book revolves around an enchanted and magical evening, but the women are still witches and thus are walking targets. Talk about the importance of their friendship as a tool for deflecting the accusations and cruelty that are an ever-present part of their world.
I told you this list wan't going to be all feel-good books and this literary mystery is precisely why. Janina is a reclusive woman in a remote Polish village who minds the homes of well-to-do Polish residents who've left town for the brutally cold winter. When a neighbor's suspicious death is followed by several other equally suspicious deaths, Janina insists that the killings have been at the hands (hooves? paws?) of animals enacting vigilante justice on the vile men who hunted them. The book doesn't ask who dunnit, but instead asks why. Again, not a "cozy" read in the traditional sense, but the cold just leaps off the page and feels apropos for winter reading.
Book club bonus: There's no shortage of topics to unpack here, but I like to focus on the roles of empathy, ageism, and man's impact on the natural world are portrayed.
Winter makes me crave all things magical and this is one of my favorite magical reads of 2020. In a world reminiscent of Regency England, Beatrice Claybourn wants nothing more than to practice magic as a profession. But women don't get to do that sort of thing; in fact, they're fitted with a collar that cuts off their powers as soon as soon they're wed. Beatrice locates a rare grimoire that will help grant her wish to do magic, but another sorceress takes the book right out from under her. Beatrice sets out get the grimoire back and catches major feelings for the stealing sorceress' hottie brother in the process. Soon she's faced with an impossible choice: does she give into love, wed this lovely man, and in doing so save her family from destitution at the cost of her hopes and dreams? Or does she follow her heart and turn her back on everyone she loves?
Book club bonus: Did you catch the part about the collar? Could that, I dunno, be a symbol? C.L. Polk is saying big things about the repression and subjugation of women and I am here for all of it. Discuss.
I came across this collection of Christmas tales while looking up Farrah Rochon's catalog after falling in love with The Boyfriend Project. The stories in this collection whisk us off to a rustic Italian village and a luxury ski resort in Colorado for some holiday romance. I would love to read this with a buddy this winter, if for no other reason that to gush about brown and Black love.
Book club bonus: This year has been a rollercoaster in my reading life, but one thing I learned for sure is how healing it is to take a break from reading about trauma. Those kinds of reads are important too, no doubt. But for real though: people deserve to read about joy. Crack that nut open in book club!
Suggestion Section
Jenna Bush Hager selects Toni Morrison's The Bluest Eye for her December book club pick.
POPSUGAR announces the winners of the 2020 POPSUGAR Book Club Awards
Some book club news from my adopted state: the University of Oregon's Deconstructing Whiteness Working Group invites faculty members to participate in a book club focused on the intersections of disability and other marginalized identities. I hope more higher education spaces are creating spaces to examine ableism, racism, homophobia, etc.
---
Thanks for hanging with me today! Shoot me an email at vanessa@riotnewmedia.com with your burning book club questions or find me on Twitter and the gram @buenosdiazsd. Sign up for the Audiobooks newsletter and catch me once a month on the All the Books podcast.
Stay bad & bookish, my friends.
Vanessa