Sponsored by The Lives of Saints by bestselling author Leigh Bardugo with Fierce Reads
This holiday season, experience the Grishaverse like never before. . .
Out of the pages of the Shadow and Bone trilogy, from the hands of Alina Starkov to yours, soon to be part of a Netflix original series—immerse yourself in the epic world of international bestselling author Leigh Bardugo with this beautifully illustrated replica of The Lives of Saints, the Istorii Sankt'ya. The perfect gift for any fantasy fan, these tales include stunning full-color illustrations of miracles and martyrdoms from familiar saints plus strange and obscure stories drawn from the novels and beyond.
Hey YA Readers!
Let's continue our journey of YA nonfiction for this last Monday of November and explore another format: audiobooks. I'm a huge audiobook listener, though the bulk of my listening is adult nonfiction. This doesn't mean I don't listen to YA on audio, but when I do, it's not a surprise that I lean toward nonfiction. Something about nonfiction — be it the way it's easier to dip in and out, be it the way it's like listening to a podcast — makes it easy for me to enjoy aurally.
Here are some outstanding YA nonfiction books to listen to in their audio format. You'll notice that the bulk of these are memoirs or essay collections and that's purposeful: though the often do include photos or images, one of the things that makes nonfiction for young readers so great in print are the visuals. In these stories, the visuals aren't exceptionally vital to the text itself.
Performed by Johnson, this is an outstanding and moving memoir about growing up at the intersection of Black and queer. It's vulnerable, open, and compelling and would pair so spectacularly with Stamped (below!).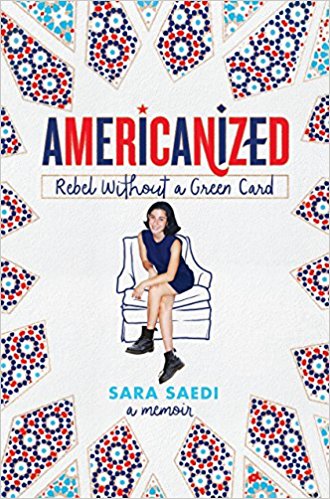 Performed by Lameese Issaq, Saedi's memoir is a humor-soaked memoir about life as an illegal immigrant in America. We get a great look at Saedi's family, her relationship with her sister, and the lengths that her parents went to to obtain green cards for them all. Sprinkled throughout the story are FAQs about Iranian culture and tradition which are written in a really funny yet informative manner.
Hughes performs her own audiobook, which is a series of essays for YA readers on everything from growing up in a small Kentucky town to becoming a spelling bee champion to graduating at age 15 and moving herself to New York to pursue her dream. This is another listen for readers who love a good laugh.
A brutal and powerful verse memoir about growing up in an unstable family dealing with schizophrenia, absenteeism, sexual assault, and the foster care system. But through it all, Nikki's solace in writing comes through, as does her commitment to being a survivor. Messy and challenging and moving, the memoir is made even more explosive by Grimes performing the audio herself.
Reynolds is such a natural performer, and he carries this must-read adaptation of Kendi's adult book to the teen audience perfectly. It's not a history book — a refrain that comes up over and over — but instead is a searing look at racism and antiracism today. The book clearly breaks down the differences between being racist, an assimilationist, and anti-racist, and listeners get a solid look at some of the most lauded Black leaders and where and how they did and did not advance anti-racist causes.
I listened to the adult edition of this book, but the young adult rendering is also performed by Khan-Cullors, with a forward by and performed by Angela Davis, and I suspect it's just as outstanding aurally. This is a look at the beginning of the Black Lives Matter movement and the systemic injustices experienced by Black people in America. Readers who aren't familiar with the criminal justice system and the American police state will have their eyes opened here.
---
Grab some headphones or a blue tooth speaker and enjoy these outstanding works of nonfiction on audio.
Thanks for being here, and we'll see you later this week. New book releases not highlighted because of last Thursday's holiday will absolutely be included there, so you'll get a nice load of books for that ever-expanding TBR.
— Kelly Jensen, @heykellyjensen on Instagram and editor of Body Talk, (Don't) Call Me Crazy, and Here We Are.