We're giving away six copies of Barely Functional Adult by Mechi Ng to six lucky Riot readers, and one grand prize winner will also receive a Barely Functional Adult plush toy!
Enter here for a chance to win, or click the cover image below!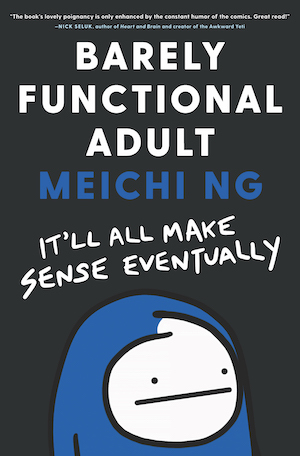 Here's what it's all about:
From the creator of Barely Functional Adult, a painfully relatable webcomic with over 130k followers on Instagram, comes a never-before-seen collection of incriminating short stories about exes, murder, friendship, therapy, anxiety, Hufflepuff, sucking at things, freaking out about things, calming down momentarily, melodrama, wrinkles, pettiness, and other wonderful delights. In this beautiful, four-color collection, Meichi perfectly captures the best and worst of us in every story, allowing us to weep with pleasure at our own fallibility. Hilarious, relatable, and heart-wrenchingly honest, Barely Functional Adult will have you laughing and crying in the same breath, while taking solace in the fact that we're anything but alone in this world.