Sponsored by Baen Books.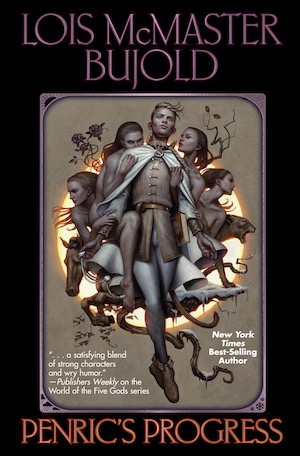 Penric's Demon: On the way to his betrothal young Lord Penric happens upon a riding accident. The victim is a Temple divine. As she lies dying, she passes her strange powers to Penric—and changes the course of his life forever. Penric and the Shaman: Penric must accompany a Locator of the Father's Order assigned to capture a runaway shaman charged with the murder of his best friend. Penric's Fox: When the body of a sorceress is found, it is up to Penric and his friends, to unravel a mystery mixing magic, murder, and the strange realities of Temple demons.
Welcome to Check Your Shelf. I know technically it's Thanksgiving this week, but not surprisingly, this hasn't been a particularly festive holiday season. At the very least, I hope everyone in the US enjoys their day off.
Collection Development Corner
Publishing News
HarperCollins and Penguin Random House are reportedly the leading candidates to purchase Simon & Schuster.
Star Wars author Alan Dean Foster appeals to Disney in a fight over royalties, saying that Disney has not paid him any royalties since they acquired Lucasfilm and 20th Century Fox.
Authors demand better treatment from Albert Whitman & Co.
How are publishers supposed to market books during the pandemic?
New & Upcoming Titles
A look at whether or not publishers will buy Trump's inevitable presidential memoir, and whether or not indie bookstores would sell it.
Alan Rickman's 27 handwritten diary volumes will be published as a single book in 2022. *commence ugly crying*
Dial Books For Young Readers are publishing a picture book about the Biden family dogs, Champ and Major, which will be released on January 19th, the day before Inauguration Day.
6 top YA authors, including Angie Thomas, Dhonielle Clayton, and Tiffany D. Jackson, are collaborating on a single novel in 2021.
Mary L. Trump is already shopping around a follow-up to Too Much and Never Enough.
Ernest Cline is talking about a possible prequel to Ready Player One.
A previously unpublished collection of J.R.R. Tolkien essays on Middle Earth will be released next summer.
First look at Laura Lippman's new psychological thriller, Dream Girl.
Quentin Tarantino is writing the novelization of Once Upon a Time in Hollywood.
Get your geeky food & drink on with this Star Trek cocktail guide and this Wonder Woman cookbook.
11 new releases to get you through Thanksgiving.
Books of the week from Bustle, Buzzfeed, Booklist, Crime Reads, The Millions, New York Times, and USA Today.
November book picks from Amazon (nonfiction), Crime Reads, Tor.com (horror & genre bending novels), and USA Today.
Best books of 2020 from Amazon, Kirkus (fiction), New York Times, O: Oprah Magazine, Time, Tor.com, and Washington Post (Top 10, fiction, nonfiction, poetry, graphic novels, mysteries, SFF/horror, romance).
Most anticipated books of 2021 from Buzzfeed (YA) and Marie Claire.
What Your Patrons Are Hearing About
The Promised Land – Barack Obama (Entertainment Weekly, The Guardian, LA Times, New York Times, NPR, Time, USA Today)
Fevers, Feuds, and Diamonds: Ebola and the Ravages of History – Paul Farmer (New York Times, NPR)
This is Not My Memoir – André Gregory & Todd London (New York Times, NPR)
Singular Sensation: The Triumph of Broadway – Michael Riedel (LA Times, New York Times)
On the Riot
7 excellent books released in 2020 by African women of color.
---
All Things Comics
Mariko Tamaki is curating a graphic novel imprint for LGBTQIA writers.
Patton Oswalt is writing a Black Hammer comic.
Marvel has (thankfully) nixed the idea of a CGI Chadwick Boseman for the next Black Panther movie.
On the Riot
Comics catch-up: what this reader is planning on reading.
4 comics to distract you from Twitter doomscrolling.
8 controversial comics that will keep you turning the pages.
---
Audiophilia
Rebecca Roanhorse talks about Indigenous fantasy with Audible.
Audiobook mysteries set during WWII.
On the Riot
Libro.fm announces the Top 10 audiobooks of 2020 at bookstores.
9 of the best audiobooks narrated by Priya Ayyar.
---
Book Lists, Book Lists, Book Lists
Children/Teens
17 books that show kids what it means to be thankful.
31 YA novels to pack for the end of the world.
9 creative Romeo & Juliet retellings.
Adults
5 recent books about the royal family.
15 must-read books if you loved these TV shows.
9 books about mistaken identity.
5 SFF books for the goth in your life.
On the Riot
6 of the best picture books about flying.
20 of the best personalized children's books to gift in 2020.
5 South Asian children's books that showcase South Asian identity.
14 books about hope for all ages.
6 creepy books about clowns.
Cookbooks for the wannabe Great British Baking Show contestant.
8 great cookbooks that will make you want to eat your veggies.
10 of the best survival books for when things fall apart.
3 books for mothers returning to work.
Fiction about the end of life.
6 snowy thrillers to chill your bones.
11 older and instant classics about Indigenous people.
---
Level Up (Library Reads)
Do you take part in Library Reads, the monthly list of best books selected by librarians only? We've made it easy for you to find eligible diverse titles to nominate. Kelly Jensen created a database of upcoming diverse books that anyone can edit, and Nora Rawlins of Early Word is doing the same, as well as including information about series, vendors, and publisher buzz.
---
Stay safe this Thanksgiving.
—Katie McLain Horner, @kt_librarylady on Twitter. Currently reading When No One Is Watching by Alyssa Cole.