Sponsored by tonies®, your lovable storytime companion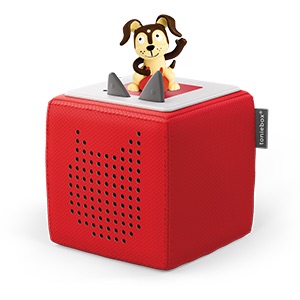 The Toniebox is an imagination-building, screen-free digital listening experience that plays stories, songs, and more. Designed for little listeners ages 3+, it's the perfect storytime companion for tiny hands and active imaginations. The Toniebox comes to life when paired with our whimsical collection of Tonies, hand-painted characters with hours of stories to tell, worlds to explore, and songs to sing. Whether educational content, audiobook or sing-along songs, each hand-painted Tonie figurine is a unique listening experience. From beloved classics to modern favorites, where will Tonies take you?
Hey readers! I'm back with another week of new children's book releases!
Counting Creatures by Julia Donaldson and Sharon King-Chai
This lift-the-flap book is written by the incomparable Julia Donaldson (author of Room on the Broom and The Gruffalo), making a game of matching baby animals with their parents.
Tani's New Home by Tanitoluwa Adewumi with Michelle Lord and Courtney Dawson
This moving, autobiographical picture book follows Tani, a Nigerian boy who travels to America to awat religious asylum. In America, Tani encounters many new things, including one that will grow to be the most fascinating and most fun: chess!
Because of her sensitivity to the sun, Ella has to spend days hidden in her nook in an oak tree, even though she loves light. At night, she comes out to explore, collecting things that give off light. Then one day her friends come up with a plan to help Ella's dream of seeing the sun come true.
Snow Days by Deborah Kerbel and Miki Sato
This is a cheery rhyming picture book about the fun of winter, showing young children enjoying colorful, snowy days and the magic of winter.
At the Hotel, Elevator Bird accompanies all the guests to their rooms and tells them which sights are the best ones to see. He's also helpful and kind to other members of the staff and generally makes everyone happier. So when the rest of the hotel learns Elevator Bird dreams of a room with a view, everyone comes together to make it happen.
With gift-giving season upon us, learning-minded kids will love this encyclopedia packed with photos and maps that give a glimpse of the wide, wide world. This is loaded with facts, figures, and fun references.
This fun cookbook offers up simple recipes for kids to try. All are easy to accomplish and tasty to eat, and encourages kids to use their creativity to come up with delicious treats of their own.
Until next week!
Chelsea (@ChelseaBigBang on Twitter)