Sponsored by Amazon Publishing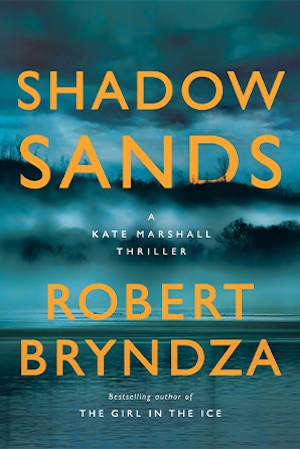 Criminology academic and former PI Kate Marshall makes a startling discovery while scuba diving in Shadow Sands reservoir. The body of a missing teenage boy is entangled beneath the surface. But he's only the latest in a string of mysterious deaths and disappearances. Legend has it that a mythic phantom hides in the rolling fog. As Kate hunts the elusive killer, she comes to realize that there's someone else staying steps ahead… making dead certain that the secrets of Shadow Sands stay buried. Robert Bryndza returns with Shadow Sands, the next thriller in the Amazon Charts bestselling Kate Marshall series.
Hi mystery fans! This week I've got some revenge reads for you–don't think too hard on that, I just happened to read two crime stories with the revenge theme recently and thought to share them together. Or did I?…
The Banks by Roxane Gay and Ming Doyle
Three generations of Black women, a heist, and revenge–what more could you want?! I've been a big fan of Roxane Gay's work since I read her essay collection Bad Feminist, and have since made sure to read all her books, including her graphic novels/comics which I think started with Black Panther: World of Wakanda.
The Banks gave me everything I love in a heist story: the origin story, drama, revenge, thievery, and that ride-or-die mentality. The comic gives us past and present pages, so we see both how this family–a grandmother (Clara), daughter (Cora), and granddaughter (Celia)–got into the business of theft along with where they are now. Celia is pissed when she's passed up for a promotion at work and proposes the go-big-or-go-home heist of a lifetime: she decides the family she wanted nothing to do with can now instead help her relieve her firm's biggest client of all his money.
The problems: while Clara and Cora have made a lifelong career out of stealing, Celia has not and turned her back on her family because of it; Celia is hiding all of this from her coworker boyfriend; Celia is in way over her head; and there's a detective following Cora and Clara…
I generally read an entire graphic novel volume in one sitting, but I was enjoying this so much that I actually sat down with one section a night so it would last longer. If you're a fan of heists, graphic novels, and a single contained story, enjoy! (TW: one panel of possible sexual assault, quickly stopped)
If you're a fan of revenge fantasies and Dexter type characters, here's a fun thriller. We follow two stories at once, both at Gorman University. One is that of Scarlett Clark, an English professor at the university whose side—and very secret—job is to pick the worst man on campus (generally a predator) every single year and kill him, literally.
We also get to know Carly Schiller, a freshman who has not come into her own yet but is finally away from her oppressive father. She finds herself with a popular, self assured roommate–everything she is not.
While Scarlet hunts and finds herself getting too close to being found out—and dealing with the university bureaucracy and her personal life—Carly tries to protect her roommate from the fallout of an assault while trying to find her voice and the person she wants to be.
You can look forward to this becoming a TV series with Fargo tapped to write the pilot! (TW rape/ past parent abuse mentioned/ murders covered up to look like suicide discussed)
From The Book Riot Crime Vault
Move Over Scandinavia, It's Time For Japanese Mysteries
8 Great Reads with Unusual Detectives
Grounds for Murder: Maps and Floor Plans in Mystery Novels
---
Browse all the books recommended in Unusual Suspects previous newsletters on this shelf. See upcoming releases for 2020 and 2021. Check out this Unusual Suspects Pinterest board and get Tailored Book Recommendations!
Until next time, keep investigating! In the meantime, come talk books with me on Twitter, Instagram, Goodreads, and Litsy—you can find me under Jamie Canavés.
If a mystery fan forwarded this newsletter to you and you'd like your very own, you can sign up here.