Sponsored by Tor Books.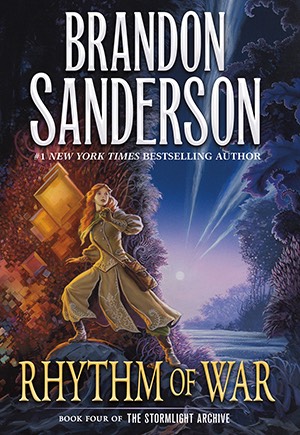 The eagerly awaited sequel to the #1 New York Times bestselling Oathbringer, from an epic fantasy writer at the top of his game, Rhythm of War is the latest volume in the acclaimed Stormlight Archive. After forming a coalition of human resistance against the enemy invasion, Dalinar Kholin and his Knights Radiant have spent a year fighting a protracted, brutal war. Neither side has gained an advantage. Now, as new technological discoveries begin to change the face of the war, the enemy prepares a bold and dangerous operation that could shatter more than just fragile allegiances.
Happy Friday, shipmates! It's Alex with some extremely spicy news of corporate malfeasance from the SFF-world—just scroll to the end if you want to know who is being unforgivably cruel to whom. Hope it's been a livable week for everyone. I have continued my mission to bake a high-altitude pavlova that doesn't suck, and… I've almost got it figured out. I'll take my victories. Stay safe out there (please be safe), space pirates, and I will see you on Tuesday.
John Oliver on Last Week Tonight used his final show of the year to give 2020 the send off I think we'll all be giving it come December 31.
Looking for non-book things you can do to help in the quest for justice? blacklivesmatter.card.co and The Okra Project.
---
News and Views
Huge congratulations to Kacen Callender for winning the National Book Award for King and the Dragonflies! See the rest of the winners here.
There is a darker side to The Last Dangerous Visions finally getting published. Christopher Priest talks about it bluntly here, and if you really want a long read into the harm Harlan Ellison did to other writers with this, here's the Hugo-nominated analysis (both links courtesy of Jason Sanford's thread on the topic).
Cover reveal for She Who Became the Sun by Shelley Parker-Chan!
This is Q&A is hecka fun to read: Merril Collection at 50: Stories from the Spaced Out Library
A definitive list of the Lord of the Rings characters that f*ck
6 Sci-Fi Writers Imagine the Beguiling, Troubling Future of Work
Tor.com's reviewers have chosen their best books of 2020
Robot Wolves. Sounds fine.
We're getting Wonder Woman 1984 on Christmas. Finally. (I am here to strongly recommend the streaming option.)
Kurt Russell mentions The Passion of the Christ and The Christmas Chronicles 2 in the same breath. Sure, why not. It's 2020. Anything can happen.
On Book Riot
This week's SFF Yeah! podcast is about holiday gifting!
You've got until November 24 if you want to win a copy of Lycanthropy and Other Chronic Illnesses.
This month you can win a YA Fantasy and Sci-Fi book bundle and/or a $250 dollar Barnes and Noble gift card.
Free Association Friday: Dear Mickey, You Should Pay Alan Dean Foster
Disney is trying to screw beloved author Alan Dean Foster out of royalties with the absolutely bonkers legal theory that when they bought Fox and LucasFilm, they bought the rights to the novels he wrote but without the responsbility of actually paying him. Science Fiction Writers of America explains this horrific situation. Cory Doctorow has an explainer thread. Expect to hear a lot of writers screaming red alert about of this, because if Disney gets away with doing this to Alan Dean Foster, no one else is safe.
Beyond the fact that Disney just OWES Alan Dean Foster the money for the work he did (and these m***** f*****s won't even generate royalty statements), he also really needs the money because he's got cancer and his wife is also ill.
So let's talk about some Alan Dean Foster books you should check out where the money will go to HIM.
If you want the most up-to-date Fosterology, here it is: 13 fresh, short stories and novelettes, published in March of 2019.
Madrenga by Alan Dean Foster
Madrenga is young and inexperienced and has no business carrying a vital royal message across a dangerous land, with only a runty horse and an even runtier dog as his companions. But he's all the Queen has, and he'll be a hero… or die trying.
Oshenerth by Alan Dean Foster
Alan Dean Foster has done a lot of diving, and he uses all that experience to create an epic fantasy that takes place entirely under water. A merson and a cuttlefish find an unconscious female demon as they return from a shark hunt. A unique friendship develops from this moment, one that will change their world forever as the reef dwellers and the demon band together to protect their home.
In A Call to Arms, The False Mirror, and The Spoils of War, humans are caught in the endless conflict between the allied species of the Weave and the telepathic Amplitur, who would like to subsume all sapient life forms into their great "Purpose." Both sides focus more on outthinking their foes and find violence generally abhorrent. Humans do not have this "problem."
The start of the adventures of Flinx and Pip, a freckle-faced red-headed kid and his little–but deadly–flying dragon. Flinx was bought from the auction block for a pittance by Mother Mastiff, who raised him as family. But when she mysteriously disappears, he must search the winged world of Moth to save her, with only his wits, his strange "talent," and Pip's venom as his weapons.
This is the start of a portal fantasy series where a typical college student falls through an interdimensional rift and lands in a world where animals talk and sorcery is real. When he picks up a strange instrument called a duar, he discovers that he's got his own brand of magic that might just be what this strange world has been looking for as it fights against the dark force that would consume it.
---
See you, space pirates. If you'd like to know more about my secret plans to dominate the seas and skies, you can catch me over at my personal site.