Sponsored by Algonquin/Workman.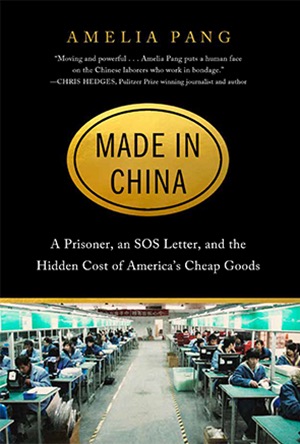 In 2012, an Oregon woman opened a package she'd purchased at Kmart; inside was an SOS letter, handwritten in broken English by the prisoner who'd made and packaged the items. In Made in China, investigative journalist Amelia Pang pulls back the curtain on the labor camps that create the home goods we purchase in the States. She conducted extensive interviews with Sun Yi, the prisoner, and traveled undercover to China to explore the supply chain. This book is her call to action, urging American consumers to ask more questions and demand more answers from the companies we patronize.
Welcome to Check Your Shelf. I thought I was getting used to my entire life being conducted over Zoom now, but this week has been testing my Zoom patience. However, the cold weather means that it's been a great opportunity to show off my eclectic collection of coffee mugs.
Let's library.
---
Libraries & Librarians
News Updates
An LGBTQ+ display in the Sullivan County (PA) School District is at the heart of a conflict between the district and several parents and board members.
(TW: violence) A Florida librarian was intentionally struck by a group of teens in a van, and is now in critical condition. To say this is horrifying is the understatement of the year.
A New York highway has been renamed after a library security guard who was murdered on the job earlier this year.
Cool Library Updates
Libraries use board games to encourage critical thinking in kids and teens.
Why more Ontario libraries are going fines free. Plus, the Chicago Public Library has said that eliminating late fines was a good move.
Eeee! The staff at the Morgantown (WV) Public Library partnered with local animal shelters to create a fundraising cat calendar! Each month features a different librarian holding an adoptable cat!
Worth Reading
How a British Columbia library's Drag Queen Story Hour turned into a nationwide fight for intellectual freedom.
Creating a trauma-informed library workforce.
---
Book Adaptations in the News
Oprah and Brad Pitt have teamed up for the adaptation of Ta-Nehisi Coates' novel, The Water Dancer.
The CW is planning a modern Jane Austen anthology series.
Tananarive Due's upcoming novel The Reformatory has already sold TV rights! Same goes for Grady Hendrix's upcoming novel, The Final Girl Support Group.
Ann Cleeves' novel The Long Call will be getting a four-part adaptation.
Casting update for the upcoming Silence of the Lambs series, Clarice.
There's going to be another adaptation of Eloise, which is also my #1 favorite book from childhood!
There will be a second season of the Alex Rider series. However, HBO has canceled The Outsider after one season.
First trailer for Between the World and Me.
---
Books & Authors in the News
Five books have been removed from the required reading list at Burbank (CA) Unified School District after parent complaints of racist language and at least one instance of racist behavior from a student. Here's a look at what makes this such a unique circumstance.
(TW: sexual misconduct) Jeffrey Toobin has been fired from The New Yorker.
---
Numbers & Trends
Trump books are not going to go away after he leaves office.
---
Award News
Here's a look at the controversial eligibility requirements for the Women's Prize.
Shortlist for the 2021 Andrew Carnegie Medals for Excellence in Fiction and Nonfiction.
The 2020 Christy Award winners have been announced.
Amazon released the finalists for the 2020 Children's Choice Book Awards.
Barnes & Noble released its Book of the Year finalists.
---
Bookish Curiosities & Miscellaneous
This website gives you the first page of a book without revealing the title or author, allowing you to judge the book based on the writing. Pretty cool!
This literary murder mystery puzzle has been solved for just the third time in almost 100 years.
---
On the Riot
The Public movie and librarian representation.
What this reader learned about maintaining a book club and keeping it positive.
Reading through difficult times: books and their readers in 1918-1920.
So you're still in a pandemic reading slump? (Don't worry…I am too.)
Keeping up a bookish lifestyle without actually reading.
What giving up fiction did to this reader.
---
Take a breath, hydrate, and make sure to eat something. (This is just as much a reminder for myself as it is for other people.) I'll see you next week.
—Katie McLain Horner, @kt_librarylady on Twitter.