Sponsored by the audiobook edition of Metazoa by Peter Godfrey Smith, read by Mitch Riley, with the author.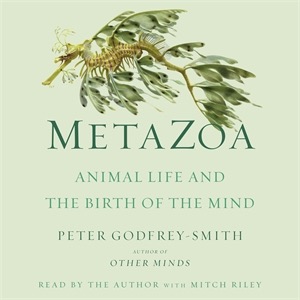 Peter Godfrey-Smith, the scuba-diving philosopher who wrote Other Minds explores the origins of animal consciousness in his new audiobook, Metazoa, read by the author with Mitch Riley. Combining animal encounters with philosophical reflections and biology, Metazoa reveals that even in our high-tech, AI-driven times, there is no understanding our minds without understanding the beings around us. Following the evolutionary paths of soft coral, banded shrimp, octopus, and fish, as well as the world of insects, birds, and primates, Metazoa gathers their stories together to bridge the gap between mind and matter, addressing one of the most vexing philosophical problems: that of consciousness.
Hola Audiophiles! I heard a little something through the grapevine today: apparently some guy named Barry released a memoir that sold close to 890,000 copies on its first day. Something about a promised land, I think? Well, good for him.
Ready? Let's audio.
---
New Releases – Week of November 17 (publisher descriptions in quotes)
In ultra-orthodox Brooklyn, lonely teen Ari Eden's entire life is consumed by intense study and religious rituals. Then his family announces that they're packing up and moving to a glitzy Miami suburb, and Ari sees an opportunity for reinvention. He enrolls at an opulent Jewish academy, a place ruled by dizzying wealth, ruthless ambition, and hedonism. When the school's golden boy takes Ari under his wing, Ari gets pulled into the school's most exclusive and wayward clique as they begin testing their religion in… interesting ways. This is Liberty Hardy's favorite book of the year!
Read by Micky Shiloah (Lot Six by David Adjmi)
Everyone I know who's read the Poppy War series has recommended it enthusiastically with something the tune of, "Ah! Brutal! Gird your loins! SO GOOD!" The Burning God is the conclusion to this award-winning epic fantasy trilogy that combines the history of 20th-century China with a banana-pants world of gods and monsters.
Read by Emily Woo Zeller (a Book Riot favorite who also reads White Ivy by Susie Yang, which I'm SO excited to read!)
This is the sequel to War Girls, a book I admit I didn't know much about until recently because I was caught up in all the buzz around Riot Baby (read that too, it's phenomenal). In War Girls, it's 2172 and the earth is largely uninhabitable due to climate change and nuclear disasters. In a futuristic, Black Panther-inspired Nigeria, these conditions have forced many to move to space colonies while those left behind suffer through civil war and radiation poisoning. Sisters Onyii and Ify's lives have been marked by violence and political unrest, but they dream of peace. They're willing to fight for that peace, and that's exactly what they do. In this sequel, "the battles are over, but the fight for justice has just begun."
Read by Nkeki Obi-Melekwe (Ties That Tether by Jane Igharo)
My body is ready for 30 hours of soothing narration from dad. I'm not crying, YOU'RE crying!
Read by dad





Latest Listens
This Victorian gothic horror-comedy story-within-a-story revolves around the Brookhants School for Girls, a cursed New England boarding because of course it is. The lives of two sets of girls who lived over a century apart are entwined in mysterious ways; in 1902, Clara and Flo died under suspicious circumstances on school grounds, and Harper and Audrey are playing Flo and Clara in a modern horror film about their gruesome deaths. As past and present melt into one another with each distortion of reality and revelation of long-buried truths, a low (and literal) hum of dread sets in and makes itself at home. It's full of Hollywood satire, sapphic romance, and some deliciously dark humor. If you like your horror spooky but not scary, creepy as shit but not bloody or violent, this wonderful book strikes that perfect balance of atmospheric and unsettling that's just made for fall reading.
Now: how to describe Xe Sands' narration style? She sort of sounds like I imagine a specter come from the beyond to send me on a dangerous quest would sound, or like I do when I've had too much wine and I'm trying to persuade someone to go get me some french fries: it's a little slow, a little raspy, and you just get the sense that she's withholding vital information. This sounds like shade, but I promise it's not! She's won all of the awards and her work is beloved by many, but I've spent enough time interacting with the most critical parts of the internet to know that she's probs not everyone's cup of tea. I personally think that languid, almost hoarse, bordering-on-vocal-fry thing is an entire mood, one perfectly suited to this haunted tale.
In conclusion: I loooooved this book!
Backlist bump: The Miseducation of Cameron Post
From the Internets
at Audible: an interview with Rebecca Roanhorse and celebration of Indigenous fantasy
at Audiofile: audiobook mysteries set during WWII and a round of 5 Questions with narrator Dion Graham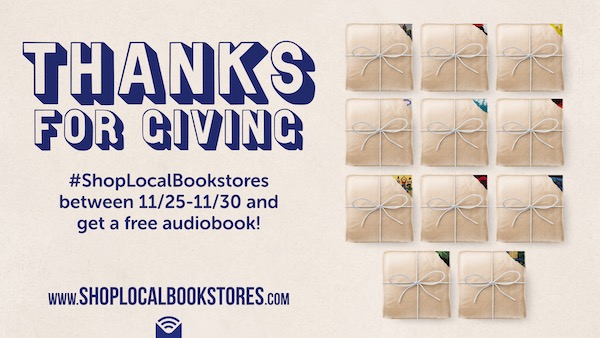 Make the choice to #ShopLocalBookstores! When you spend at least $15 at your local indie between Wednesday, November 25th through Monday, November 30th, you'll get to choose a bestselling audiobook from Libro.fm for free. The audiobooks will remain a mystery until 11/25, so stay tuned for the announcement. Details at shoplocalbookstores.com.
Over at the Riot
9 of the Best Audiobooks Narrated by Priya Ayyar
Does Chirp Change the Audiobook Game?
Libro.fm Announces the Top 10 Audiobooks of 2020 at Bookstores—this list is HOT FIRE!
---
Thanks for hanging with me today! Shoot me an email at vanessa@riotnewmedia.com with with all things audiobook or find me on Twitter and the gram @buenosdiazsd. Sign up for the In The Club newsletter and catch me once a month on the All the Books podcast.
Stay bad & bookish, my friends.
Vanessa