Sponsored by Tor Books.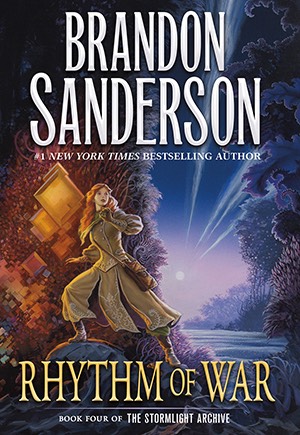 The Stormlight Archive continues in Rhythm of War, the eagerly awaited sequel to Brandon Sanderson's #1 New York Times bestselling Oathbringer, from an epic fantasy writer at the top of his game. After forming a coalition of human resistance against the enemy invasion, Dalinar Kholin and his Knights Radiant have spent a year fighting a protracted, brutal war. New technological discoveries by Navani Kholin's scholars begin to change the face of the war, and the enemy prepares a bold and dangerous operation. At the same time, Kaladin Stormblessed must come to grips with his changing role within the Knights Radiant.
Welcome to another Thursday, my little ink-stained friends! Things are going as well as they can here in Maine right now. Millay got an A+ report from her vet, so she didn't have to have surgery, and although I didn't end up starting The West Wing, it was because I have been reading up a storm. I already have over 50 titles coming out next year under my belt, and I am so excited to tell you more about the ones that I've loved!
I am so grateful, every day, for all that I have, and so appreciative of all of you! This past week, it tickled my heart that several of you reached out to tell me you purchased The Orchard on my recommendation, to wish Millay well, and even a few messaged me to say that the Larry Bird Funko was on sale on the Hot Topic website. (I already have it, but I appreciate you letting me know. Larry Bird is the GOAT!) But enough mushy stuff – who wants to hear about book news?
First, please remember that whatever you are doing or watching or reading this week, I am sending you EXTRA love and hugs. Please be safe, and remember to wear a mask and wash your hands. And please be mindful of others. It takes no effort to be kind. I'll see you again on Thursday. – xoxo, Liberty, Your Friendly Neighborhood Velocireader™
Trivia question time! The events of Joseph Heller's Catch-22 are set on which Italian island? (Scroll to the bottom for the answer.)
Deals, Reals, and Squeals!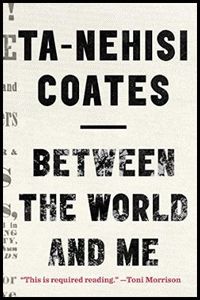 Here's the official trailer for Between the World and Me by Ta-Nehisi Coates, premiering on HBO.
The rights to Tananarive Due's upcoming novel have already sold.
Mariko Tamaki is curating a new graphic novel imprint for LGBTQIA writers.
Authors Dhonielle Clayton, Tiffany D. Jackson, Nic Stone, Angie Thomas, Ashley Woodfolk, and Nicola Yoon are teaming up for the YA novel Blackout.
And speaking of Dhonielle Clayton, here's the first trailer for the Netflix adaptation of Tiny Pretty Things, adapted from the YA novel she wrote with Sona Charaipotra.
Here's the cover reveal for She Who Became the Sun by Shelley Parker-Chan.
Patton Oswalt is writing a Black Hammer comic.
Kima Jones sold her memoir to Knopf.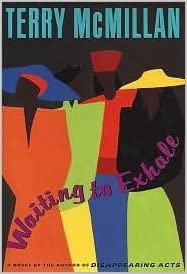 There's a Waiting To Exhale TV series in the works with Lee Daniels
David Ebershoff is returning to Random House.
Here's the first look at Camryn Garrett's upcoming YA novel Off the Record.
No surprise: James Patterson was the decade's best-selling author. (Say what you want about his books, but he is extremely generous and donates millions of dollars every year.)
Here's the first look at Later by Stephen King.
Book Riot Recommends
At Book Riot, I work on the New Books! email, the All the Books! podcast about new releases, and the Book Riot Insiders New Release Index. I am very fortunate to get to read a lot of upcoming titles, and learn about a lot of upcoming titles, and I'm delighted to share a couple with you each week so you can add them to your TBR! (It will now be books I loved on Mondays and books I'm excited to read on Thursdays. YAY, BOOKS!)
Excited to read:
I must admit, I am not a big fan of villains being Darth Vadered. (Which is a totally real term that I made up.) By 'Darth Vadered' I mean, when a famous villain is given a separate backstory to show that they once were good. My least favorite of all these Vaderings is Hannibal Lecter. It was weaksauce. Can't people just be born bad?
HOWEVER. I am a huge Maureen Johnson fan. She is hilarious and witty, and does a great job writing scary characters, too. So if anyone is going to write about Cruella de Vil when she was young (and known as Estella), then I believe she is 100% the right choice. In this book, she's a fashion designer hopeful who runs wild on the London streets with her friends, small-time crooks Horace and Jasper. Bring on the bad!
What I'm reading this week.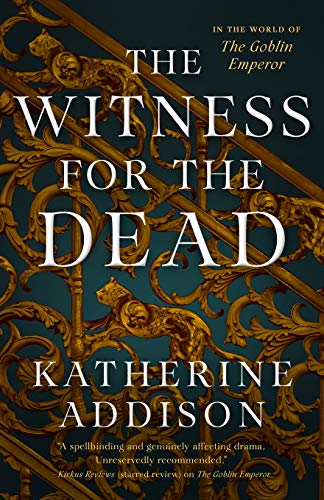 The Witness for the Dead by Katherine Addison
A Promised Land by Barack Obama
Meet Me in Another Life by Catriona Silvey
A Marvellous Light by Freya Marske
Simone Breaks All the Rules by Debbie Rigaud
Song stuck in my head:
Sister Golden Hair by America. (Also, I'm still really into listening to songs I loved when I was young. You can listen to a lot of them in this playlist I made!)
And this is funny:
Happy things:
Here are a few things I enjoy that I thought you might like as well:
And here's a cat picture!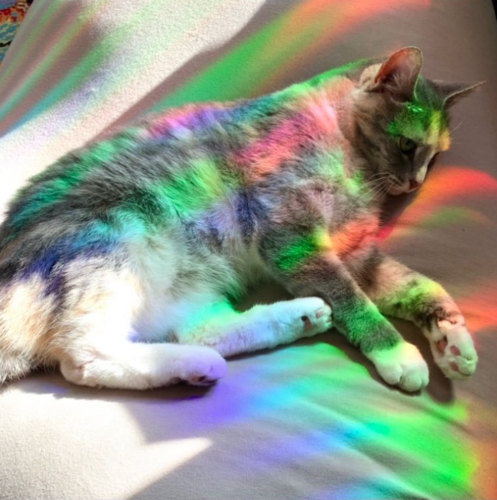 Millay, my rainbow laser queen, on her 10th birthday.
Trivia answer: Pianosa.
You made it to the bottom! High five. Thanks for reading! – xo, L