Sponsored by TooFar Media. Enter to WIN a FREE iPAD and a FREE FICTION BOOK!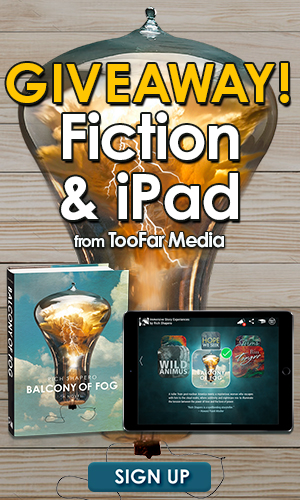 tk
Watch Free Interview With Oprah and Obama On AppleTV+
Oprah sat down with Barack Obama for her AppleTV+ show, The Oprah Conversation, and they of course talked about his just released memoir A Promise Land. You can watch the episode for free on AppleTV+ until December 1st. Here for book tour Obama.
Patton Oswalt Is Writing A Comic
Actor Patton Oswalt, who is known for his love of superheros, is writing a comic. Dark Horse's Black Hammer universe will have a new anthology, Black Hammer: Visions, and Oswalt will write the first issue. There will be eight issues, each a standalone story, with a different writer, and you can look forward to Mariko Tamaki and Kelly Thompson each writing an issue.
Poets House Suspends Operations
Poets House has announced that it has suspended operations effective immediately due to budgetary issues created by the pandemic. Executive director Lee Briccetti announced retirement in 2021. "Poets House has a world-class poetry library of 70,000 books that is free and open to the public at its beautiful space in Battery Park City," and hopefully they will be able to reconfigure and reopen in late 2021, when the pandemic is estimated to be under control.
Romancing the Runoff: Romance Authors Raise Funds for Georgia Runoff Election
Romance writers unite to launch Romancing the Runoff, an auction to help support fundraising efforts for the Georgia Senate runoff elections.