Sponsored by We Keep the Dead Close: A Murder at Harvard and a Half Century of Silence by Becky Cooper.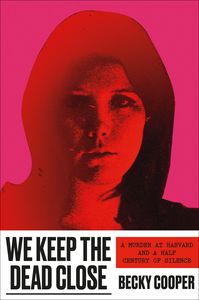 For readers gripped by In Cold Blood and I'll Be Gone in the Dark, We Keep the Dead Close is both a haunting true crime narrative of an unsolved 1969 murder at Harvard and "a powerful portrait of a young woman's remarkable quest for justice" (Kirkus Review). A "tour de force of investigative reporting" (Ron Chernow) that's "searching, atmospheric and ultimately entrancing" (Patrick Radden Keefe).
If you didn't listen to this week's episode of For Real, you should, because while we were recording, the presidential election got decided, and the background cheers of Chicagoans made it all the way onto the podcast. It is historically NEAT.
Ok, so this week we're looking at some travel narratives because it's not like anyone's going anywhere and it's nice to read about when people DID go places. Travel by proxy! Here we go.
Álvarez is the son of Mexican immigrants and grew up in Washington state, working at an apple-packing plant. A first-generation college student, he struggled to find his place, until at 19 he learned about the Native American/First Nations movement called Peace and Dignity Journeys. This is an epic marathon, and Álvarez's took four months and spanned from Canada to Guatemala. I've heard pretty much nothing but good things about this one.
I remember my Victorian lit professor saying, "do you know the female equivalent of flâneur? You do not, because it doesn't exist, because women weren't supposed to walk the city alone." Well, here's the modern day answer to that. It's part memoir, as Elkin talks about her life in the subtitled cities, and also a history of "such flâneuses as the cross-dressing nineteenth-century novelist George Sand, the Parisian artist Sophie Calle, the wartime correspondent Martha Gellhorn, and the writer Jean Rhys." I encourage you to flâneuse it up in your neighborhood.
Do you like food? Do you want to learn more about it, possibly accompanied by a travel theme? Chinese American journalist Lin-Liu gives a culinary tour of today's (2008's) China, "from cooking student to noodle-stall and dumpling-house apprentice to intern at a chic Shanghai restaurant."
Maybe this will make you glad you're inside? Streever "journeys through history, myth, geography, and ecology in a year-long search for cold–real, icy, 40-below cold." He looks at hibernation habits, talks about the Clovis people of the Ice Age, what happens when trees freeze, Japanese ama ("sea women") divers, finding frozen mammoths, and more. This sounds GREAT.
---
For more nonfiction reads, check out the For Real podcast which I co-host with the excellent Kim here at Book Riot. We're doing a gift guide episode soon, so if you're looking for a nonfiction gift for someone, email us your questions at forreal@bookriot.com. Until next time, enjoy those facts, fellow nerds.