Sponsored by the Oni-Lion Forge Publishing Group.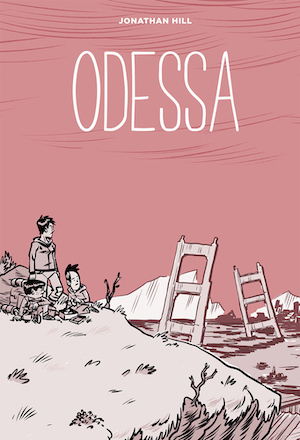 Eight years ago an earthquake—the Big One—toppled cities, changing life forever. But for Vietnamese American Virginia Crane, the biggest shock occurred shortly after the earthquake, when her mother left and never came back. Now on the verge of her eighteenth birthday, Ginny and her two younger brothers have gotten used to life without a mother, until the arrival of a mysterious package sends tremors through the Crane family's complacent existence. For the first time, Ginny wants something more than to survive—she wants answers, even if it means leaving her family behind.
Welcome to Check Your Shelf, and LET'S ALL TAKE A DEEP, RELAXING BREATH! I know that this election stuff isn't over yet and that there's plenty of hard work ahead of us, but holy cow, it felt good to turn on the news Saturday morning! (And then pour a glass of prosecco at 12:30 in the afternoon, and joy scroll on Twitter, and cry tears of relief, and…)
Yes, libraries are non-partisan, but darn it, I'm injecting a little bit of my residual joy into this newsletter!
---
Collection Development Corner
Publishing News
Not only were French bookstores ordered to close despite a request to be labeled as essential businesses during France's second major lockdown (which, okay, I kinda understand), but supermarkets were ordered to stop selling books in order to ward off future complaints of unfair competition.
New & Upcoming Titles
Ruby Bridges has written a children's book about her experiences, called This Is Your Time.
A first look at Megan Abbot's new book, The Turnout, which centers around the competitive world of ballet.
New cozy mysteries to curl up with this fall.
50 intriguing opening lines from books published in 2020.
Weekly book picks from Booklist, Crime Reads, LitHub, The Millions, Publishers Weekly, Shelf Awareness, and USA Today.
November picks from Amazon, AV Club, Barnes & Noble, Bitch Media, (YA feminist picks), Bustle, Crime Reads, Entertainment Weekly, Good Morning America, io9 (SFF), Lambda Literary, The Millions (general & poetry), Town & Country, and Washington Post.
Stephen King and Janet Evanovich pick their favorite books of 2020.
2020 picks from Barnes & Noble and Bustle (short story collections).
What Your Patrons Are Hearing About
To Be a Man: Stories – Nicole Krauss (Entertainment Weekly, New York Times, NPR, Washington Post)
White Ivy – Susie Yang (LA Times, New York Times, USA Today, and Washington Post)
We Keep the Dead Close: A Murder at Harvard and Half a Century of Silence – Becky Cooper (USA Today)
Vanguard: How Black Women Broke Barriers, Won the Vote, and Insisted on Equality for All – Martha S. Jones (Washington Post)
One Life – Megan Rapinoe (New York Times)
The Best of Me – David Sedaris (New York Times)
On the Riot
10 November YA releases to get on your reading list.
---
All Things Comics
YA author E. Lockhart is bringing a new teenage superhero to Gotham.
On the Riot
20 scary comics for the haunting season.
---
Audiophilia
AudioFile announces the November Earphone Award winners.
Four favorite female mystery narrators.
Libro.fm highlights Indigenous-owned bookstores in the USA and Canada.
On the Riot
Some audiobook history with a look at the first audiobook ever recorded.
The National Book Award's 5 Under 35 honorees on audio.
25 hilarious audiobooks for your holiday road trip.
---
Book Lists, Book Lists, Book Lists
10 middle grade stories featuring admirable tween boys.
7 great crossover series for middle school & YA readers.
18 YA books about social justice.
41 YA books to help you escape election madness for a minute.
Adults
4 book recommendations from Bill Gates.
8 sci-fi books for people who don't think they like sci-fi.
New memoir suggestions for book clubs.
15 books from small presses you won't be able to put down.
10 books like The Queen's Gambit that prove chess is far from boring.
6 books with dark anti-heroines.
5 books featuring alien oceans.
On the Riot
29 of the best children's books about disabilities.
10 of the best epistolary YA novels.
12 books like Enola Holmes. (Includes a mix of audience levels!)
8 mysteries and thrillers by Black authors.
The best Korean fiction in translation.
11 essential queer pregnancy books.
4 books about gender shapeshifters.
20 must-read sports romances.
4 opera books to shake up your playlist, and your reading list!
Check it out, murderinos: all of the books that were recommended on the My Favorite Murder podcast this year!
---
Level Up (Library Reads)
Do you take part in Library Reads, the monthly list of best books selected by librarians only? We've made it easy for you to find eligible diverse titles to nominate. Kelly Jensen created a database of upcoming diverse books that anyone can edit, and Nora Rawlins of Early Word is doing the same, as well as including information about series, vendors, and publisher buzz.
COVID's still out there, but (fingers crossed) the worst of the election stress is over. Give yourself a big hug this week!
—Katie McLain Horner, @kt_librarylady on Twitter.