Sponsored by Henry Holt & Co.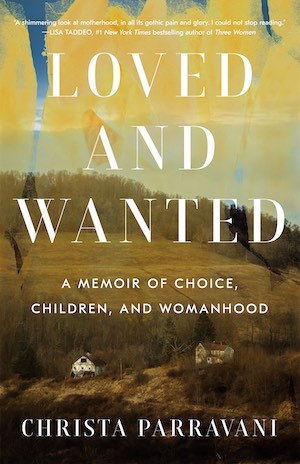 Loved and Wanted is the passionate story of a woman's love for her children, and a poignant and bracing look at the difficult choices women in America are forced to make every day, in a nation where policies and a cultural war on women leave them without sufficient agency over their bodies, their futures, and even their hopes for their children's lives.
Happy Tuesday, readers! I hope you had a great weekend and were able to find something wonderful to read. Sadly, my plans to throw myself a weekend-long readathon were derailed by a cold and a trip to the emergency vet with Millay. But these things happen, and we're both doing much better now, and I did manage to read most of a book in the vet's parking lot while I waited. (It makes me laugh whenever I am told there may be a wait. "Oh no, I will be forced to read a book. The horror, lol!")
Speaking of books (which is almost all I speak about), there are several books I am excited to get my hands on today, including At Night All Blood Is Black by David Diop, The Arrest by Jonathan Lethem, and Secret Santa by Andrew Shaffer. Megan Rapinoe's memoir, One Life, is out now too, and it's also the release day for my favorite true crime read of the year: We Keep the Dead Close: A Murder at Harvard and a Half Century of Silence by Becky Cooper. And congratulations to former Rioter Melody Schreiber on the book birthday of What We Didn't Expect: Personal Stories about Premature Birth! That also reminds me that I want to read Loved and Wanted: A Memoir of Choice, Children, and Womanhood by Christa Parravani.
You can hear about more of today's amazing books on this week's episode of All the Books! Vanessa and I discussed The Office of Historical Corrections, Moonflower Murders, Mimi Lee Reads Between the Lines, and more great new books.
And now, it's time for everyone's favorite gameshow: AHHHHHH MY TBR! Here are today's contestants:
I am so excited this book is finally out! Elle Jones is an astrologer with a popular Twitter account. Darcy Lowell is an actuary with a meddlesome brother who is determined to help her find love. When he sets Darcy up with Elle, she agrees to the date—and it's a disaster. But to keep her brother from trying to find her another match, she gets Elle to agree to pretend they were made for each other. When they obviously are not, nope, no way, no how. And spending more time together will just prove it to everyone and themselves…right? YAY FAKE DATING. This is a frickin delightful #ownvoices queer rom-com, which claims to be a bit like Pride and Prejudice, but I'll have to take everyone's word for it, because I still haven't read P&P. (SHHHHHHHH I KNOW.)
Backlist bump: The Lady's Guide to Celestial Mechanics by Olivia Waite (because they both involve stars!)
It seems impossible that Chao's debut YA novel, American Panda, came out over two years ago already, but here we are. Then there was Our Wayward Fate—which I still need to read—and now it's time for another new book! I didn't mean to pick two books today about fake dating on purpose, I swear. Rent a Boyfriend is about Chloe Wang, a college student who hires a fake boyfriend from Rent for Your 'Rents, a company "specializing in providing fake boyfriends trained to impress even the most traditional Asian parents", so that her parents will stop bothering her about her love life. Drew Chan is a former college student who took the Rent for Your 'Rents job after his parents cut him off when he dropped out of school. Chloe hires Drew to pretend to be her significant other to impress her parents, but it's Drew's real persona she starts to fall for. Good idea or bad idea? Read it to find out!
Backlist bump: American Panda by Gloria Chao
This is a lovely memoir whether you are a fan of Winspear's Maisie Dobbs mysteries or not. This is her personal account of her English childhood, including the harrowing stories and trauma of the second world war on her grandparents and parents, and her young life living on farms around Kent. It's frank and kind and loving. You can tell she loved her family very much, and readers get a glimpse of how she was struck by the writing bug at a young age.
Backlist bump: Maisie Dobbs by Jacqueline Winspear (Unsolicited true story: I will never forget where I was when I read this book. I was on a trip to Montreal with some friends, and we were staying at the The Queen Elizabeth Hotel. We had just retired to our beds, and I was maybe forty pages into Maisie Dobbs, when the fire alarm went off and we had to evacuate. It was determined to be a system error and we all returned to our rooms, but it was short-lived—the alarm went off six more times that night. And for safety reasons, we were required to leave the building every time it happened, even though they said from the beginning that it was just bad programming. I carried my book up and down, up and down. I can't tell you how many people said, "I wish I had brought a book." It was extremely unfun and none of us slept that night. And that, children, is how we got comped a free night in one of Montreal's nicest hotels. The end!)
Thank you, as always, for joining me each week as I rave about books! I am wishing the best for all of you in whatever situation you find yourself in now. Please reach out to your friends and family if you need someone to talk to, and be sure to keep social distancing and washing your hands to keep yourself and others safe.
Thanks for subscribing! – XO, Liberty