Sponsored by Nothing Like I Imagined by Mindy Kaling
New from comedian Mindy Kaling is "Nothing Like I Imagined," a collection of six hilarious and personal essays that give the inside scoop on her new role as a single mom, the perks of being her own husband, and how she deals with social anxiety even at the most glamorous A-list parties. In between, the beloved actor, writer, and Hollywood power-bruncher gets Kanye West'd at her best friend's birthday, thwarts an "only in LA" crime, and learns what it means to have it all. Prime members read or listen for free.
It's Book Radar time again! I hope this Monday's newsletter finds you all…less stressed. What a week! As I write this, it is the Friday afternoon of November 6th, so we still don't have an official election outcome yet. I am trying not to check the news every five seconds, so I have compiled a pile of weekend reading as tall as a house cat, and I plan to hide between the pages the next few days. But first I am sharing book news, trivia, cat pictures, puns, and another 2021 title that I think you MUST mark down on your TBRs, because I love you.
Remember that whatever you are doing or watching or reading this week, I am sending you EXTRA love and hugs. Please be safe, and remember to wear a mask and wash your hands. And please be mindful of others. It takes no effort to be kind. I'll see you again on Thursday. – xoxo, Liberty
Here's Monday's trivia question: What author invented the name Vanessa? (Scroll to the bottom for the answer.)
Deals, Reals, and Squeals!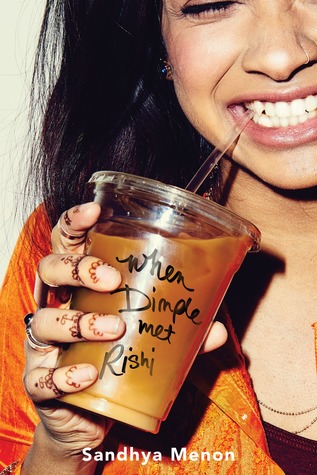 Here's the first trailer for Netflix's Mismatched, based on the YA novel When Dimple Met Rishi by Sandhya Menon.
Here's the first look at the cover of Hummingbird Salamander by Jeff VanderMeer.
Dr Camilla Pang has won the prestigious Royal Society science book prize for her book Explaining Humans.
Hugh Laurie and Emilia Clarke will add their voices to the adaptation of The Amazing Maurice by Terry Pratchett.
Ashley Romans will replace Lashana Lynch in the forthcoming adaptation of Brian K. Vaughan's Y: The Last Man.
And the new adaptation of Evelyn Waugh's Brideshead Revisited announced a star-studded cast.
The 2020 Kirkus Prize Awards have been announced. (LUSTER!!!!)
So many great new book announcements! Rachel Harrison, John Vercher, and Jeff Zentner were among the new deals I am excited about!
Here's the latest news about the third season of His Dark Materials.
Young Wallander has been renewed for a second season.
Book Riot Recommends
At Book Riot, I work on the New Books! email, the All the Books! podcast about new releases, and the Book Riot Insiders New Release Index. I am very fortunate to get to read a lot of upcoming titles, and learn about a lot of upcoming titles, and I'm delighted to share a couple with you each week so you can add them to your TBR! (It will now be books I loved on Mondays and books I'm excited to read on Thursdays. YAY, BOOKS!)
Loved, loved, loved:
Before you keep reading, I want to let you know that this is a true crime read about murder and execution, so there will be upsetting mentions of violence and death in this description.
You know I think that We Keep the Dead Close by Becky Cooper is the best true crime book of 2020. Well, I am already sure that this book will be the best true crime book of 2021! When McGarrahan was a young reporter in Miami, they sent her to witness the execution of Jesse Tafero, a man accused of killing two police officers. What McGarrahan and the other witnesses see at Tafero's execution is too upsetting to write here, so I'll just say that they will all have to give accounts of it repeatedly before committees down the road.
McGarrahan quit her job shortly after and moved to California, where she worked a series of odd jobs and raged at the world, looking for answers that would make sense of what she saw. Eventually she settled on being a private investigator. But many years later, hearing whispers that the man she saw executed was innocent of the crime, McGarrahan decided that investigating the case and solving it herself would give her the closure she needed. She interviewed as many people involved with the case as she could, including the other two people accused of the murders, and dug through thousands of bits of evidence and testimony – much of which has been contradicted since the trial. What follows is an excellent examination of trauma, the death penalty, corruption, celebrity, rumors, and the people left behind.
What I'm reading this week.
The Conductors by Nicole Glover
The Bright and Breaking Sea by Chloe Neill
Who is Maud Dixon?: A Novel by Alexandra Andrews
This Land Is Their Land: The Wampanoag Indians, Plymouth Colony, and the Troubled History of Thanksgiving by David J. Silverman
The Night Library of Sternendach: A Vampire Opera in Verse by Jessica Lévai
Pun of the week:
What's the best thing about Switzerland? Well, for starters, the flag is a big plus.
And this is funny:
A 2020 mood.
Happy things:
Here are a few things I enjoy that I thought you might like as well:
The Great on Hulu. Horrifying and hilarious, my favorite combo.
Hangin' with Mr. Cooper on Hulu. I can't believe I forgot that En Vogue sings the theme song in salmon-colored, crushed velvet dresses. SO 1990s.
Sprite. I imagine it's what freshly-squeezed sprites taste like, and it's all I want to drink lately.
And here's a cat picture!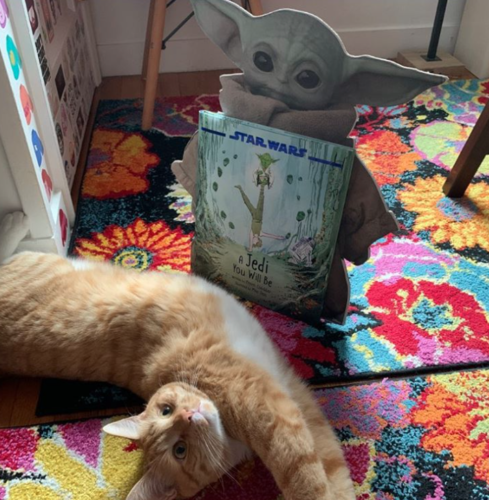 Zevon and Baby Yoda are pals. (Fun fact: That book is by former Rioter Preeti Chhibber!)
Trivia answer: Jonathan Swift.
You made it to the bottom! Thanks for reading! – xo, L