Sponsored by TooFar Media.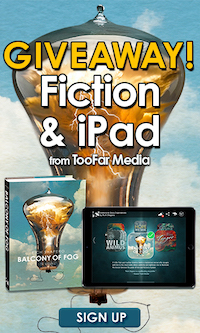 Sign up for a chance to WIN a FREE iPAD and WIN a FREE FICTION BOOK just for entering from TooFar Media! TooFar Media publishes immersive story experiences and is hosting a Giveaway Contest just for Book Riot. Winners of the iPdad can explore the TooFar Media app, which fuses fiction with music, art, and video. Just for entering, you'll receive– FREE– the newest book, Balcony of Fog, which illuminates the tension between the power of love and the love of power, and takes place in an other-worldly cloud-realm, by author Rich Shapero. Sign Up Now!
My beloved shipmates: please breathe. Just breathe, and stop doomscrolling. I'm telling myself this, too. It's Alex, and I feel kind of silly trying to enthuse about new releases on this day—this f*****g day—but at this point if you've voted and volunteered and contributed as applicable, it's out of your hands, and it's out of my hands. It might be hard to focus on books today, but maybe imagined worlds are the place to remind ourselves that sometimes fighting the good fight means we can win—and if it doesn't, we can find the strength to keep fighting.
(Hoo boy, and do spare a moment of sympathy for anyone who's trying to get your attention on a new release today. Yikes.)
So until I see you again on Friday, keep breathing. Stay safe. Wherever we end up, we're on this ship together.
Looking for non-book things you can do to help in the quest for justice? blacklivesmatter.card.co and The Okra Project.
---
New Releases
Note: The new release lists I have access to weren't as diverse as we normally like to see this week, which is just another reminder that publishing has a ways to go.
Earth abandoned its interstellar colonists when deep-space travel altered their genes and made them into "Variants" who live in the space stations of the Outworlds. When a major waystation is destroyed in a puzzling suicide attack by a young man who was recieving messages from supposedly uninhabited space and playing a virtual reality game, an explorer and a game designer team up to unravel the mystery.
Prisoner Alpha is an enigma that Dr. Ryan, a military psychiatrist, cannot solve. She speaks a language no one understands, doodles strange pictures, and it's impossible to tell if she's a cunning spy who is very committed to her act or… something else. While he tries to unravel that mystery, an archaelogist in Egypt discovers an 18th Dynasty tomb filled with relics that couldn't possibly have existed at its time. The archaeologist is kidnapped away to a hidden lab. And Alpha… disappears from Dr. Ryan's ward, and he becomes the prime suspect in her escape.
The mill girls of Lowell have had enough with terrible working conditions dictated by the uncaring bosses and penny-pinching owners. But Lowell has seen strikes before—and seen strikes fold. This time, they have something to reinforce the picket line and make sure no one crosses and no one leaves: a little witchcraft.
In a civil war that has ground to a stalemate, both sides are willing to do anything and give everything to win. On one side is a King at the edge of madness; on the other, a set of allies searching for truths that will tear his forces apart. Two friends caught on opposite sides have their own chance to end the war before the most bitter end possible can be reached… but there are many who would like to stop them.
An overachiever named Prudence Daniels feels like she's won the jackpot when she wakes up one morning with the magical ability to place instant karma on the lazy and rude residents of her town. It works like a charm on everyone… except her slacker lab partner, Quint, who despite his failure in the lab shows a lot more life working at a rescue center for sea animals. Prudence is in for unraveling the secrets of baby sea otters… and mixed romantic signals.
News and Views
Congratulations to the World Fantasy Award winners!
Nisi Shawl, Aisha Matthews, and Christie Taylor talk about Pushing Boundaries in Fantastical Fiction with the SciFri Book Club
Cover reveal for Tasha Suri's next book, The Jasmine Throne
L.D. Lewis writes her restrospective of FIYAHCon
I think this is very important content: horror mangaka Junji Ito reacts to your cats
A very, very deep dive into It's the Great Pumpkin, Charlie Brown
File 770's rememberance of Sean Connery, who gave us a lot of great science fiction films as just one small part of his creative oeuvre.
Political Fundraising Emails from Middle-Earth
You can take a virtual tour of Castell Coch and Raglan Castle in Wales
Ever wonder why pumpkins can get huge, but are also really flat?
NASA's Juno probe has captured Jupiter's electrical phenomena, called "sprites" and "elves."
On Book Riot
You can enter to win a bundle made of The Absinthe Earl and The Raven Lady by Sharon Lynn Fisher or a copy of The Ravens by Kass Morgan and Daniell Paige
---
See you, space pirates. If you'd like to know more about my secret plans to dominate the seas and skies, you can catch me over at my personal site.