Sponsored by the Oni Lion Forge Publishing Group.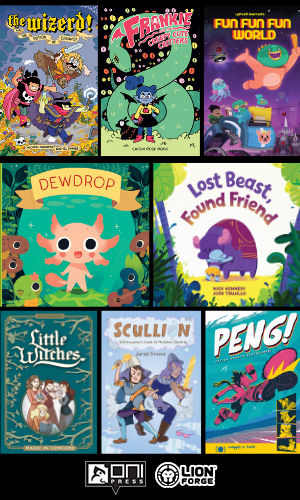 This winter, let a cheerleading axolotl brighten your spirits with Katie O'Neill's Dewdrop; go questing with a reclusive wizerd, an energetic warrior princess, and an eager archer in Michael Sweater and Rachel Dukes' The Wizerd: And the Potion of Dreams!; laugh as a crew of aliens mistakenly conquer an earthly amusement park in Yehudi Mercado's Fun Fun Fun World; and embrace your differences with a "scary fairy" who learns that creepy and cute make a great combination in Frankie and the Creepy Cute Critters by Caitlin Rose Boyle. Find these and more kidlit reads from Oni Lion Forge in stores now!
Welcome to Check Your Shelf. It's Election Day, and all I have to say is do whatever you need to do to get through today.
Collection Development Corner
Publishing News
The Strand Bookstore received 25,000 orders in one weekend after appealing to the public for help.
French bookstores ask to be treated as essential services during this new lockdown.
Hachette launches a new BIPOC imprint called Legacy Lit, which will focus primarily on nonfiction, along with a few select fiction titles.
The National Book Critics Circle has asked its members to sign a Criticism Equity Pledge, which promises to provide more coverage of books by BIPOC authors.
Sarah MacLean tweeted a list of romance-friendly indie bookstores, for all your holiday shopping needs!
New & Upcoming Titles
Publishers Weekly's Top Children's Books of 2020.
First looks at For Your Own Good by Samantha Downing, Whisper Down the Lane by Clay McLeod Chapman, and Good Company by Cynthia D'Aprix Sweeney.
Chrissy Teigen is working on her third Cravings cookbook.
16 new books to buy from your local indie bookstore.
20 small press books from 2020 you might have missed.
24 YA mystery books in 2020 that will keep you guessing until the end.
Book picks for the week from Booklist Reader, BuzzFeed, Crime Reads, New York Times, and USA Today.
October picks from Crime Reads (debut novels) and Shondaland.
November picks from Barnes & Noble, Kirkus, New York Times, and Popsugar (general, mystery/thriller, and romance).
Best books of 2020 from BBC and Elle.
What Your Patrons Are Hearing About
Red Comet: The Short Life and Blazing Art of Sylvia Plath – Heather Clark (LA Times, New York Times, Washington Post)
The Cold Millions – Jess Walter (New York Times, NPR, Washington Post)
Group: How One Therapist and a Group of Strangers Saved My Life – Christie Tate (New York Times, NPR)
Memorial – Bryan Washington (New York Times, Washington Post)
RA/Genre Resources
How the new diversity is transforming science fiction's future.
Rachel Howzell Hall, Attica Locke, and other authors talk about "writing about cops in a moment of reckoning."
Can a Black novelist write autofiction?
On the Riot
3 great YA books about witches to read in 2021.
16 of the best horror novels of the year.
Reading pathway for Maureen Johnson.
---
All Things Comics
On the Riot
6 places where you can read manhwa.
---
Audiophilia
Libro.fm is running a special where if you pre-order Obama's memoir, A Promised Land in print, they'll send you a free audiobook!
Spine-chilling audiobooks that inspired horror movies.
5 chilling romance audiobooks. (Yes, those two words can co-exist in the same sentence!)
On the Riot
---
Book Lists, Book Lists, Book Lists
Children/Teens
11 legitimately funny books to read aloud with your kids.
11 diverting teen reads for stressful times.
8 trans-inclusive fantasy books for fans of Harry Potter. (Most of these are YA titles, but there are one or two crossover adult titles in here as well.)
Adults
10 books that offer a peek inside the White House.
7 books about the making and unmaking of women politicians.
50 of the greatest apocalypse novels.
10 Halloween reads that do more than shock and scare.
13 witchy books to read with your coven this fall.
Books to read if you love The Craft.
20 disturbing nonfiction books you won't be able to put down…even if you want to.
5 SFF books driven by terrible choices and appalling judgment.
On the Riot
14 children's books about race and racial diversity.
17 fun monster children's books.
52 incredible picture book biographies of Black people creating and leading.
8 great picture books for Halloween.
10 historical mystery series to whisk you away.
Conquer your demons with 5 mathematical sci-fi books.
10 recent books by Asian American poets.
8 of the best new self-care books to prioritize yourself.
15 of the best philosophy books for beginners.
8 excellent books about democracy in its many forms.
18 books to celebrate Down Syndrome Awareness Month.
9 books to help you understand your anxiety.
20 must-read horror novels you've never heard of.
9 gothic novels for every mood.
8 great books featuring cursed objects.
10 books featuring cemeteries.
6 awesome queer Halloween books.
9 creepy books about sinister institutions.
Horror cookbooks are a thing! (And not surprisingly, my husband and I already own the Feeding Hannibal book.)
Some book suggestions for a low-key Halloween.
---
Level Up (Library Reads)
Do you take part in Library Reads, the monthly list of best books selected by librarians only? We've made it easy for you to find eligible diverse titles to nominate. Kelly Jensen created a database of upcoming diverse books that anyone can edit, and Nora Rawlins of Early Word is doing the same, as well as including information about series, vendors, and publisher buzz.
Let's check in again on Friday. Stay sane.
—Katie McLain Horner, @kt_librarylady on Twitter.