Sponsored by How the King of Elfhame Learned to Hate Stories.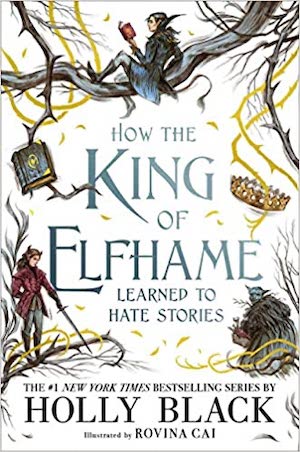 Before he was a cruel prince or a wicked king, he was a faerie child with a heart of stone. #1 New York Times bestselling author, Holly Black reveals a deeper look into the dramatic life of Elfhame's enigmatic high king, Cardan. This tale includes delicious details of life before The Cruel Prince, an adventure beyond The Queen of Nothing, and familiar moments from The Folk of the Air trilogy, told wholly from Cardan's perspective. Each chapter is paired with lavish and luminous full-color art, making this the perfect collector's item to be enjoyed by both new audiences and old.
RABBIT RABBIT! It's the first day of December and I am excited about books! (Spoiler: I am always excited about books.) I have read so many great 2021 releases that I have been waiting to share with you, and now we're nearing the finish line. I could not be more excited if I swallowed a cat and broke out in kittens.
December has a lot of great releases to offer us this year, more so than usual because of all the rescheduled dates from earlier in the year. At the top of my list to buy is Mediocre: The Dangerous Legacy of White Male America by Ijeoma Oluo. I have a few of today's awesome titles to tell you about, plus on this week's episode of All the Books! Danika and I discussed great books that would make great gifts, such as The Art of Ramona Quimby, Black Futures, All Boys Aren't Blue, and Reclaimed Rust! I love giving—and getting—books as gifts!
And now, it's time for everyone's favorite gameshow: AHHHHHH MY TBR! Here are today's contestants:
In my opinion, Alyssa Cole IS the queen. I love her romance novels so much! This is the start of the Runaway Royals series (the second will be out in May.) Shanti Mohapi weds the Sanyu, king of Njaza, in an arranged marriage. And while it's obvious they are attracted to one another, she doesn't harbor any illusions that this is anything but an arrangement, until their passions boil over in the bedroom, leading to hot and heavy nights. But when political turmoil upends the kingdom, Shanti flees, and Sanyu must decide if he has what it takes to get her back.
Backlist bump: A Princess in Theory: Reluctant Royals by Alyssa Cole
Hey, all you fans of feminist fairytales and Gideon the Ninth! This is the story of a princess trapped in a tower by a witch—because that's what witches do—who must figure out how to rescue herself when all the princes who come to rescue her become dragon lunchmeat. Floralinda expected to be rescued right away, but when it doesn't happen, she must figure out how to get past 39 flights of scary monsters make it to the bottom of the tower. Helping her, begrudgingly, is a fairy named Cobweb, who blows into her room during a storm and cannot fly away because her wing is broken. Together they will take on the Night-Boar and the Devil-Bear, and all the other Big Bads, to prove princesses don't need rescuing.
Note: This is being published by a boutique press, which means it's a limited edition item. If you're a collector, and/or love Tamsyn Muir, you can get a signed and numbered copy from the Subterranean Press site while supplies last, or there's also a digital version available!
Backlist bump: The Paper Bag Princess by Robert Munsch and Michael Martchenko
And last, but not least: Soho Press is releasing this groundbreaking Own Voices YA classic for its 30th anniversary. Seventeen-year-old Ellen Sung is part of the only Korean American family in her Minnesota town, and her classmates at her all-white school continuously point it out. When she begins an unexpected romance with the star quarterback, Ellen must stand up to racism at school and disapproval from her parents, and along the way discovers she has a voice of her own. This new edition includes an introduction from Kat Cho.
Backlist bump: Somebody's Daughter by Marie Myung-Ok Lee
---
Thank you, as always, for joining me each week as I rave about books! I am wishing the best for all of you in whatever situation you find yourself in now. – XO, Liberty