Sponsored by Peachtree Publishing Company.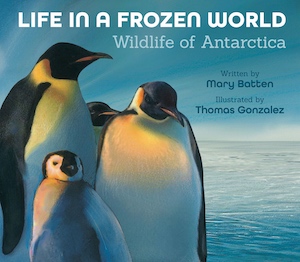 Why is Antarctica one of the most critical parts of the climate change conversation? And why should we care? Award-winning science writer Mary Batten and New York Times best-selling illustrator Thomas Gonzalez team up in their timely, extraordinary exploration of how organisms in Antarctica—one of the most extreme environments on Earth—have managed to evolve, thrive, and survive in a bitterly cold and hostile climate. A new must-have nonfiction book for young scientists, budding marine biologists, and educators exploring issues around climate change.
Welcome to Check Your Shelf. This has been a WEEK, and thankfully I'm off today, because my work week ended yesterday with me getting a COVID swab up my nose (no symptoms, but I had contact with a potentially positive case at work). But maybe waiting for the test results will distract me from the anxiety of the election? Maybe??
But on a more positive note, IT'S HALLOWEEN TOMORROW! Yeah, we're all staying inside, but I'm gonna watch all the horror movies I can handle, and then some.
Let's library.
---
Libraries & Librarians
News Updates
Charlotte removes the name of a white supremacist North Carolina governor from a branch library.
The Brooklyn Public Library released the shortlist for its 6th annual Brooklyn Public Library Literary Prize.
The NYPL has acquired Arthur Miller's personal study library.
Cool Library Updates
Little Free Library launches its Read in Color diversity initiative.
Worth Reading
The Panorama Project published a directory of Best Practices for Public Library Events.
---
Book Adaptations in the News
Children of Blood and Bone has been optioned by Lucasfilm.
On the Come Up by Angie Thomas is coming to the movies!
Project X has optioned the film rights to Mia Sosa's The Worst Best Man.
Rachel Howzell Hall's Lou Norton series has been optioned to Lionsgate Television.
Jake Gyllenhaal is starring in and executive producing HBO's adaptation of The Son by Jo Nesbo.
David Fincher confirms that Mindhunter will not be returning to Netflix for a third season, or at least not any time soon. (So disappointed – that show was mesmerizing.)
Candyman's release date gets pushed back to August 2021.
First trailer for The Dry!!
New trailer for News of the World.
---
Books & Authors in the News
A group of parents have threatened to sue the Lake Norman Charter School in North Carolina if they do not remove Elizabeth Acevedo's book The Poet X from its required reading list for freshmen, but students are fighting back.
Oprah puts aside her usual book club recommendation and instead suggests seven titles that "help her through."
There have been multiple copies of John Grisham's A Time For Mercy that contain so many extensive printing errors that Doubleday has recalled copies and is replacing them.
An inside look at Agatha Christie's 100 year pop culture reign.
---
Award News
Anna Burns becomes the first Irish woman to win the International Dublin Literary Award.
Richard Owain Roberts wins the 2020 Not the Booker Prize.
The longlists for the Andrew Carnegie Medals for Excellence in Fiction & Nonfiction have been released.
Who are you voting for in the Goodreads Choice Awards?
Shortlists for the 2020 British Fantasy Awards.
Take a peep at the shortlist for the 2020 Diagram Prize for the Oddest Book Title of the Year.
---
Pop Cultured
Tim Burton is directing a live-action Addams Family TV series.
Sneak peak at season 2 of The Mandalorian.
A first look at the Game of Thrones sequel, House of the Dragon.
---
Bookish Curiosities & Miscellaneous
Free books for life?! Hell to the yes!
Readers have some opinions on the most disappointing book ending.
You can now read the only surviving full draft of a Jane Austen novel, in her own handwriting.
Check out this surreal bookstore that just opened in China.
---
On the Riot
Library inductions for students, post lockdown.
How to start a virtual book recommendation service.
How the Tournament of Books changed this reader's reading life.
How to improve your reading comprehension as an adult.
When reading is more stressor than stress-relief. (I feel this SO HARD right now.)
---
Go read something scary, people, and gird yourself for Tuesday (and wash your hands!).
—Katie McLain Horner, @kt_librarylady on Twitter.