Sponsored by Penguin Random House Audio, the premiere audiobook publisher.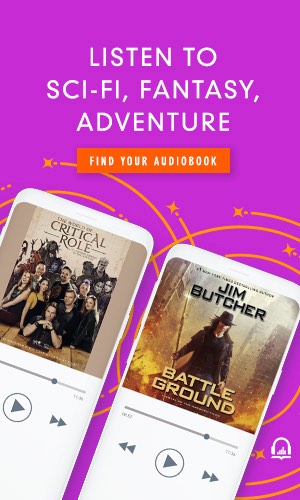 Listen to all of your favorite fantasy and sci-fi authors on audiobook this Fall. Award-winning narrators bring your favorite fantasy and science fiction stories to life. The World of Critical Role, by Liz Marsham and the Cast of Critical Role and Battle Grounds, by Jim Butcher are great audiobooks for fans of role playing games and Urban fantasy. Visit penguinrandomhouseaudio.com/sci-fi/ for audiobook samples, listening recommendations, and more!
Happy Tuesday, shipmates! It's Alex with some end-of-the-month new releases and a bit of genre music for you. This weekend was a cold and snowy one, which meant some people in my state got the fun of getting both fire and winter storm alerts at the same time (we are the literal song of ice and fire, oh ho ho ho). This weekend was also my home convention, MileHiCon, which ran smoothly on virtual with a scaled-back programming track and meant I got to watch some local authors chat on my big TV. Stay safe, do everything you can to de-stress when you can, and I'll see you on Friday!
Looking for non-book things you can do to help in the quest for justice? blacklivesmatter.card.co and The Okra Project.
---
New Releases
Note: The new releases for this week are a bit thin on the ground… and there's less diversity in the authors than we normally like to see.
A poor scholar and a mindship that is a notorious thief and master of disguise meet in the orbitals of the Scattered Pearls Belt. Vân (the scholar) and Sunless Woods are brought together by a corpse found in the quarters of Vân's student; together they work to unravel a mystery that leads them from tea house to mindship corpse, while the secrets they've hidden from each other threaten to destroy them both.
Emilia and Victoria are twins, and both of them are strega—witches living secretly among humans—living out a normal life and working in their family's Sicilian restaurant. One night, Victoria misses dinner service, and Emilia finds her body, horrifically desecrated, soon after. Emilia will do anything to avenge her beloved twin, even using long-forbidden magic.
The bonds between Midgard and the gods are straining to the breaking point, and the world shows the strain. A demon is accidentally released from Muspelheim; a village that follows the old ways is slaughtered by marauding Christians. Hilda, Ragnar, and their tribesman must find a way to save their gods and save their traditions in the face of a changing, violent world.
Rory Thorne has renounced her title after kicking over everything in her range, and retired to a more peaceful life as an unglamorous privateer at the edge of space. But she and her crew get drawn back into the multiverse's problems when they find an abandoned ship that seems to have fallen victim to an attack, and take on its cargo: a rose bush that turns out to be both sentient and a powerful biological weapon.
The Tower of Fools by Andrzej Sapkowski, translated by David A French
Reynevan is a healer, magician, and quite possibly a charlatan, depending on who you ask. A foolish indiscretion leaves him pursued by some vengeful brothers, and far worse, the Holy Inquisition. His flight leads him to the Tower of Fools, an asylum that might be for the mad or might be for those who have dared imagine a different world. Escaping it will be his most challenging trick yet.
News and Views
The British Fantasy Awards have announced their 2020 short list. Congratulations to everyone on the list, and may the odds be ever in your favor!
Announcement of the winners of the Nommo Awards has been delayed due to the recent state violence in Nigeria.
Chinese Science Fiction Goes Global
Elizabeth Bear talks about Ancestral Night.
David Tennant and Billie Piper did a podcast.
Eliana González Ugarte and Coral Alejandra Moore talk about starting Constelación Magazine, which will have stories in English and Spanish. You still have a few more days to support their Kickstarter.
Polygon asked Kim Stanely Robinson if science fiction can save us.
Vulture spoke with Rebecca Roanhorse about reimagining Native American History
The diabolical ironclad beetle is a thing that exists.
Grant Imahara's friends and family have built The Grant Imahara STEAM Foundation to honor his life and legacy.
On Book Riot
Which book should you read based on your Dungeons & Dragons class?
This week's SFF Yeah! podcast is about mythology in SFF and the TIME's 100 Best Fantasy Books of All Time list.
This month, you can enter to win a $250 Barnes & Noble gift card.
---
See you, space pirates. If you'd like to know more about my secret plans to dominate the seas and skies, you can catch me over at my personal site.