Sponsored by The Limerence Imprint of Oni Press.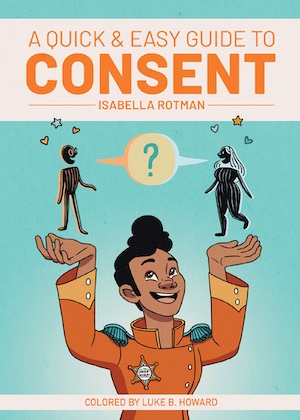 How do you tell someone you want to do stuff with them? How do you ask if they want to do stuff with you? Enter: Sergeant Yes Means Yes from the Consent Cavalry, a beacon of clarity in a fuzzy minefield of questions. Sarge drops in on a diverse range of folks deciding whether to engage in sexual activity in this short and fun comic guide to communicating what you want, don't want, and how you want it! Find A Quick & Easy Guide to Consent along with the rest of the inclusive and informational Quick & Easy series available now from Oni Press!
Welcome to Check Your Shelf. I gonna take a moment from library stuff to celebrate the fact that my husband and I celebrated our 2 year anniversary on Monday! We've both agreed that it hardly feels like it's been two years since our wedding, and that in the year 2020, it feels like we've been married for an eternity. But 7+ months into the pandemic, we still haven't worn down each other's nerves, and that's a good sign for whatever the next few years throw at us.
Okay, back to library stuff!
---
Collection Development Corner
Publishing News
The Strand bookstore appeals to the public for help, although this appeal has been met with criticism over news that the owner purchased a large amount of Amazon stock earlier in the year.
Jimmy Patterson Books undergoes a reorganization.
A first look at the virtual Latinx KidLit Book Festival being held December 4th and 5th.
How publishers are making their titles stand out in a very crowded fall season.
New & Upcoming Titles
We've hit that time of year: Publishers Weekly released its Best Books of 2020 list.
Tamsyn Muir signs a five-book deal with Tordotcom Publishing.
Ruth Bader Ginsburg will have a book published in 2021.
Bill Gates is publishing a book about climate change in February 2021.
2020 has been a great year for crime fiction.
A look at celebrity memoirs from 2020.
New holiday romance novels that are basically Hallmark movies in book form.
Books of the week from Crime Reads, Lit Hub, New York TImes, and USA Today.
11 feminist picks for October.
October picks from The Millions and Parade.
November picks from Barnes & Noble and Epic Reads.
Bustle picks their best books of 2020. And so does Tana French.
What Your Patrons Are Hearing About
Dark Archives: A Librarian's Investigation Into the Science and History of Books Bound in Human Skin – Megan Rosenbloom (New York Times, NPR)
Ring Shout – P. Djèlí Clark (NPR)
White Tears/Brown Scars: How White Feminism Betrays Women of Color – Ruby Hamad (Washington Post)
The Once and Future Witches – Alix E. Harrow (NPR)
RA/Genre Resources
Unquiet spirits: the lost female ghost-story writers returning to haunt us.
On the Riot
Best book covers of 2020.
Queer characters don't need a romance to prove that they're queer.
A philosophical question: who creates meaning in fiction? Authors, readers, or both?
---
All Things Comics
A look at how IDW Publishing has been weathering the "new normal."
Sapiens by Yuval Noah Harari will be turned into a graphic novel.
On the Riot
7 fall and winter graphic novel releases for kids and young adults.
The Baby-Sitters Club, from novels to graphic novels.
4 unsettling comics about dreams.
4 great global graphic memoirs.
The difference between lesbian manga and yuri manga, and where you should start.
---
Audiophilia
October's bookseller-recommended audio picks.
4 audiobooks about first contacts that will make you wonder if we're alone in the universe.
On the Riot
9 audiobooks by debut authors.
10 free audiobooks you probably didn't know were in the public domain.
---
Book Lists, Book Lists, Book Lists
Children/Teens
21 kids books that celebrate lesser-known African Americans and their contributions to history.
125 kids books that the staff at the New York Public Library love.
8 political YA books to encourage you to vote.
10 YA books with Filipino representation.
Adults
30 books to help us understand the world in 2020.
12 mystery novels featuring Black, Indigenous, and POC protagonists. (This is a REALLY solid list!)
31 best thrillers of all time. (How many have you read? Or better yet, how many of these does your library own?)
40 books about witches and witchcraft.
5 great books about the Korean diaspora.
15 feel-good books designed to lift your spirits.
31 of the best Thanksgiving books to help celebrate the holiday.
20 of the scariest books you'll ever read.
17 books that will give you the same romantic thriller vibes as Rebecca.
The scariest novel set in every state. (Note that this list is fairly heavy on white male authors, which is sad but perhaps not surprising.)
9 complicated and surprising female narrators.
10 African SFF novels that offer a breath of fresh air.
Top 10 books about creative writing.
On the Riot
16 gorgeous fall books for toddlers.
7 books for young readers where school is the social setting.
9 great eerie reads for middle schoolers.
5 middle grade UK books that celebrate diversity.
7 romance novels that involve hilarious pranks on your significant other.
9 diverse memoirs you should add to your TBR.
6 books to read if you liked Transcendent Kingdom.
15 more fabulous books about drag.
10 perfectly creepy supernatural books for Halloween.
9 books where women take charge.
5 books about social justice for Filipino American History Month.
8 books about digital activism.
---
Level Up (Library Reads)
Do you take part in Library Reads, the monthly list of best books selected by librarians only? We've made it easy for you to find eligible diverse titles to nominate. Kelly Jensen created a database of upcoming diverse books that anyone can edit, and Nora Rawlins of Early Word is doing the same, as well as including information about series, vendors, and publisher buzz.
Take a deeeeeep breath this week, folks. See you on Friday.
—Katie McLain Horner, @kt_librarylady on Twitter.