Sponsored by Tor Teen.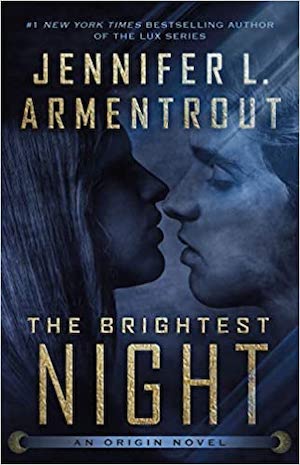 #1 New York Times, USA Today, and internationally bestselling author Jennifer L. Armentrout returns to the world of the Lux with this steamy, shocking third installment of the Origin series that will leave readers reeling. Less than a year ago, Evelyn Dasher was a normal girl, living a safe, rather unremarkable life—a life that was a total lie. Now she's learned the truth about who she was and what she is. The hardcover edition of The Brightest Night includes a bonus short story, and the first printing is signed by the author!
Hello, kittens, and welcome to another week of "OMG I WANT ALL THE BOOKS." There are a lot of great books out today, but you will not be surprised to learn that the one I am most excited about is Black & White & Weird All Over: The Lost Photographs of "Weird Al" Yankovic '83 – '86 by Jon "Bermuda" Schwartz. (I love him.) It's another coffee table book to add to the enormous pile that will inevitably be responsible for bringing down our living room ceiling one day. (I love coffee table books, but I can't actually leave them on our coffee table, because of our crack team of destructive cats. Er, and because I own hundreds. But I blame the felines.)
Speaking of today's books you can also hear about some amazing books on this week's episode of All the Books! Patricia and I discussed Memorial, The Sacrifice of Darkness, Dungeon Critters, and more great new books.
And now, it's time for everyone's favorite gameshow: AHHHHHH MY TBR! Here are today's contestants:
BOOK 3 IS FINALLY HERE! I think of all the rescheduled release dates this year, this one made me the saddest when it was kicked from early spring to late fall. (I say that having read Harrow the Ninth early, before it was delayed by months. Sorry, not sorry.) This is one of the best middle grade series I have read, and I like to point it out whenever I can! The series starts with a young girl named Morrigan Crow, who has been told her whole life that she is cursed, and that she is fated to die on her eleventh birthday. But when the doomed day rolls around, a stranger named Jupiter appears and takes her to a school for gifted children to hone her extraordinary talent. The problem is that Morrigan doesn't know that she even has an extraordinary talent, and Jupiter refuses to tell her what it is, so she will have to work it out – with a little help from wonderful new friends. It's a delightful adventure of magic and whimsy, with spots of intense villainy. I believe it's to be a seven-book series, but I fully vote that you start reading them now instead of waiting. They're also really fun to reread!
Backlist bump: Nevermoor: The Trials of Morrigan Crow by Jessica Townsend
Redbone is a Mexican-American /Native American rock band that originated in the 1970s. Their song "Come and Get Your Love" was a huge hit (which you also might recognize from Guardians of the Galaxy.) This is a graphic biography of the band, following its founding in California by Pat and Lolly Vegas, the struggles the band faced, and the triumphs they achieved. Maybe new interest in the band will help the long-overlooked Redbone snag a spot in the Rock and Roll Hall of Fame. (Not that I will pay attention to anything that organization does, as long as Warren Zevon remains unsung. *Pout*)
Backlist bump: Come and Get Your Love: A Celebratory Ode to Redbone (1939-Present) by Pat Vegas
And last, but not least: just in time for Halloween, here's the creepy and exciting story of twin streghe sisters who keep their witchy ways hidden from the humans around them. But when one of the sisters is horribly murdered, all bets are off. Emilia is devastated by the loss of her beloved Vittoria, and resorts to seeking help from Wrath, a Prince of Hell, to seek vengeance on her killer. The problem is, once you let the monkey out of the bottle, it's hard to get him to go back in. If you're looking for something fun and spooky to escape into this Halloween weekend, this is it!
Backlist bump: Stalking Jack the Ripper by Kerri Maniscalco
---
As always, I am wishing the best for all of you in whatever situation you find yourself in now. Please reach out to your friends and family if you need someone to talk to, and be sure to keep social distancing and washing your hands to keep yourself and others safe.
Thanks for subscribing! – XO, Liberty