Sponsored by Macmillan Podcasts.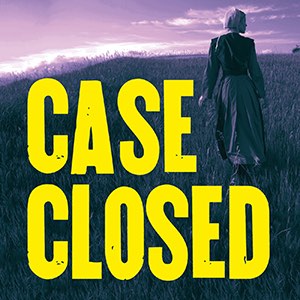 An old way of life. A modern betrayal. And a violent murder in Amish country. Barbara Weaver was known to be a loyal wife and mother, and a rule-abiding member of the Amish community, but her husband Eli had a reputation for breaking the rules. He had a number of affairs with women that he would meet and seduce online. So when Barbara was murdered, all eyes were on Eli…until someone else entered the scene of the crime. Who would kill a devout Amish wife and mother? Find out on the Case Closed podcast. Start listening now.
Hi mystery fans! This week I have for you a historical fiction with two mysteries and a snowed in mystery (avalanche!) where someone(s) is a murderer. Both should, in different ways, offer you escapes from everything right now.
Death in the East (Sam Wyndham #4) by Abir Mukherjee
This is a great historical series that follows a former Scotland Yard detective, Sam Wyndham, now leading a police force in British ruled Calcutta. And in this story we get to see him as a young constable in 1905 London in between the current 1922 chapters where Wyndham has traveled to an ashram where he plans to finally battle his opium addiction.
The past chapters in East London take you through his life, his relationship with a woman he fell in love with and was forced to break up with, and her murder that he finds himself needing to solve. The current chapters take you into an ashram led by an Englishman who converted to Hinduism and who is a monk offering a detox plan: one that we get to watch Wyndham go through. But this is a mystery series that does a great job of balancing character–and development–with solving crimes, so both past and present chapters have murder mysteries that will eventually collide…
A lot of series keep the lead character the same throughout, and that offers comfort in a way of always knowing what you're getting, but I also love watching characters grow and change, which is something we get to see with Wyndham. This is a great historical mystery series that offers much of what fans of the genre look for while also being unique and fresh. Really recommend picking up A Rising Man if you've yet to start this series.
And for fans of Sergeant Surendranath Banerjee, you'll have to wait most of the book for him but it'll be worth the wait, plus I appreciate the author not forcing something that would have been unlikely. (TW domestic abuse, mostly alluded, not graphic or on page but throughout/ anti-Semitism/ mentions being suicidal in past, no detail)
I've read all of Ruth Ware's mystery books because I always enjoy them, and I like that she changes the type of mystery from book to book. My first and favorite read has remained The Woman In Cabin 10 and now One by One has slid into second place–I am clearly a sucker for a remote mystery.
This one is for fans of Agatha Christie who want the And Then There Were None story set today. Basically you have a chalet where a tech company's stakeholders have gathered for skiing and fighting over the company's next step. As the title suggests, one by one they will start to die. There will also be an avalanche trapping the two chalet caretakers in with the guests who survived the avalanche…
If you listen to audiobooks I'd 100% go with that format as the narrator, Imogen Church, had me sold and invested in the characters' inner thoughts, drama, and fear. This is the kind of book that, for me, offers an escape from the current world by sucking me in with a high stakes, page turning, what-is-happening plot, while also not being believable enough to make me fearful in real life. Ware also struck a good balance for me, which I find crucial in books where people are going to die, that you have a healthy dose of like and dislike to care enough to turn the page, but not be traumatized by the offings. (TW mentions past child abuse, not graphic/ discussion of possible suicide/ past attempted sexual assault briefly recounted, not graphic)
---
Browse all the books recommended in Unusual Suspects previous newsletters on this shelf. See upcoming releases for 2020 and 2021. Check out this Unusual Suspects Pinterest board and get Tailored Book Recommendations!

Until next time, keep investigating! In the meantime, come talk books with me on Twitter, Instagram, and Litsy–you can find me under Jamie Canavés.

If a mystery fan forwarded this newsletter to you and you'd like your very own, you can sign up here.