Sponsored by Celadon Books.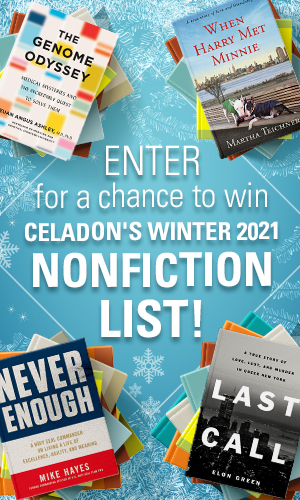 Book Riot is teaming up with Celadon Books, a division of Macmillan Publishers, to give 10 lucky winners a bundle of all five of their Winter 2021 frontlist titles.
Hola Audiophiles! By the time you read this newsletter, I will be several days into a full week off of work that ends with a celebration of my 36 years on this earth. First I'll be relaxing on a farmstay with lots of wine, woods, and witchery with my PDX quaranteam, and then heading south to spend time with my family. I'm feeling very thankful for the bright spots in this otherwise ridiculous timeline, and I hope you are also finding ways to keep your spirits high.
Ready? Let's audio.
---
New Releases – Week of October 20  (publisher descriptions in quotes)
You may recognize Emily M. Danforth as the author of The Miseducation of Cameron Post! Plain Bad Heroines is her adult debut, a Victorian gothic horror-comedy centered around a cursed New England boarding school for girls (you know I love me a boarding school book!). It's a story within a story told in multiple timelines full of queer romance and Hollywood satire, and includes black-and-white period-inspired illustrations in the print version. Xe Sands was a phenomenal choice for narration: she lends that slow, haunted quality to her performances that's so well suited for this kind of story.
Read by Xe Sands (Magic for Liars by Sarah Gailey, Wanderers by Chuck Wendig, The Art Forger by B. A. Shapiro)
You know Lindy, I know Lindy. We all know and love Lindy! In her latest, West goes back to her movie critic roots to reexamine—and this part I've got to quote—"beloved and iconic movies from the past 40 years with an eye toward the big questions of our time: Is Twilight the horniest movie in history? Why do the zebras in The Lion King trust Mufasa – who is a lion – to look out for their best interests? Why did anyone bother making any more movies after The Fugitive achieved perfection? And, my god, why don't any of the women in Love, Actually ever f–king talk?" I can't wait to read this one—I'm in the mood for Lindy West's brand of funny.
Read by the author.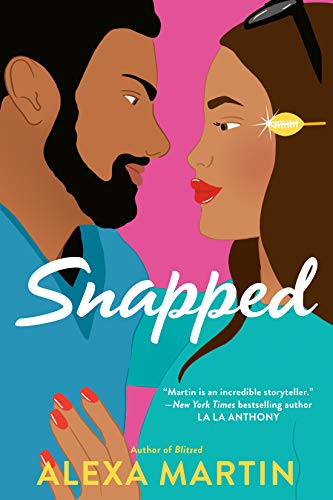 Snapped by Alexa Martin
What if Colin Kaepernick had been assigned a hottie to manage him right when he took that knee, and then he fell for her and she fell for him and both love and activism prevailed? Alexa Martin allows us to imagine this very scenario with the fourth book in The Playbook series. Elliot Reed had landed her dream job as Strategic Communications Manager for the Denver Mustangs, and things are going well— that is until star quarterback Quinton Howard Jr. uses his platform to make a statement and takes a knee during the national anthem. Their initial meeting doesn't quite go smoothly, but as they spend more time together…. ya know.
Read by Soneela Nankani (The City of Brass by S.A. Chakraborty, The Widows of Malabar Hill by Sujata Massey, Recipe for Persuasion by Sonali Dev) and Cary Hite (Here and Now and Then by Mike Chen, Spider-Man: Into the Spider-Verse by Marvel Press)
Journalist and activist Paola Ramos takes us on a cross-country road trip as she explores the communities defining the controversial term Latinx. "She introduces us to the indigenous Oaxacans who rebuilt the main street in a post-industrial town in upstate New York, the 'Las Poderosas' who fight for reproductive rights in Texas, the musicians in Milwaukee whose beats reassure others of their belonging, as well as drag queens, environmental activists, farmworkers, and the migrants detained at our border." I have seen so much discussion around the term Latinx, a word that's meant to be more inclusive that has somehow caused a lot of debate within the community it's supposed to describe. I can't wait to dive into this exploration.
Read by the author.
Latest Listens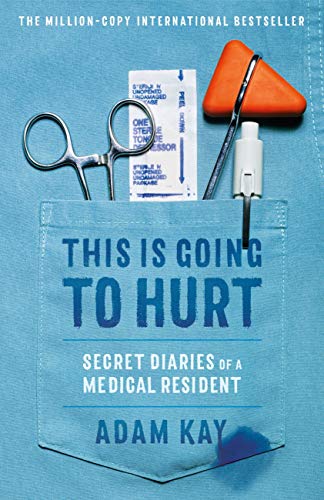 I didn't do much new audiobooking this weekend on account of my little vacation, but I thought of this awesome book as I was rewatching old episodes of Grey's Anatomy while packing for said trip. Reading this was basically Grey's Anatomy in book form if the show took place in England instead. In the US edition of his international bestseller, comedian and former medical resident Adam Kay recounts his experience as a first year doctor, and why he eventually left the profession altogether.
Some of the anecdotes he shares from his time as an OB-GYN doctor really do sound like they were dreamt up by Shonda Rhimes: working 97-hour work weeks, being exhausted out of his mind, rushing to answer a series of urgent pages and treat all kinds of cases. One moment you're laughing hysterically at the outright hilarity of some of those patient interactions, and then ten minutes later your eyes are fogging up when you're hit with a heartbreaking loss. It's a very honest account of one man's time in a profession that, while ultimately noble, comes with its fair share of devastation, one that wraps up with a call to acknowledge the work that the NHS does. If you're in the mood for a lot of laughs plus a call to action with a lot of heart woven into the wry humor, pick this one up.
Read by the author.
From the Internets
at Audible: 4 Imaginative First-Contact Tales That Will Make You Wonder if We're Alone in the Universe
Audiofile's list of October Audiobook Mysteries: Ghosts, Vampires, and Viruses reminds me: I really need to pick up The Southern Book Club's Guide to Slaying Vampires.
at Libro.fm: the audiobooks booksellers are loving this month.
Over at the Riot
10 Free Audiobooks You Probably Didn't Know Were in the Public Domain
---
Thanks for hanging with me today! Shoot me an email at vanessa@riotnewmedia.com with all things audiobook or find me on Twitter and the gram @buenosdiazsd. Sign up for the In The Club newsletter and catch me once a month on the All the Books podcast.
Stay bad & bookish, my friends.
Vanessa