Sponsored by Oni Lion Forge Publishing Group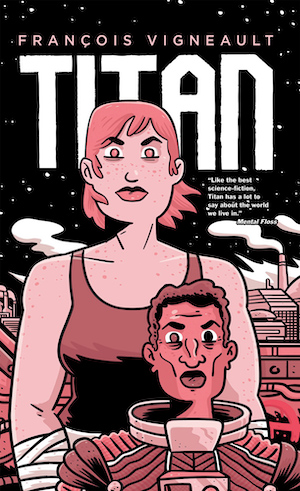 When MNGR First Class João da Silva arrives on the moon of Titan to take charge of Homestead Station, he finds the massive mining colony plagued by tensions between the giant, genetically-engineered Titan workers and the Terran management. As anger mounts, what began as a routine posting quickly turns into something far more dangerous.
Happy Tuesday, shipmates! It's Alex, bringing the new releases and a chilling tale of a Twinkie that has defied scientific understanding. (No, really. Check the bottom of the news section. I love this story and I cannot begin to explain why.) To be honest, things are a little freaky here in Northern Colorado right now… the Cameron Peak fire that's been keeping us inside for weeks is now the biggest fire in state history (heading for 200K acres burned as of this writing) and around 1:00 in the afternoon on Saturday, a new fire touched off just 17 miles from the city center of Boulder, forcing the immediate evacuation of Jamestown. The massive smoke plume had people pulling over on the streets near my house to watch. So really, I'm just saying hug the people you can, check in with the people you can't, global climate change is real and we need to get our butts in gear, and stay safe out there.
Thing to smile about: this twitter thread that tracks a 4000-year history of cats walking on our stuff
Looking for non-book things you can do to help in the quest for justice? blacklivesmatter.card.co and The Okra Project.
New Releases
Gyen Jebi just wants to be left alone to pursue their art, but when they find themself jobless and desperate, they are recruited by the Ministry of Armor to paint the magical sigils that animate its automatons. Unable to ignore politics any longer–especially those of the government occupying their land–they have no choice but to rise up and fight. And stealing the mighty dragon atuomaton Arazi is a good first step in their personal war.
After defeating her evil mother and the demon she summoned to try to kill her, Queen Asterin Faelenhart should be celebrating. But darkness has fallen over her kingdom and shadows the queen, reminding her of the sacrifices she made for her crown. The path of the Immortal Realm, ruled by the God of Shadow, begins to intertwine with her kingdom, and she realizes that the wicked ruler of this other realm has the answer to everything she lost and wants returned.
Jeremiah leaps at the offer to escape a life he feels disconnected from; all it takes is participation in an illegal cloning experiment, and he'll be paid handsomely for it besides. The experimental drug transfers his memories to his clone and lets it take over his life. He soon finds out that watching his own life as an outside observer is an even more displacing reality… and that doesn't even cover his horror as he watches his clone go into an out-of-control spiral that places his family in danger.
A collection of linked stories that are feminist retellings of Japanese folktales, where the traditionally feminine is cultivated rather than feared or suppressed.
The hidden fourth island of Aran is a place populated by the lost, only found by the dead, dying, and lost after they have given in to a dark emotion. But rather than a hell of the lost, the fourth island and its lost souls have become a community that welcomes those who find refuge there and offers a chance of redemption.
Dr. Rhett Jackson finds out someone wants him dead in the worst possible way–when a dragon tries to kill him in his own home. Unfortunately, his list of enemies is long–not everyone is happy with the scientists who resurrected dragons from the dead to begin with.
News and Views
Congratulations to the winners of the 2020 Ignyte Awards!
This recent interview with Cory Doctorow has me jumping out of my chair and yelling: Technologists have failed to listen to non-technologists
He also hits it out of the park with this one, IMO: The Dangers of Cynical Sci-Fi Disaster Stories
NPR did a great interview with Rebecca Roanhorse about Black Sun
TOC for the Breathe FIYAH flash fiction anthology, which is available for free on Tor.com as of yesterday.
Time's list of the 100 best fantasy books of all time has some good picks on it. (And some that made me snort rudely into my tea, but let's not get into that.)
Words matter: In Dune, Paul Atreides led a jihad, not a crusade
Cover reveal for Defekt by Nino Cipri, sequel to Finna. (Full disclosure: Nino and I have the same agent.)
New book coming from S.L. Huang!
Really cool animation of a black hole made using the Unreal enginer
A disturbing Twinkie that has, so far, defied science
On Book Riot
A beginner's guide to gothic fantasy
This week's episode of SFF Yeah! is about the books you rediscover while packing
You could win a copy of Black Sun by Rebecca Roanhorse
This month, you can enter to win a $250 Barnes & Noble gift card.
---
See you, space pirates. If you'd like to know more about my secret plans to dominate the seas and skies, you can catch me over at my personal site.