Sponsored by Oni Lion Forge Publishing Group.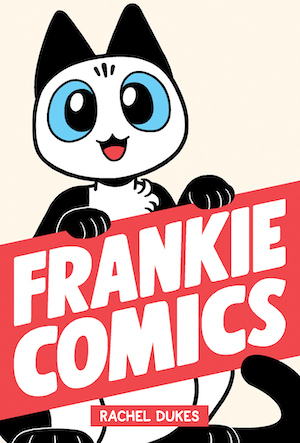 When they discover a kitten asleep in their doorway, real life artist couple Rachel and Mike immediately fall prey to her charms. Soon, the new queen of their home is a blue point Siamese cat named Frankie. Stealing snacks, making mischief, and taking snuggling very seriously, Frankie proves again and again the wholesome joys of a feline companion. Hilarious indie comics darling Frankie Comics is collected for the first time in this full-color hardcover edition – purrfect for pet lovers everywhere.
Hey readers! We're back with another week of children's new releases!
For art fans comes this new installment in the Arabella series, this one about Princess Arabella giving her friends a tour of her very own museum. The art is all related to Arabella's family and has lots of exhibits kids can actually interact with. The art is stylized (like Arabella's pigtail dots on the cover), introducing kids to a variety of art styles.
Eric by Shaun Tan
This is a surreal and heartwarming picture book about Eric, an exchange student who goes to live with a family in the suburbs. His host family isn't sure if Eric's enjoying his time with them, and cultural misunderstandings abound. When Eric leaves suddenly, the family thinks they may have done something wrong, but instead find a sweet gift waiting for them.
My Rainbow by Trinity and DeShanna Neal, illustrated by Art Twink
In this sweet and colorful picture book, Trinity, an autistic trans girl, wishes for long hair. It's hard, however, to grow it out because Trinity doesn't like hair touching her neck. So Trinity's mom fashions a colorful wig for Trinity to wear.
On her small island, Clara is looking forward to a summer spending time with her best friend Gaynah. But Gaynah's been treating her differently, and Clara's still unsure of herself after something happened last summer, when a hurricane hit, and Clara can't remember any of it. But her summer might be looking up when a new girl arrives on the island.
Flying Over Water by N.H. Senzai and Shannon Hitchcock
This near-history read takes place in 2017, as Trump's Muslim ban and a rise in anti-immigrant rhetoric and hate crimes are on the rise. When Noura's family, refugees from Syria, arrive in the U.S, they're scared but trying to make the best of it. Noura's kind school ambassador is Jordyn, a white girl coping with anxiety after her mom's miscarriage, and the two girls realize they have a lot in common.
This is a great pick for kids who love survival stories and even those who love a good friendship one, too. Sixth grader Lavender has been ditched by her best friend Marisol for the class mean girl, Rachelle, which makes the wilderness science camp she was so excited for a lot less exciting. When a prank goes wrong, Lavender, Marisol, Rachelle, and Lavender's new partner John, are separated from the rest of the group and must work together to survive the treacherous Arizona landscape.
In this fun follow-up to The Last Last Day of Summer, the Alston boys–cousins Otto and Sheed–are forced to face the consequences of their last adventure. To stop the time freeze that stopped their entire town in its tracks, Otto and Sheed used Missus Nedraw of the Rorrim Mirror Emporium's mirrors–without her permission. And unlike the rest of the town, Miss Nedraw remembers. But instead of punishing them, she asks for a favor instead. One of her prisoners has escaped, and she needs Otto and Sheed's help to find them.
---
Until next week!
Chelsea (@ChelseaBigBang on Twitter)