Sponsored by Celadon Books.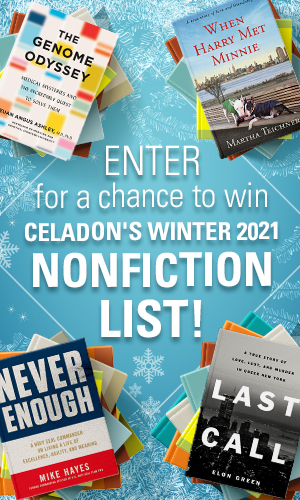 Book Riot is teaming up with Celadon Books, a division of Macmillan Publishers, to give 10 lucky winners a bundle of all five of their Winter 2021 frontlist titles.
How's the weather where you are? I've seen some instances of autumn in a few places on the Gram, and I need a streaming service that's just cozy music and sounds over an ongoing drive through Skyline Drive or some other lovely place that's just changing trees in breathtaking colors. Because desert trees? Definitely not the same. 
So books.
News and Useful Links
BRIDGERTON IS COMING. (And here's an EW article if you want a deeper look at the…first look.) Mark your calendars for December 25, because that's the most important thing happening that day. (I kid. Sort of.)
Did someone say Brenda Jackson Cinematic Universe? I think we're getting a Brenda Jackson Cinematic Universe.
There was also this awesome conversation between Reese Ryan and Brenda Jackson.
Did you catch any of the romance talks from the Frankfurt Book Fair? The Body Positivity one was posted on Facebook, but I'm not sure about the others.
Have you checked out Love's Sweet Arrow's Boozy Book Broads series on YouTube? Their most recent one with Diana Biller included some…hints? About her next book.
You can also RSVP for The Ripped Bodice's upcoming launch party for Rebekah Weatherspoon's If the Boot Fits.
And if you haven't checked out the Black Romance Podcast, it's definitely worth a listen.
Christina C. Jones is doing something new on YouTube.
And then there's this bit of gorgeousness.
Deals
If you're looking for a good deal re: stories : dollars, you really can't go wrong with a good anthology. And while there are plenty of anthologies regularly coming out, I gotta highlight the deal that is Love All Year: seven stories, 2.99. Love All Year is a holiday anthology, but like…a legit holiday anthology. Sukkot, Yule, Juneteenth, and more are celebrated within these pages. Check it out!
Recs!
So you know how I broke up with Kindle Unlimited a while ago? That didn't last long—the itch was getting to me as I was adding more and more books to my "to read when I get KU again someday" list. I still have all the same problems listed in my post, but there was a deal on a six-month subscription so…:shrug-emoji:
I did take the chance to read a couple seasonally-appropriate books, though!
Sanctuary by Alexandria House
All I knew about this book going in was that the subtitle referenced "noire immortals" and I was all for it.
Temple is a radio DJ who gets a couple of song requests that bring up memories of her youth. She can't believe it when it turns out the requestor is her first love, the man who loved her, loved on her, and then disappeared without a trace. He's come back to apologize and maybe even get back together…and with a story to tell. Turns out he's immortal—one of the First People. Oh, and kind of…royalty? She doesn't let him off easily, but the book isn't that long, so you don't have to yell at both of them for too much time. Also, this book is hella sexy. Like whoa sexy. You definitely want to check it out.
You know how I was crying about wanting a book like The Ghost and Mrs. Muir but with a different kind of happy ending? Reader, this is that book. I mean, I'm sure there are others (thanks to those of you who reached out with recommendations, I'm on it!) but this one definitely invoked similar energy, but with a ghost that can become solid in certain situations and—you guessed it—hot ghost sex. It's dated, both in terms of content and themes of consent; there is not a cell phone to be found (though there's a throwaway line about cell service not reaching the small town) and also there's one specific scene with a sort of "it's okay, I wanted it" moment. But otherwise, it's a super quick read that only leaves us with a couple questions at the end (lolsob, you'll understand what I mean).
I've also got MINK's haunted house romance, Under His Spell, on my borrowed list, but that ghost appears to be a specter set to haunt the main couple. I've got a few more to check out, though!
Any ghostly plans for the week?
---
As usual, catch me on Twitter @jessisreading or Instagram @jess_is_reading, or send me an email at wheninromance@bookriot.com if you've got feedback, bookrecs, or just want to say hi!