Sponsored by Rural Voices: 15 Authors Challenge Assumptions About Small-Town America edited by Nora Shalaway Carpenter.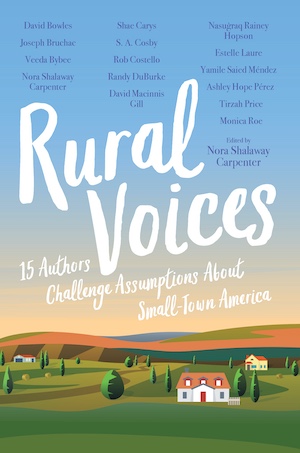 Rural people and culture have been casually mocked, stereotyped, and deeply misunderstood. Now an array of short stories, poetry, graphic short stories, and personal essays, along with anecdotes from the authors' real lives, dives deep into the complexity and diversity of rural America and the people who call it home. Fifteen extraordinary authors—diverse in ethnic background, sexual orientation, geographic location, and socioeconomic status—explore the challenges, beauty, and nuances of growing up in rural America. You'll find yourself visiting parts of this country you might not know existed—and meet characters whose lives might be similar to your own.
Welcome to In The Club, a newsletter of resources to keep your book group well-met, well-read, and well-fed. Hello, lovely people of the club! It's still October and that means it's still an excellent time to read about things that go bump in the night. Last week we did witches, this week we're casting a wider net.
To the club!!
---
Nibbles and Sips
I (still) have apples to go through and had a craving for apple pie the other night, but could not muster the energy to make a full-blown pie. That's when I remembered the glory that is a crumble! I peeled a couple of apples, tossed them in sugar, cinnamon, and flour, then topped them with a mixture of flour, butter, and white and brown sugar the consistency of wet sand. All it took was about 45 minutes in a 375 degree oven and boom! Deliciousness. Here's a similar recipe with measurements & stuff.
Books
Carmilla by Joseph Sheridan le Fanu, edited by Carmen Maria Machado
A lot of people think of Dracula as the first vampire book, but Carmilla both predates Bram Stoker's classic by decades and helped inspire it. Carmilla is a lesbian vampire who lurks in the shadows, waiting to prey on unsuspecting women. After a carriage accident, she meets Laura, a lonely woman in a remote mansion in a central European forest who soon learns her new companion is both a seductress and a monster. In the original text, le Fanu 100% writes Carmilla's queerness as the source of her villainy, an unfortunately common occurrence in literature. In this 2019 version, Carmen Maria Machado reclaims this queer narrative by rewriting the story entirely while someone also remaining mostly faithful to the original work.
Book Club Bonus: This piece is a more in-depth exploration of Machado's reclaiming of the lesbian vampire narrative and should serve as an excellent source for book club discussion.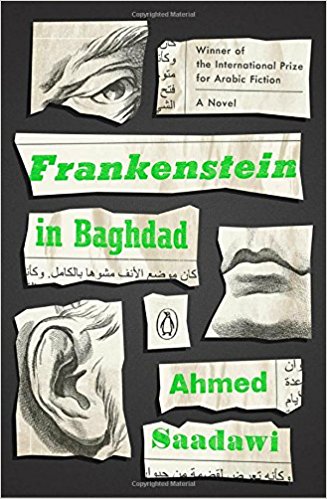 Frankenstein in Baghdad by Ahmed Saadawi, translated by Jonathan Wright
Imagine if the story you know as Frankenstein was set in US-occupied Baghdad and the titular scientist was an oddball scavenger, one who creates a corpse by stitching together the human body parts he collects. He's not just playing Build-a-Corpse for fun; he's doing it so the government will recognize the parts as people and allow the slain a proper burial. Then that corpse goes missing, a monster who though shot cannot be killed and needs human flesh to survive.
Book Club Bonus: In case you're not picking up on this yet, this work of dark humor and horror is a scathing critique of the U.S. invasion of Iraq. Unpack that!
Lobizona by Romina Garber
In this work of YA fantasy, Manuela is undocumented and running from her father's Argentine crime-family, so she keeps a low profile and rarely leaves her small Miami apartment. When her surrogate grandmother is viciously attacked and her mother arrested by ICE, Manu goes searching for answers about her past. The search takes her to a secret world straight out of Argentine folklore where brujas and werewolves exist, and down a path that reveals the terrifying truth of Manu's heritage. It's not just her residency, but her very existence that is illegal.
Book Club Bonus: Get ready for a "who's the real monster here" discussion.
Suggestion Section
Bustle recently highlighted the new Alice Hoffman book, Magic Lessons. Why yes, I am bringing this up just to shove it in your faces again because it really is that good. So much to talk about in book club, as is often the case when unpacking the origins of the witch hunt.
As holiday season approaches with no end to this pandemic in sight (please let me be wrong, please let me be wrong), it's going to take a concerted effort to stay connected. Whether you'll be gathering with your small quaranteam book club or keeping in touch with loved once via virtual means, start making some fun holiday plans now! I know I for one am thinking of coordinating a holiday romance read + a Downton Abbey dinner date, but the possibilities are endless.
The L.A. Times book club will explore the work of Octavia Butler next. Her work is getting a "this speculative fiction feels a little too real" bump on the bestseller charts lately which is both incredibly awesome and extremely terrifying.
Read more books by Native writers. That's all.
---
Thanks for hanging with me today! Shoot me an email at vanessa@riotnewmedia.com with your burning book club questions or find me on Twitter and the gram @buenosdiazsd. Sign up for the Audiobooks newsletter and catch me once a month on the All the Books podcast.
Stay bad & bookish, my friends.
Vanessa