Sponsored by Oni Lion Forge Publishing Group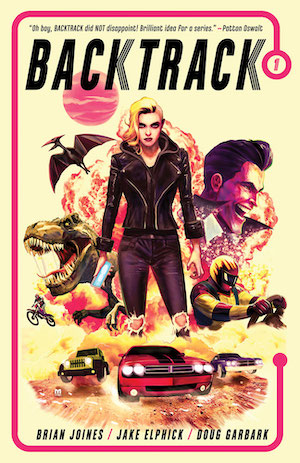 Guilt weighs heavy on former criminal "wheelman" Alyson, whose illicit life left her shattered. When an eccentric businessman offers Alyson a chance to correct a single mistake in her past by entering a massive cross-country car race, Alyson takes it. The catch? Each leg covers a different period in history. Just like that Alyson and the other drivers find themselves in a gut-wrenching race through time, contending with medieval warriors, dinosaurs, and natural disasters. But for an opportunity to change history, Alyson will drive from the Big Bang to the death knell of the universe.
Avast, me hearties! It's Alex, and it's Tuesday, so you know what that means. But this week there are so many books coming out—it's an absolute embarassment of riches—that the news will have to wait until Friday (and I can't help but notice there are several books that involve witches in some form, how seasonally appropriate!). I suspect we'll all be too busy scaling Mount TBR to read anything else anyway. Stay safe out there, shipmates, and I'll see you on Friday!
Looking for non-book things you can do to help in the quest for justice? blacklivesmatter.card.co and The Okra Project.
New Releases
Beatrice Clayborn is the only hope for her family, in the sense that they're counting on her to marry well and help them get out of their debts. But Beatrice wants to be a Magus, able to practice her magic out in the open—and marriage will end that dream permanently, with her magic locked down by a marital collar that's "necessary" to protect her unborn children. When she becomes entangled with a rival sorceress and her brother Lavan, her decision becomes even more complicated. Will she sacrifice her magic and herself–even if she does it for love–or will she devestate her family?
In the Jim Crow South, a teenaged girl named Evvie Deschamps is manifesting magic that grows stronger by the day, a gift that her family calls the jubilation, which has been passed down from generations of Black women. As her magic shakes something dark loose, she must face the demons of the past with the strength of her mighty lineage, all while looking after her two sisters and mother, and trying to find time for her crush.
Black Sun by Rebecca Roanhorse
Winter Solstice is usually a time of celebration in the holy city of Tova, but this year, it coincides with a solar eclipse that the Sun Priest claims will unbalance the world. A ship will arrive on that fateful day, captained by a woman who can calm the waters with a song, and its only passenger a supposedly harmless young man.
The Imperial Wolves are the executioners of the Dragon Emperor, he who watches over the many races who warily mingle in the City of Elantra. To become a Wolf means to have one's mind read, and it's an exam very few pass. Severn is determined to join the Wolves, and exposing secrets he has long kept hidden seem a small price to pay. His first task, if he can survive it, is bringing the perpetrators or a series of murders that occured twenty years ago to justice. It's a hunt Severn might not survive.
By 1893, there are no witches left in America—and if women want power, they need the vote first. When the Eastwood sisters join the suffragists of New Salem, they might just make a witch's movement out of the winter's movement. But there are forces arrayed against them who will not suffer a witch to vote—or live.
The Signalman comes calling on Ellison Nicodemo, a burnt out agent who has seen and done one too many things and now longs only for oblivion. But one doesn't refuse the Signalman, and he has a final mission for her: stop the latest apocalypse, because only Ellison can unleash the Hound of Tindalos.
Long range spy satellites at the edge of human space are going quiet, and Captain Susan Kamala and her crew are dispatched to figure out why. What they find is a mysterious alien ship that could destroy them easily—but it's not looking for a fight. Captain and crew must figure out how to communicate with this ship and— they're very skilled and very lucky—preserve the peace.
The mission and even survival of the crew of The Ulysses is thrown into uncertainty when revolutionaries seize the solar systems most important asteroid mine and refueling station. But the captain of The Ulysses knows that failure is not an option—and he's got a plan.
Fasten your seatbelts for this dark fantasy historical novella that puts a supernatural twist on the Ku Klux Klan. The white-hoods aren't just men; hiding amount the regular ol' awful human racist "Klans" are literal, actual demons known as "Ku Kluxes" who ride across the nation spreading fear and violence. Maryse Boudreaux and her fellow resistance fighters, a foul-mouthed sharpshooter and a Harlem Hellfighter, are on a mission to hunt their hunters armed with blade, bullet, and bomb. Maryse senses that something awful brewing in Macon, and the war on Hell is about to reach a terrifying fever pitch.
---
See you, space pirates. You can find all of the books recommended in this newsletter on a handy Goodreads shelf. If you'd like to know more about my secret plans to dominate the seas and skies, you can catch me over at my personal site.