Sponsored by Lerner Books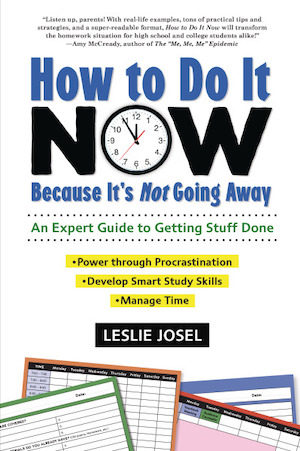 With distance learning, teens are having to manage their time and attention now more than ever. Procrastination is especially tough for young adults. We are all wired to put things off, but we can learn tools and techniques to kick this habit. This book is a user-friendly guide to help teens get their tasks done. Simple, straightforward, and with a touch of humor, it's packed with practical solutions and easily digestible tips to stay on top of homework, develop a sense of time, manage digital distractions, create easy-to-follow routines, and get unstuck.
Welcome to Check Your Shelf. I want you all to exude "I'm Speaking" energy into the weekend, next week, the next several weeks, and all the months after that.
---
Libraries & Librarians
News Updates
Publishers worry as ebooks fly off libraries' virtual shelves (are we seriously starting up with this tired argument again??).
Multnomah County Library dials back its layoffs, but employees are calling out systemic racism and top-down management.
A former Austin Public Library employee is accused of stealing $1.3 million in printer toner.
Worth Reading
The struggle to diversify library staff.
Libraries could be the next hub for telehealth services.
I'm sharing this for the headline alone: "For Banned Books Week, I read the country's 10 most challenged books. The gay penguins did not corrupt me."
---
Book Adaptations in the News
We're getting an animated adaptation of Lumberjanes!
The Obama's production company is teaming up with Doc McStuffins creator Chris Nee to produce an animated series of Ada Twist, Scientist for Netflix.
V.E. Schwab's new novel The Invisible Life of Addie LaRue is getting a film adaptation.
The new adaptation of Roald Dahl's The Witches will skip theaters and go straight to streaming on HBO Max on October 22nd.
Layne Fargo tweeted that her novel They Never Learn is being adapted for TV.
Warner Brothers is pushing back Dune's release date to late 2021.
Casting updates for Between the World and Me and The Sandman.
Here's why Hollywood's been gobbling up book rights during the pandemic.
---
Books & Authors in the News
A court has ruled that the DoJ's case against John Bolton's book can proceed.
A group of lyricists and authors have launched the #45Lies challenge on social media, which is designed to create a rapid-response movement to fact check statements made by Trump.
Why a California school district removed and then quietly reinstated Toni Morrison's The Bluest Eye.
Are You There God? It's Me, Margaret just turned 50!
---
Numbers & Trends
Out of the top 20 books that have been banned or challenged in the last decade, half of them have featured LGBTQ themes. Perhaps not surprising, but still infuriating.
---
Award News
The National Book Award finalists have been announced!
Jacqueline Woodson, N.K. Jemisin, and Tressie McMillan Cottom all won 2020 MacArthur Foundation genius grants!
The Center for Fiction just announced the shortlist for its 2020 First Novel Prize.
Akwaeke Emezi said that they will not let their future novels be entered for the Women's Prize after the prize asked them for information on their sex as defined "by law."
Shortlists for the National Translation Awards.
The US Selfies awards have added a children's prize to go along with its adult fiction award.
---
Bookish Curiosities & Miscellaneous
Browse the world's strangest (and I do mean STRANGEST) books.
But what do we actually MEAN by a "book?"
---
On the Riot
4 ways libraries hype books virtually.
5 awesome online educational sites for kids.
This reader doesn't remember the last time they enjoyed a book.
A brief history of writing styles, from pictures to the modern alphabet.
What would your bookish point total be on The Good Place?
---
Let's get through another week together, folks. Remember to reclaim your time, and I'll catch you on the flipside.
—Katie McLain Horner, @kt_librarylady on Twitter.