Sponsored by Saga Press, publishers of Rebecca Roanhorse's BLACK SUN.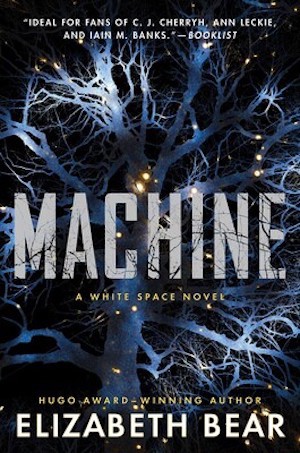 Machine by Elizabeth Bear is a new space opera perfect for fans of Ann Leckie and Becky Chambers. Filled with inventive science and riveting action scenes, it follows scientist Doctor Jens she uncovers a dangerous mystery involving an ancient spaceship, a crew suffering from an unidentifiable contagion, and a decaying AI ship-mind. Unable to resist a good mystery, Dr. Jens dives in and makes shocking discoveries about these anomalies, as well as her own life.
Happy Friday, shipmates! We're one week in to the best month and… well, heck of a year this week has been, huh. It's Alex, with some genre news and a few month-appropriate books picked out. I've been trying to brighten my outlook with some horror movies (no, really) and judicious viewings of The Addams Family films… and oddly thematically appropriate round of disaster heteros in Tasha Suri's Realm of Ash (look, ash made out of dead people and living nightmares is very October-appropriate). Stay safe out there, space pirates, and I'll see you soon!
Need something to smile about? Fat Bear Week has a winner! LOOK AT THE SIZE OF THIS LAD.
Looking for non-book things you can do to help in the quest for justice? blacklivesmatter.card.co and The Okra Project.
News and Views
3 Black women authors won MacArthur Foundation "Genius Grants"—and one of them is science fiction powerhouse N.K. Jemisin.
Nibedita Sen: Life, Liberty, and the Pursuit of Excellence
Fernando Sdrigotti: What We Talk About When We Talk About Magical Realism
Another cool events from the Carl Brandon Society: Asian Diaspora: How Colonization and Migration Changes Cuisine
CW for transphobia (and, frankly, nonbinary-phobia): Akwaeke Emezi shuns Women's prize over request for details of sex as defined 'by law'
Alex Brown has recommendations for must-read speculative short fiction from September
Author Claire O'Dell is running a Kickstarter to republish her River of Souls Trilogy
The Nobel Prize in Physics this year is all about black holes. A little more about their research here.
On Book Riot
6 of the best friendships in YA fantasy
8 epic friendships in sci-fi and fantasy books
4 more YA books about aliens and the unknown
Why the medieval girl in the tower trope still exists in YA lit
This week's SFF Yeah! podcast is about a few of our favorite things
This month, you can enter to win a $250 Barnes & Noble gift card.
Free Association Friday: Happy Birthday, Guillermo del Toro
In keeping with the glorious month belonging to Halloween, October 9 is Guillermo del Toro's birthday! As you would imagine, he's got some weird, spooky, fantastic, and gothic taste. He's also co-written some books, but today we're looking at a sampling of six (rather dark) books the birthday boy has recommended on his Twitter feed over the years.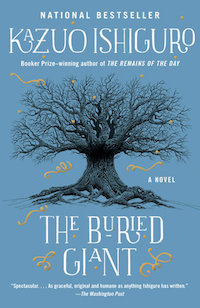 In an ancient Britain where the wars between the Saxons and Britons have finally ended, an elderly couple journey to visit their son. But a strange mist covering the land is causing mass amnesia, and they barely remember the person they are traveling to see. Joined by a Saxon warrior, a knight, and an orphan, the small party begins to remember together the dark past they all share.
A short story collection from Japanese mystery writer Edogawa Rampo (actually the pen name of Tarou Hirai), but there's plenty of the perverse and fantastic to be found in here. One of Edogawa's literary heroes was Edgar Allan Poe (note the play on the name) and it definitely shows.
Edward Weyland is a different kind of vampire. His condition is biological, rather than supernatural, and he's also a respected anthropology professor who spends decades in hibernation and survives these days by stealing blood from laboratories. Maybe he's still a monster, but he's a monster who has to live and cooperate with his prey if he wants to survive.
Everyone is familiar with The Lottery, hopefully—though if you're not, this is a good season to get started with this disturbing delight. There's also 24 more stories of the occult (and horror, not going to lie: that was mostly her thing) in this collection. A bit more horror than I normally like to get on my space ship, but I always make an exception for Shirley Jackson.
Another short story collection, perhaps more to the horror side and filled with tales of madness, death, morality, and, yes, fantasy. Horacio Quiroga was a Uruguayan writer and poet who had a massive influence on magical realism.
Frankenstein by Mary Wollstonecraft Shelley
Look, this is Guillermo del Toro we're talking about. Did you think for one minute that this wasn't one of the first books he listed as a favorite?
---
See you, space pirates. You can find all of the books recommended in this newsletter on a handy Goodreads shelf. If you'd like to know more about my secret plans to dominate the seas and skies, you can catch me over at my personal site.