Sponsored by The End of the Day by Bill Clegg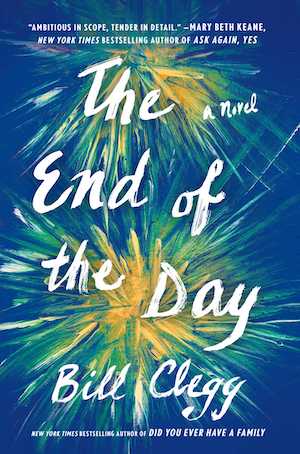 Bill Clegg returns with a deeply moving, emotionally resonant second novel about the complicated bonds and breaking points of friendship, the corrosive forces of secrets, the heartbeat of longing, and the redemption found in forgiveness.
Welcome to In The Club, a newsletter of resources to keep your book group well-met, well-read, and well-fed. It's our first newsletter of October and you know what that means: it's bruja season. Today I'd like to recommend some newer witch books for book club! All of these are 2020 releases and approach their subject with fresh takes, books that examine the terrifying origins of witch hunts, gendered magic, witchcraft as feminism, and the power of sisterhood.
To the club!!
---
Nibbles and Sips
This weekend I took a drive to a local farm for the opening weekend of their harvest festival and went hard in the paint on autumnal delights: pumpkins, apple cider, a hard loganberry cider, marionberry jam, pumpkin butter, caramel, apples, an actual caramel apple, and assorted produce. I have lots of cooking and baking plans for that haul, but first on the list: baked apples. Odds are you have most of these ingredients in your pantry, or at least a close enough substitute. Whip up a batch for book club and join me in the Fort of Fall Feelings.
Back on my Bruja-ja
That haunting and gorgeous cover seems to be asking me how I've summoned the audacity to not have read this book yet. So I picked it up this week! Immanuelle is a young biracial woman living in Bethel, a rigid, puritanical society where her very existence is blasphemy. She does her best to keep her head down, but a mishap lures her into the forbidden woods. That's where she finds a journal that once belonged to her dead mother that proves she once consorted with witches, leading Immanuelle on a path of grim discovery into the Church's twisted history. Rioter Alex Acks described it as the sort of horror fiction that's "feminist and wrathful and takes blood revenge for the way society is built on the lives and bodies of women." I'm both triggered and sold.
This upcoming witchy read comes to us from the author of The Ten Thousand Doors of January, one of my favorite reads of *checks what year it published because time has lost all meaning* 2019. It's 1893 in New Salem and witchcraft is a thing of the past. But when the Eastwood sisters join a group of local suffragists, they find themselves tapping into the old ways to change the course of history. BRB, gonna go study some witchcraft.
I'd ask you what you're doing with your life if you've never read Practical Magic or The Rules of Magic, but really: how lucky are you?! Here we are in the witchiest month of the year and you have not one but three bewitching (hehe) books to curl up with. Out just this week, Magic Lessons is the prequel to Practical Magic and takes us back to Maria Owens' origin story and the curse that haunts the Owens women. Yes, these books are about witches, but that gift is beautifully wrapped in fierce feminism, the unshakeable bonds of sisterhood, the deepest kind of love, and a healthy dose of fall vibes.
I keep talking about this book because it is one of the most unique witch books I've read in a long time, and because the hole it left in my heart has not yet been mended. Yadriel is a trans boy who wants more than anything for his super traditional Latinx family to accept his true gender. To prove that he's a brujo, he performs the sacred coming-of-age ritual wherein brujx come into their powers; with the help of his cousin/bestie, he plans to use those powers to find the ghost of his murdered cousin and set it free. Problem: the ghost he ends up summoning isn't his cousin, refuses to leave, and also happens to be a Hottie McGuapo. This book is full of non-italicized Spanish and is inspired by lots of different Dia de los Muertos (Day of the Dead) rituals. It shakes up the gendered magical powers narrative on so many levels, and that's what I want you to discuss.
Suggestion Section
Jenna Bush-Hager has selected Rumaan Alam's Leave the World Behind for her October book club pick. A huge congratulations to Rumaan Alam on being a National Book Awards finalist!
You don't need a big ol' group to start a book club- grab a buddy and make it a party of two.
---
Thanks for hanging with me today! Shoot me an email at vanessa@riotnewmedia.com with your burning book club questions or find me on Twitter and the gram @buenosdiazsd. Sign up for the Audiobooks newsletter and catch me once a month on the All the Books podcast.
Stay bad & bookish, my friends.
Vanessa