Welcome to Read This Book, the newsletter where I recommend a book you should add to your TBR, STAT! I stan variety in all things, and my book recommendations will be no exception. These must-read books will span genres and age groups. There will be new releases, oldie but goldies from the backlist, and the classics you may have missed in high school. Oh my! If you're ready to diversify your books, then LEGGO!!
Last week, we lost an American titan in Supreme Court Justice Ruth Bader Ginsburg who passed away at 87 due to complications from metastatic pancreatic cancer. Despite the immense sadness felt from Gingsburg's death, there was a silver lining in the passing of the first Jewish woman to serve on the Supreme Court: "Rosh Hashanah began this evening. In Jewish tradition, it is believed a person who dies on a High Holy Day is a tzaddik – a righteous and saintly person by Jewish religious standards."
Before RBG sat on the Supreme Court, she led the courtroom fight for gender equality. Women can now have credit cards in their own name, serve on juries, fight on the front lines, and even receive an Ivy League education because of Ruth Bader Ginsburg. She will always be a rad American woman! If you want to learn about more amazing women, then I recommend reading Rad American Women A-Z written by Katie Schatz and illustrated by Miriam Klein Stahl.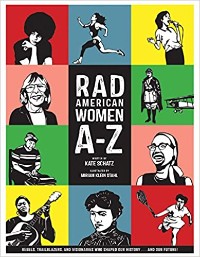 Like other alphabet books, Rad American Women also illustrates the alphabet, but instead of "A is for Apple," it is "A is for Angela" meaning Angela Davis, the iconic political activist. B is for groundbreaking tennis superstar Billie Jean King, and C is for Carol Burnett who defied the assumptions about women in comedy. The list continues with 23 more amazing, diverse women from various professions and eras who were all brave agents of change.
I don't remember how I discovered this book, but I immediately fell in love with it. What I absolutely adored about Rad American Women is feeling kinship to so many of these phenomenal women. It was easy for me to see myself in heroic and smart Black women like the aforementioned Angela Davis along with Zora Neale Hurston and Queen Bessie Coleman. However, I also immediately gravitated to other women like the Grimke Sisters who believed in the liberation of all people regardless of gender or race as well as Nellie Bly who let nothing deter her determination and adventurous spirit.
What I especially enjoyed about Rad American Women was the end of the book that encourages and challenges readers with plenty of activities to celebrate and support rad women (and girls) everyday.
Until next time bookish friends,
Katisha
Find more of me on Book Riot.
Find more books by subscribing to Book Riot Newsletters.