Sponsored by Come On In by Adi Alsaid, published by Inkyard Press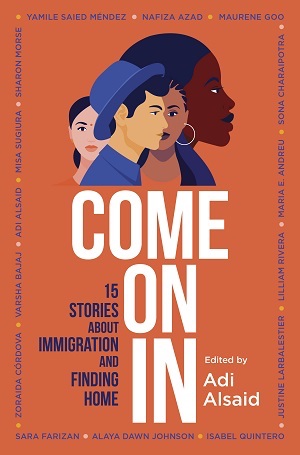 This exceptional and powerful anthology explores the joys, heartbreaks and triumphs of immigration, with stories by critically acclaimed and bestselling YA authors who are shaped by the journeys they and their families have taken from home—and to find home.
Hey YA Readers!
Are you itching for some time buried under warm blankets with a cuppa your favorite beverage and a great adaptation to watch? Let me help you with that last part and highlight some of the newer, recent, or potentially overlooked YA film adaptations you can stream right now.
Last month I highlighted YA series adaptations you could stream. This month, it's stand alone film adaptations. These are all available on Netflix unless otherwise noted — because Netflix is the largest and most popular streaming service so far, it's easiest to search as well. 
Descriptions come from the film, and as is too often the case with adaptations, this list is very dominated by white narratives. I suspect as more authors of color see their stories adapted, though, these lists will grow more inclusive and reflective of our world. 
I've included the name of the book from which the film was adapted in cases where the title changed. 
All The Bright Places (from the book All The Bright Places by Jennifer Niven)
The story of Violet and Theodore, who meet and change each other's lives forever. As they struggle with the emotional and physical scars of their past, they discover that even the smallest places and moments can mean something.
All Together Now (from the book Sorta Like a Rockstar by Matthew Quick)
An optimistic high schooler with musical aspirations must learn to accept help from her friends to overcome her personal hardships and fulfill her dreams.
Chemical Hearts (Amazon Prime only, from the book Our Chemical Hearts by Krystal Sutherland)
A high school transfer student finds a new passion when she begins to work on the school's newspaper.
iBoy (from the book iBoy by Kevin Brooks)
After being shot, Tom wakes from a coma to discover that fragments of his smart phone have been embedded in his head, and worse, that returning to normal teenage life is impossible because he has developed a strange set of superpowers.
The high school freshman kid sister of the murdered Zoë finds her diary, which sheds new light on the murder missed by the police. She investigates.
She's Dating The Gangster (based on the book She's Dating The Gangster by Bianca B. Bernardino)
Athena Dizon plays a trick on campus heartthrob and bad boy, gangster, Kenji de los Reyes. Setting up an arrangement to pretend as lovers-to make his ex jealous-they found themselves falling to each other yet falling apart.
---
It's also worth keeping your eyes peeled for when the recently-released adaptation of Words on Bathroom Walls hits small screens, too! It's based on the book of the same name by Julie Walton.
Happy watching!
— Kelly Jensen, @heykellyjensen on Instagram and editor of Body Talk, (Don't) Call Me Crazy, and Here We Are.