Sponsored by Greythorne by Crystal Smith, published by Houghton Mifflin Harcourt.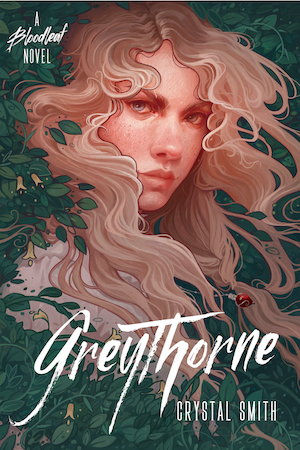 Brimming with deliciously mysterious magic, political intrigue, and a passionate heroine who will do anything to save the ones she loves—this highly anticipated sequel to Bloodleaf, praised as "enchanting, visceral, and twisty" by Laura Sebastian, won't disappoint.
Happy Tuesday, shipmates. It's Alex, here for another round of new releases. To be honest, this last weekend, with Ruth Bader Ginsburg passing away on Friday, felt pretty brutal. I guess I'm just saying that if you're having a hard time with all the everything, you're not alone. Stay safe and take a minute to breathe, even if breathe might mean something like, "turn off the internet for 48 hours and cry." Then we keep sailing, together.
Rest in power, RBG.
If you need something that'll make you smile, here's a little boy and his best friend, the plastic skeleton.
Looking for non-book things you can do to help in the quest for justice? blacklivesmatter.card.co and The Okra Project.
New Releases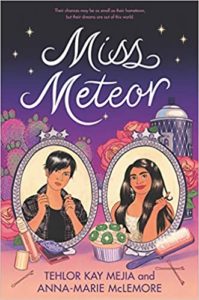 Miss Meteor by Tehlor Kay Mejia and Anna-Marie McLemore – Ex-best friends Lita and Chicky are both outsiders in their small New Mexico town. Lita wants to enter the Miss Meteor pageant to prove to the world—and herself—that girls who look like her have a place. Chicky decides to help her because it's a great chance to get revenge on the people who have made them both miserable for most of their lives. (It's SFF, trust me, but if I tell you how, it'd be a spoiler.)
Sweet Harmony by Claire North – Harmony is tired of everything in her life being as average as she is herself. But she decides to pursue self-improvement in the most modern way possible: upgrading her nanos, something that requires just a few swipes on an app. It seems so easy at first, but there are only so many upgrades a body can take…
Tamora Carter: Goblin Queen by Jim C. Hines – Tamora discovers a couple of goblins digging around in a dumpster one night after roller derby practice—and they're not the only ones who have come through a magical portal into our world. She quickly realizes that they might be the key to what happened to her best friend, Andre—and that there are things out there much more dangerous than goblins.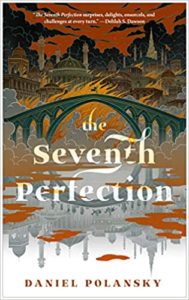 The Seventh Perfection by Daniel Polansky – Manet became the God-King's amanuensis by means of the seven perfections, rendering her body to the peak of physical performance and her mind incapable of forgetting anything she has ever seen. This perfection will ultimately drive her mad, but first she has an unsolvable riddle to unravel, which may destroy the God-King she has crafted herself to serve.
The Silvered Serpents by Roshani Chokshi – The consequences of thwarting the Fallen House are still haunting Séverin and his crew. In an attempt to assuage his own guilt, Séverin begins pursuing an artifact that, if the stories are true, will grant its holder the power of God. It's a quest that takes the crew to Russia and threatens to destroy them before they can complete this one last job.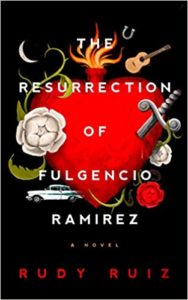 The Resurrection of Fulgencio Ramirez by Rudy Ruiz – In the border town of La Frontera in the 1950s, tensions are high and cultures continually clash between the white and Mexican-American populations. And in that moment, a son of impoverished immigrants named Fulgencio falls in love with Carolina, the pharmacist's daughter, a romance that is doomed by forces outside their control. Twenty years later, Fulgencio reads the obituary of Carolina's husband and sees a second chance—though first he has to break his family's curse.
Hench by Natalie Zina Walschots – Anna is a temp who does office work for some truly terrible people… until an encounter with a "hero" leaves her terribly injured and jobless. With only her fury, the internet, and her office worker ability to collate data left to her, she quickly realizes that she's not the only person who's been injured by a so-called hero, and the "good" versus "evil" story being sold is almost entirely marketing. With some careful social media management, she can start pushing her own narrative. Her acumen lands her a new job, with one of the most evil villains remaining, but this time it might be her turn to save the world.
News and Views
Malka Older: The Only People Panicking Are the People in Charge
Let's Stop With the Realism Versus Science Fiction and Fantasy Debate
You can watch Samuel R. Delany's 2020 Windham-Campbell lecture
The first real trailer for WandaVision has been released
The 19 coolest starships from Star Trek
Tatiana Maslany will be She-Hulk
Oh my god, Chuck Tingle has made a "select your own timeline" adventure: Trouble in Tinglewood
There's going to be a Japanese movie adaptation of Heinlein's The Door into Summer
The 2020 Ig Nobel Awards have been announced. You can watch the award ceremony here. It's well worth your time even if it was virtual this year.
On Book Riot
Explore indigenous futurisms with these SFF books by indigenous authors
Middle Fantasy: a sub-genre for all fantasy lovers
Quiz: Which book of magic and mystery should you read next?
This month, you can enter to win $50 to spend at your favorite indie bookstore and a free 1-year audible subscription.
---
See you, space pirates. You can find all of the books recommended in this newsletter on a handy Goodreads shelf. If you'd like to know more about my secret plans to dominate the seas and skies, you can catch me over at my personal site.