Sponsored by Friendshipping by Jenn Bane and Trin Garritano.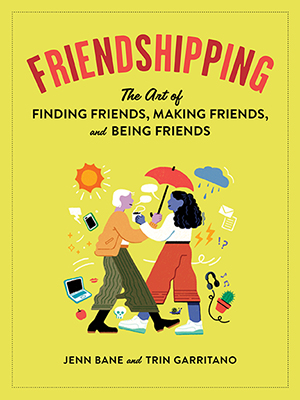 These days, making and keeping friends is anything but simple, and Jenn Bane and Trin Garritano know this better than anyone. Their podcast, Friendshipping, gets 30,000 downloads a month because their listeners are craving real guidance—along with entertainment. Now they've distilled the lessons and wit into an essential book for anyone who's feeling a little friendless or is trying navigate the challenging world of grown-up friendships.
Welcome to Check Your Shelf. I can't imagine a worse way to start a weekend than to learn that Ruth Bader Ginsburg had passed away. I still feel gutted. And angry. And terrified. And more determined than ever to vote and help other people vote. I hope that whatever your feelings are right now, they spur you to some eleventh hour action.
---
Collection Development Corner
Publishing News
New & Upcoming Titles
What Your Patrons Are Hearing About
RA/Genre Resources
On the Riot
---
All Things Comics
On the Riot
---
Audiophilia
On the Riot
---
Book Lists, Book Lists, Book Lists
Children/Teens
Adults
On the Riot
---
Level Up (Library Reads)
Do you take part in Library Reads, the monthly list of best books selected by librarians only? We've made it easy for you to find eligible diverse titles to nominate. Kelly Jensen created a database of upcoming diverse books that anyone can edit, and Nora Rawlins of Early Word is doing the same, as well as including information about series, vendors, and publisher buzz.
Catch you on the flipside, everyone. Make a voting plan. Tell them Ruth sent you.
—Katie McLain Horner, @kt_librarylady on Twitter.