Welcome to Read This Book, the newsletter where I recommend a book you should add to your TBR, STAT! I stan variety in all things, and my book recommendations will be no exception. These must-read books will span genres and age groups. There will be new releases, oldie but goldies from the backlist, and the classics you may have missed in high school. Oh my! If you're ready to diversify your books, then LEGGO!!
Did you know September is the busiest month for births? In fact, September 9th is the most common birthday in the United States, so shout out to the fellow September babies whose parents decided to bring in the new year with a bang. Heyo! Since September seems to be  all about new babies joining the world, I obviously have to recommend a book that lets readers know who really runs things once baby arrives, The Boss Baby by Marla Frazee.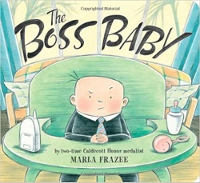 From the moment he arrived, it was obvious the baby was the boss. This boss baby is used to getting his way whether it's drinks made to order any time of the day or meetings that may last through the night. When his demands do not receive the proper response, the boss baby is not afraid to do whatever it takes to get the attention he wants and deserves.
I didn't become familiar with The Boss Baby book until it was mentioned in the credits of The Boss Baby animated movie starring the voice talents of Alec Baldwin as The Boss Baby. This film was so silly and ridiculous while being absolutely entertaining I had to read the book that inspired it. While reading The Boss Baby, it quickly became evident the movie took all of the literary license with their story because this book is short and sweet.
Although the story is simple, The Boss Baby was quite an enjoyable read. I constantly found myself chuckling despite the fact I'm not a parent, and there is no boss baby ruling over me. However, the biggest strength of The Boss Baby lies in the illustrations, which should come as no surprise. Marla Frazee has previously won two Caldecott Honors for picture book illustration.
The Boss Baby is the perfect bookish baby shower gift for soon-to-be parents who are preparing for the new boss coming to town or a must-read book for big siblings awaiting their little sibs. The boss baby is small, but mighty demanding. Life will never be the same once they arrive. This is your final warning!
Until next time bookish friends,
Katisha
Find more of me on Book Riot.
Find more books by subscribing to Book Riot Newsletters.