Sponsored by DC.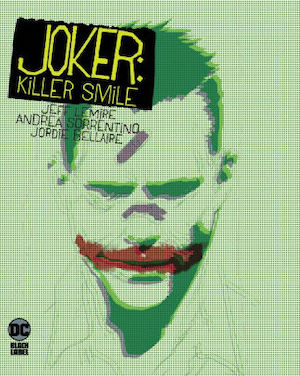 Arkham Asylum is home to many of the Batman's worst enemies— including the most dangerous one of all: The Joker. No one has ever been able to break through the insanity of the Joker's mind. Many have been broken themselves in the attempt. But Dr. Ben Arnell is sure that he will be the one to finally cure him. From the creative team of Jeff Lemire and Andrea Sorrentino comes Joker: Killer Smile, a terrifying tale of psychological horror that explores the madness within The Joker— and the family man who will risk it all to gaze into the abyss.
Hey there clowns and cotton candy hounds, I'm Jessica Avery and I'll be delivering your weekly brief of all that's ghastly and grim in the world of Horror. Whether you're looking for a backlist book that will give you the willies, a terrifying new release, or the latest in Horror community news, you'll find it here in The Fright Stuff.
---
There are a lot of things to miss this year, especially now that fall is closing in and it's likely most of our favorite autumnal activities will not be taking place. Sure, depending on where you live, there might still be apple picking, or pumpkin patches, or corn mazes (I think we've even got a sunflower maze up here somewhere). But one of my all time favorite fall activities – going to the local fair – has been a no go since April. Now, I grant you, fairs up here tend to be of the more agricultural variety vs that signature carnival mix of midways, rickety rides, sideshows, and questionable clowns that horror adores. Still, there's something about fall that makes me crave the smell of fresh fried dough and popcorn, the taste of a sticky caramel apple, the music of the rides riding over the roar of the crowds.
Alas. Beloved fairs. Maybe next year. In the meantime, I'll have to content myself with fictional carnivals and circuses of the creepy kind.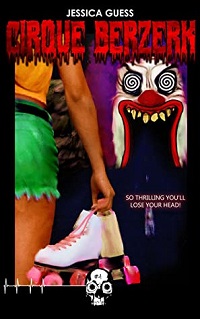 Cirque Berserk by Jessica Guess
You might remember Cirque Berserk from my Rewind or Die newsletter! Well it's making a comeback this week because you can't have a list of circus and carnival horror without this delight of a novella. In the summer of 1989, disaster strikes the town of Shadows Creek, Florida when a group of teens massacred a dozen people at the local carnival, the titular Cirque Berserk, and then vanished. Thirty years later a new group of teens escape their boring senior trip and decide to explore the mystery of the infamous Cirque Berserk, unaware of the bloody dangers that lurk behind its gates.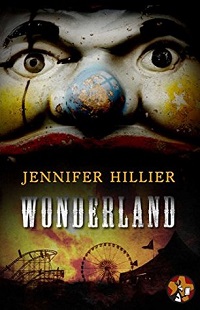 Wonderland by Jennifer Hillier
Vanessa Castro has only been deputy police chief of Seaside, Washington for one day when rotting corpse turns up in the middle of the midway at Wonderland, the local carnival-themed amusement park. Full of retro carnival delights during the day, at night Wonderland – with its extra creepy Clown Museum and frightening House of Horrors – takes on a more sinister air. Now one man is dead, and one of the park's teenage employees is missing. The investigation into these tragic events will bring Wonderland's dark history to light, and expose a killer's deadly game.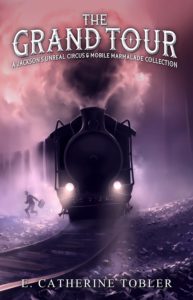 The Grand Tour by E. Catherine Tobler
Published by Apex books, with an absolutely gorgeous cover, E. Catherine Tobler's short fiction collection, The Grand Tour, collects nine of Tobler's circus stories all in one place. Jackson's Unreal Circus and Mobile Marmalade is a circus on the move, its steam strain containing worlds within its corridors, and inside are wonders to behold! Magicians, sideshow acts, rides, and magic marmalade – at the circus all things are possible. However wonderful or terrible.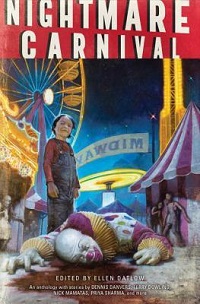 Nightmare Carnival edited by Ellen Datlow
Collected by Hugo and Bram Stoker award-winning editor Ellen Datlow, whose anthologies are always a delight, Nightmare Carnival is a must read for carnival horror lovers. Oddities and marvels await beneath the big top in works by beloved horror authors like Stephen Graham Jones, Priya Sharma, Genevieve Valentine, Livia Llewellyn, and Nick Mamatas, among others! Step right in, step right in. The carnival awaits. And as added incentive: for those of you familiar with the 1989 carnival/sideshow horror novel Geek Love, Katherine Dunn wrote the introduction for this collection!
Fresh from the Skeleton's Mouth
Over at Book Riot Jazlyn Andrews explores the "Inescapable Experiences of Horror", Silvana Reyes Lopez wants to know what your favorite candy is so she can recommend you your next horror read, and Giovanna Centeno considers the experience of reading Shirley Jackson while in quarantine.
Here's a can't miss event to add to your calendars for October! Tor.com is holding a Women in Horror panel on Tuesday, October 27, featuring Alexis Henderson (The Year of the Witching), Zoje Stage (Wonderland), and Elisabeth Thomas (Catherine House). The fantastic Mallory O'Meara of The Lady from the Black Lagoon fame will be moderating. Be sure to register!
So any book recommended by Stephen King is one that I need to at least keep an eye one. But he's not the only one buzzing about Catriona Ward's forthcoming The Last House on Needless Street. Nightfire has acquired three of Catriona Ward's novels, including Needless Street (Set for a US release in October of 2021). The available synopsis for the book is limited, but that hasn't stopped me from being absolutely ravenous to get my hands on this one. Maybe it's all that talk about dark forests and last houses on dead end streets.
I know it's the wrong season entirely, but as we all know publishing is always a few months ahead so please feast your eyes on this gorgeous, creative table of contents for the forthcoming holiday themed Gothic Blue Book VI: A Krampus Carol, from author Cina Pelayo's boutique press Burial Day. Coming to a TBR near you on October 31st!
It is 34 years old! Stephen King's legendary brick may have its flaws, but it's still widely beloved in the horror genre, and horror twitter has been sending the Loser's Club some much deserved love. Grady Hendrix retweeted a piece he wrote for Tor.com back in 2013 as part of his Great Stephen King Reread, and others like reviewer Sadie Hartmann (AKA Mother Horror) tweeted their appreciation for this door-stopper of a horror classic.
---
As always, you can catch me on Twitter at @JtheBookworm, where I try to keep up on all that's new and frightening.