Sponsored by Come On In by Adi Alsaid, published by Inkyard Press.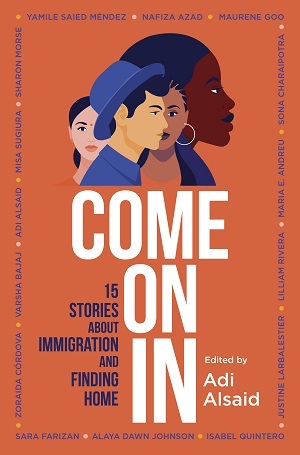 tk
The Booker Shortlist Announced
The Booker Prize announced its shortlist and we have a lot of debuts, Americans, and finally diversity. Out of the six finalists, four are debut authors (The New Wilderness by Diane Cook; Burnt Sugar by Avni Doshi; Shuggie Bain by Douglas Stuart; Real Life by Brandon Taylor); all authors are either from the U.S. or have dual citizenship with the U.S. except for Tsitsi Dangarembga, who's shortlisted for the novel This Mournable Body; and the first Ethiopian writer to make the shortlist is Maaza Mengiste for The Shadow King. "'No one wins the Booker prize because of who they are. A book wins because of what it does,' said Gaby Wood, literary director of the Booker Prize Foundation."
3-Year-Old Rubik's Cube Solver Star Of New Book
Khalil Johnson is known as the boy genius who, at the age of three, was solving the Rubik's Cube. Now he has his own book, Oh Khalil: and the color block bandit, which follows Khalil and his adventures to help children learn and use their imaginations. "Khalil's journey throughout the book helps readers shape their sense of adventure, tap into their creativity, sharpen their problem-solving skills while unpacking the book's mystery."
Ant-Man 3 Gets Lovecraft Country Actor
If you're currently obsessed with the Lovecraft Country series (Matt Ruff adaptation) then you'll be thrilled to hear the actor Jonathan Majors has just been cast in Ant-Man 3–and if you are just learning about AM3, congrats, you got double great news. The rumor is that Majors will play the time-traveling villain Kang the Conqueror. Exciting!
And Now Something Fun!
It's almost Halloween! Pick out your favorite candies in this quiz and we'll put a horror book in your trick or treat bag.