Well, September is moving like August did, apparently, because it can't possibly be halfway through the month. I managed to fall into Lucifer after an aborted start when it was first airing. I have no idea where it's going, and that kind of works for me.
Let's talk books!
News and Useful Links
First and foremost: this shirt. You want to preorder one.
Check out this podcast interview with Vivian Stephens.
One of those things we missed last Monday was a response from Courtney Milan regarding some Omegaverse nonsense.
Also, somebody had fun with photoshop.
Alyssa Cole was busy for release week, with profiles in Entertainment Weekly, The New York Times, and more. When No One Is Watching is definitely a suspenseful thriller, but she's Alyssa, so there's a romantic element to it.
This is a great essay about reading romance as someone who is demisexual.
Your regular reminder that Dreamspinner is still in deep shit. I won't tell you not to buy their books, but I won't be recommending any until they figure out how to pay all of their authors, not just the ones who have lawyers.
Romance adjacent: there's a new Pride and Prejudice musical available to watch on Prime video. I can't tell you it's great, but it's fun to watch. Once.
Similarly romance adjacent: Have you seen the trailer for the new Rebecca movie on Netflix?
Want a preview of Suleikha Snyder's next book?
This podcast episode could probably make you cry.
And there's still time to RSVP for this East City Bookstore event with Rosie Danan and Christina Lauren.
Deals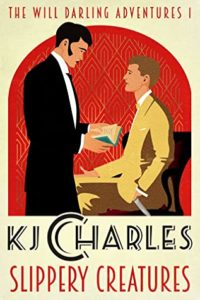 Looking for some fun historical suspense? Slippery Creatures, the first book in KJ Charles's Will Darling Chronicles, is 99 cents right now! Set after World War I, there's some intrigue and spycraft alongside a growing fondness that could be destroyed by betrayal. But it's KJ Charles, and we know she can always bring a story around.
Or if you want to start feeling the autumness, maybe it's time to grab Mating The Huntress by Talia Hibbert, which is an adorable novella about a werewolf and his mate…who happens to hunt werewolves. And she is having none of his courtship. It's precious. And 99 cents.
Recs!
I haven't picked up a paranormal for a while, but I finally got my hold in for one I had been waiting for, and it didn't disappoint.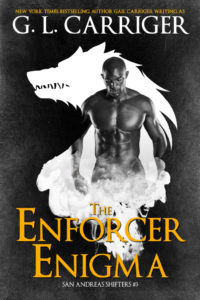 The Enforcer Enigma 
GL Carriger
If you haven't picked up the San Andreas Shifter books, you've got some fun ahead of you. Enforcer is the third in the series, and features two clueless dumbbells who are completely in love with each other and don't know what to do about it. Judd is an old werewolf, older than Saturation even, and he has been in a lot of packs. He's completely gaga for Colin, the smallest wolf in the pack who doesn't think he deserves to be loved, and especially not by Judd. But when a new security job and a friend of Colin's collide with a shocking revelation, everything else gets tangled—everything but Judd and Colin. Well, they get in a different kind of tangle, but even then, they both are sad to think it's temporary.
And you all know how those go.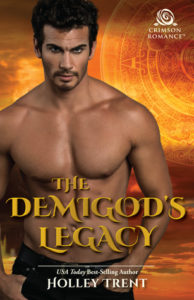 My next read is The Demigod's Legacy by Holley Trent. I can't tell you how many Masters of Maria books I've bought, but this is the first one, and I feel like I should read these in order…in part because I tried reading a related novella and kind of had no idea what was going on or what the world was like. So yeah, this one is gonna be a readthrough with 9 in the series. So far. I love Holley Trent's worldbuilding and you know, with the whole Lucifer thing, I'm in the mood for some angels, which I know will eventually appear.
What are you reading this week?
As usual, catch me on Twitter @jessisreading or Instagram @jess_is_reading, or send me an email at wheninromance@bookriot.com if you've got feedback, bookrecs, or just want to say hi!