Sponsored by Scribner.
Working at the local processing plant, Marcos is in the business of slaughtering humans—though no one calls them that anymore. "From the first words . . . the reader is already the livestock in the line, reeling, primordially aware that this book is a butcher's block, and nothing that happens next is going to be pretty." —New York Times Book Review. "Propulsive and deranged, Tender Is the Flesh is a weird and quick read that strays far enough from our current reality to be utterly engrossing… and a book that will stick with you for a long time." —Thrillist
Hey there ghouls and goblins, I'm Jessica Avery and I'll be delivering your weekly brief of all that's ghastly and grim in the world of Horror. Whether you're looking for a backlist book that will give you the willies, a terrifying new release, or the latest in horror community news, you'll find it here in The Fright Stuff
Hey there, Tiny Satan. Please don't murder me.
Scary children are a horror staple. Where would we be without the Regan MacNeil's and Gage Creed's of the world? When I came up with the idea for this newsletter, the first thing I thought of was this joke about horror movies and toddlers that I'd seen once on the internet and never forgot. It took a little digging but I managed to track down the author of the blog it was originally posted to, Jill Krause of Baby Rabies, and found what seems to be the original post:

It's just… so accurate. I mean let's face it: kids are natural horror fodder. They're small, seemingly innocent, surprisingly sneaky when they want to be, and periodically they talk to "nothing" or say the most terrifying things in their little terror cherub voices.
So here's to the scary kids. We love you. Please don't eat our souls.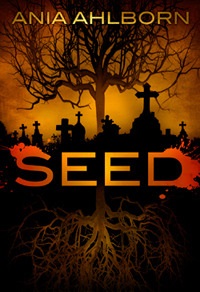 Seed by Ania Ahlborn
Jack Winter has spent his whole life running from his past and his dark childhood. The sort of childhood he'd never wish upon his six-year-old daughter, Charlie. But the past has a way of catching us up no matter what we do, and though Jack did his best to protect her, in the end Charlie found that the apple didn't fall far from the tree. When the darkness in his past manifests one night after a near fatal accident, Charlie sees it too, and Jack is forced to watch his daughter change before his eyes as she is slowly consumed by the hungry shadows he thought he had long since escaped.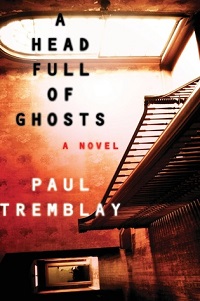 Head Full of Ghosts by Paul Tremblay
When the Barretts' 14-year-old daughter Marjorie develops what appears to be acute schizophrenia, and all medical attempts to help her fail, the family turns to the church for aid. But a local priest's suggestion that he perform an exorcism on Marjorie is tainted with suspicion when he also invites a camera crew to accompany him. Then tragedy strikes. 15 years later, Marjorie's little sister Merry agrees to an interview about the events of that night, and as buried memories surface it soon becomes clear that what she remembers, and what she's been told, are two complete different stories.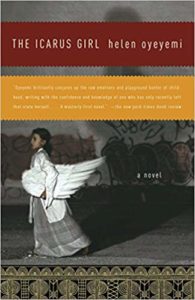 The Icarus Girl by Helen Oyeyemi
Like most children with extraordinary imaginations, Jessamy – the child of an English Father and a Nigerian mother – has a hard time fitting in at school. She struggles to make friends until her mother takes her to visit Nigeria for the first time and she meets TillyTilly. TillyTilly understands Jessamy the way that no one else ever has, but the more time she spends with TillyTilly, the more Jessamy begins to realize that there's something very wrong with her new friend.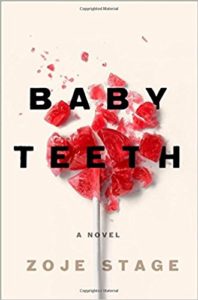 Baby Teeth by Zoje Stage
Suzette loves her daughter Hanna. She does. But when Hanna is bad she's really really bad, and she's only ever bad for Mommy. After years of school expulsions, and struggling to home school her troubled daughter, Suzette's physical and mental health are suffering. Her husband may be blind to Hanna's real behavior, but Suzette knows the truth. There's something not right with Hanna. Her tricks are becoming increasingly complicated, and violent, and if Suzette can't find a way to get Hanna out of the house, it could cost her her life.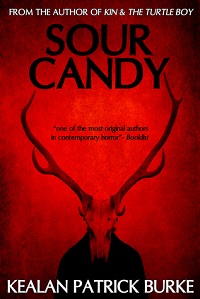 Sour Candy by Kealan Patrick Burke
Phil Pendelton and Adam seem like any other father and son pair when you first see them. They do normal father and son things; they go on trips and eat meals together. Maybe Phil's a little indulgent, letting Adam stay up as late as he wants and eat candy whenever he wants. And maybe Adam's a little hot headed, but hey every kid loses their temper in public sometimes, right? Perfectly normal. Except Adam isn't Phil's son. Phil met him a few weeks ago in the grocery store, and Adam just… never went away. You might even say that Phil can't get Adam to go away, no matter how hard he tries.
Fresh from the Skeleton's Mouth
Over at Book Riot we've got all the spooky content lined up as we creep our way into Fall. Our contributors are discussing Gothic Horror, diverse YA Horror reads, Indigenous Horror books, and Mary Shelley's timeless Frankenstein. Cant decide what to read? Design your ultimate haunted house and find your next horror read!
Hello, have you SEEN the cover of Daka Hermon's new MG horror Hide and Seeker? It's so gorgeous, and so creepy. I can't even.
As if I weren't already salivating to get my fangs on my copy of Vampires Never Get Old, editors Zoraida Córdova and Natalie C Parker have just launched the companion Vampires Never Get Old Podcast, providing additional content about the creation of the anthology and the history of vampire literature. Warm up those headphones folks!
Author Adam Nevill is coming back to a stream near you with the Netflix adaptation of his novel No One Gets Out Alive.
Speaking of movie trailers, maybe you've seen the one going around twitter for Freaky, the delightful meta-slasher, Friday the 13th meets Freaky Friday movie coming out in November from Universal? Well I'm obsessed. And if the wait until November seems interminable, embrace the slasher by picking up a copy of Stephen Graham Jones' equally meta, and equally delightful The Last Final Girl.
---
As always, you can catch me on twitter at @JtheBookworm, where I try to keep up on all that's new and frightening.