Sponsored by Cemetery Boys by Aiden Thomas with Swoon Reads.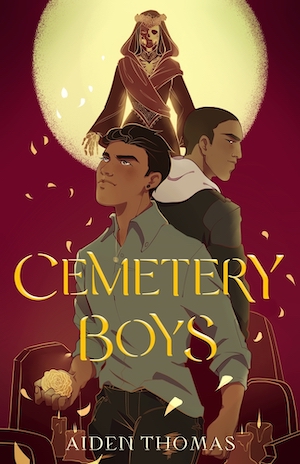 Determined to prove his true gender to his traditional Latinx family, Yadriel tries to summon the ghost of his dead cousin to help set it free. Instead, Yadriel summons Julian Diaz, the school's resident bad boy. And Julian is not about to go quietly into death. He needs to find out what happened and tie off some loose ends before he leaves. Left with no choice, Yadriel agrees to help Julian. . . but the longer they're together, the less Yadriel wants to let him leave. Don't miss the paranormal debut Entertainment Weekly calls "groundbreaking" and Paste calls "wildly memorable."
Welcome to Read This Book, a weekly newsletter where I recommend one book that I think you absolutely must read. The books will vary across genre and age category to include new releases, backlist titles, and classics. If you're ready to explode your TBR, buckle up!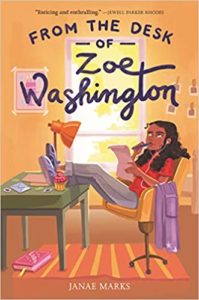 This week's pick is an incredible middle grade novel–From the Desk of Zoe Washington by Janae Marks.
I picked up this book on a whim because I'd seen the title and cover a lot, and I really love the audiobook narrator, the incredible Bahni Turpin. This novel follow Zoe, who turns 12 at the start of the book and has a great birthday, except that she's on the outs with her best friend. And then she receives an odd piece of mail–a birthday card from her biological dad, Marcus. Zoe has never before had contact with him, although she knows that he's been in prison since before she was born. They strike up a pen pal relationship, which she reveals to her grandma but keeps from her mom. As Zoe gets to know Marcus, she finds that he's caring and funny and she gets some of her traits from him. She also learns that Marcus has always maintained that he's innocent of the murder he was accused of. Zoe becomes determined to clear his name by finding his alibi witness, which his lawyer never bothered to do.
This book reminded me a lot of Front Desk by Kelly Yang, which is another middle grade novel I absolutely adored. Both books take very complicated and serious issues, such as immigration, exploitation, and wrongful imprisonment, and explore them with a deft hand, via plots and situations that are age-appropriate for young readers. Marks balances out the seriousness of Zoe's dad's situation with her aspirations to become a baker, her experimentations with various recipes, and a junior internship at a local bakery. Zoe also is dealing with her first real conflict with her next door neighbor and best friend, which is certainly relatable to young readers. Marks also gives Zoe an excellent support system to help her navigate her dad's situations: a grandmother who supervises her correspondence with Marcus, a loving mom who's trying to do her best, and a fantastic step-dad who has been there for her when Marcus couldn't.
This is a great novel for kids who might be developing an awareness of racial injustice but aren't ready for history books or aren't interested nonfiction titles. The reader can learn alongside Zoe about the Innocence Project and how racism affects our social structures, and while Marks doesn't offer any easy answers, she gives space for Zoe and the reader to grapple with the injustice. The book is also genuinely funny at times, making it an engaging and enjoyable pick for anyone who wants to indulge in a fantastic middle grade novel, or for anyone looking for their next great family read aloud!
Happy reading!
Tirzah
Find me on Book Riot, the Insiders Read Harder podcast, All the Books, and Twitter.
If someone forwarded this newsletter to you, click here to subscribe.